General Hospital (GH) Spoilers: Steve Burton Stole Jason Morgan's Shirt For A Beach Day
General Hospital (GH) spoilers reveal that summertime is in full swing and plenty of soap stars are sharing their activities with fans. Steve Burton (Jason Morgan) is enjoying a week at the beach with his beautiful family and posted some pics showing off their fun times. But we can't help but wonder—why is he wearing Jason Morgan's shirt? It's called a vacation getaway for a reason, Steve!
General Hospital spoilers – Steve Burton Is Enjoying Some Beach Time with his Family
The picture Steve Burton posted shows him and his wife and their three adorable kids with a stormy sky and picturesque body of water behind them. He captioned it, "Recharged with the family! Loving the beach! Back to work this week! Have a great week! #grateful."
GH Spoilers – Steve Burton Plays Jason Morgan
His fans complimented Steve and his beautiful family with one posting, "Beautiful family. Good people. GH fan forever. 😊❤️☀️👍," and another writing, "Awww, such a great photo…love the smiles!!."
One fan noted, "Beautiful family pic. Just came back from the beach too and I already wanna go back…lol."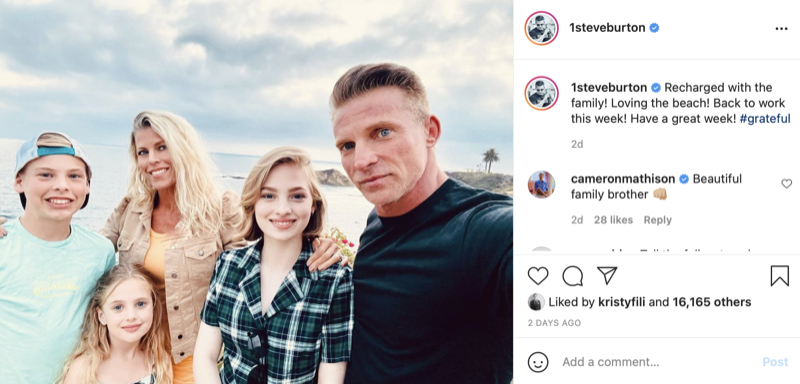 General Hospital spoilers – What Happens Next In Port Charles, New York?
Steve's alter ego Jason Morgan is always clad in a black t-shirt, just like the one Steve sports in his beach pic–maybe he borrowed it?
What happens next to Jason Morgan in Port Charles? Life is far from a beach for him, truth be told. For one thing he had a chance at happiness with Britt Westbourne (Kelly Thiebaud) until reality, and Carly Corinthos (Laura Wright), got in the way. He's been having drive by's with Britt which isn't helping either one of them forget their steamy and loved up criminal getaway.
General Hospital spoilers: What Happens When Sonny Corinthos Shows Up?
But Jason's other criminal life, the one he has with the mob, is taking center stage for now. He and Carly will marry to preserve the empire but at what cost to them? Jason is clearly hung up on Britch and Sonny Corinthos (Maurice Benard) is not dead. So Jarly will be breaking the law by marrying but that is the least of their worries.
What happens when Sonny returns? He will not like his bestie and his wife hooking up, but that is if he remembers them. Will his amnesia stay put and if so how will Carly handle seeing him with Nina Reeves (Cynthia Watros)?
Be sure to catch up on everything happening with GH right now. Come back here often for General Hospital spoilers, news, and updates.