General Hospital (GH) Spoilers Next 2 Weeks: A Missing Corpse, Shawn Butler Wants Answers And Fiz Grow Closer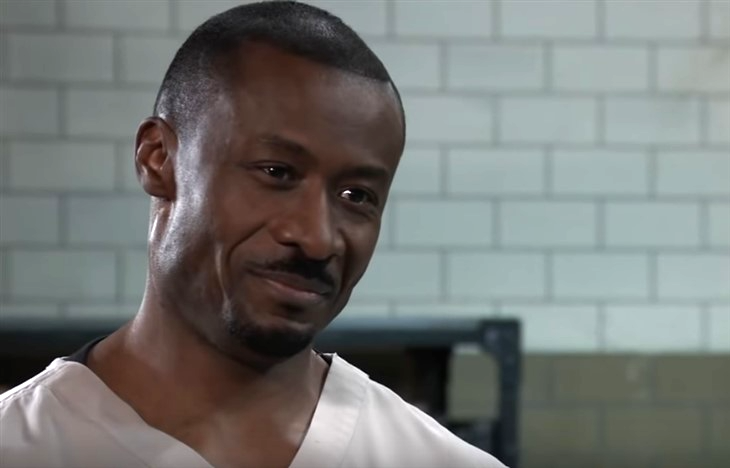 General Hospital (GH) spoilers reveal that the next two weeks in Port Charles sizzle and pop and we have all the juicy details for you here.
Brando Corbin (Johnny Wactor) does his best to assure Sasha Gilmore (Sofia Mattsson) that he wants a future with her and not the mob, while former mob assistant Shawn Butler (Sean Blakemore) can't believe his ears when he hears his fate.
Elsewhere Nikolas Cassadine (Marcus Coloma) hears the same news and wonders if he'll be caught out for
Hayden Barnes' (Rebecca Budig) shooting which resulted in Shawn's imprisonment.
General Hospital spoilers – July 19 to July 30 Are Weeks Full Of Intrigue
Over with the teen scene, Trina Robinson (Sydney Mikayla) figures out who "Victor" is. But Spencer Cassadine's (Nicholas Chavez) charm proves difficult to ignore and she forgives him for his ruse.
Look for party girl Trina to ask Spencer to throw a huge party at Wyndemere which sounds not only greedy but also like a potential disaster in the works.
Spencer wants to please Trina but at the same time he will continue manipulating her beloved mentor Ava Jerome Cassadine (Maura West) .
GH Spoilers – July 19 To July 30 Shows A Vibrant Teen Scene
Elsewhere Cameron Webber (William Lipton) and Josslyn Jacks (Eden McCoy) have his mom shaking her head.
But that's nothing compared to another surprise she gets, one that is much darker than her teen son dating.
Could it be she went to pull something out of the freezer and found it empty?
Finn blabs to Anna Devane (Finola Hughes) that he was the one on the rooftop with Peter, but will he go all the way and admit to causing his death and storing him in a freezer?
General Hospital Spoilers – July 19 To July 30 Liz Webber Is In Deep Doo
Jasper "Jax" Jacks (Ingo Rademacher) gets grilled over Hayden Barnes' (Rebecca Budig) disappearance and at the same time Sam McCall (Kelly Monaco) noses into the Hayden-gate mystery which gets Nikolas worked up into a lather.
Meanwhile Monica Quartermaine (Leslie Charleson) reveals a huge development when she tells Britt
Westbourne (Kelly Thiebaud) and Terry Randolph (Cassandra James) who will be the next Chief of Staff.
GH Spoilers – July 19 To July 30 Brings Storm Clouds Of Suspicion
In a heartbreaking scene, Maxie Jones (Kirsten Storms) says goodbye to infant Bailey Quartermaine who is her secret spawn Louise August (Harper and Scarlett Bloom). At the same time, does baby momma imposter Brook Lynn Quartermaine (Amanda Setton) spill the beans about the baby to Valentin Cassadine (James Patrick Stuart)?
Anna tells Dante Falconeri (Dominic Zamprogna) what she discovered in New York City and soon after, Anna grills Finn. Meanwhile he and Elizabeth Baldwin (Rebecca Herbst) attend Violet Finn's (Jophielle Love) t-ball game together.
Be sure to catch up on everything happening with GH right now. Come back here often for General Hospital spoilers, news, and updates.