General Hospital (GH) Spoilers: Brad Makes A Deal With Cyrus Behind Bars?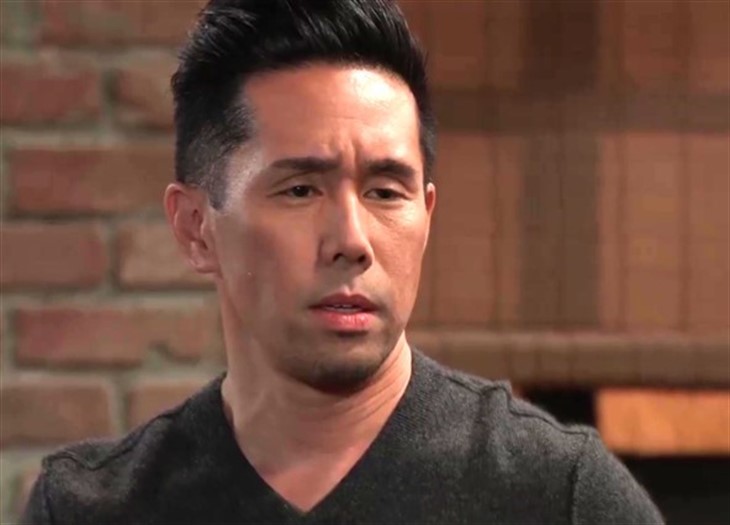 General Hospital (GH) spoilers and rumors tease that Brad Cooper (Parry Shen) wins his early release from prison by making a deal with Cyrus Renault (Jeff Kober) behind bars in a future episode of General Hospital!
General Hospital Spoilers And Rumors – Brad Cooper Will Get A Parole Hearing
General Hospital spoilers teased in a recent leaked script that Brad will get a parole hearing and Michael Corinthos (Chad Duell) and Willow Tait (Katelyn MacMullen) will oppose his release. But how Brad got such an early parole hearing in the first place is a mystery – and according to another leak which remains to be proven a leak, he may do so by making a deal with Cyrus behind bars!
General Hospital viewers would not be surprised if even though Nikolas Cassadine (Marcus Coloma) bought Pentonville Prison in order to protect his aunt Alexis Davis (Nancy Lee Grahn) while she was there, Cyrus still has connections there. General Hospital viewers will have noticed that Nikolas is not so squeaky clean himself lately, even though he still seems to be stepping up to protect his loved ones. Spencer Cassadine (Nicholas Chavez) may not be so sure about that, but sometimes love has to be tough!
General Hospital Spoilers And Rumors – Cyrus Renault Is Still Behind Bars In A Federal Prison But Has Pull
General Hospital viewers will recall that even though Cyrus is still behind bars in a federal prison, he still has pull! It was obvious when his brother and half-sister Attorney Martin Grey (Michael E. Knight) and Port Charles Mayor Laura Collins (Genie Francis) were suddenly rushed out of town into FBI protection because Port Charles Police Commissioner Jordan Ashford (Briana Nicole Henry) had gotten a tip! She and everyone else involved in Cyrus' takedown had thought he was secure in a Midwestern federal prison, with no contacts he could use but obviously she was wrong! General Hospital viewers won't be surprised if he has contacts all over the country and possibly beyond; the way Nikolas has been acting lately, no one would be surprised if they were in cahoots as well! This, however, as General Hospital viewers will recall, would be a ninety degree turnaround for Brad – he was afraid Cyrus would have him killed in prison!
General Hospital Spoilers And Rumors – Cyrus Renault Likely Reached Out To Brad Cooper With The Deal
Given that the last time Brad had any interaction with Cyrus or his contacts within Pentonville Prison, it is likely that Cyrus reaches out to Brad with the deal. General Hospital viewers will recall that Brad was adopted and by birth, he is a member of the Wu family. Cyrus may be trying again to assert control over Sonny Corinthos' (Maurice Benard) territory, and what remains of the Five Families. More than likely, the Novaks will be represented by Joey Novak (Patrick Zeller) but the Buscema family still lacks representation following the death of Mr. Buscema (Bart Tangredi). General Hospital viewers will recall that the bomb that killed Buscema and Vincent Novak (Glenn Taranto) was set by Nina Wu (Lydia Look)!There is a possibility that Nina may be Brad's birth mother – although he has never claimed her. Cyrus is probably capitalizing on that tenuous connection in order to have someone close to the Five Families to report back to him!
Stay tuned to General Hospital, and keep checking General Hospital spoilers frequently for all the latest news, updates and developments!