Gabby Petito Case – Is Blogger Katie Joy Heading For More Legal Woes?
The Gabby Petito murder case limps along as law enforcement hunts for Brian Laundrie, and Katie Joy Paulson of Without A Crystal Ball posted about it frequently. However, is she heading for more legal woes? Some folks think that she makes some astonishing claims. That went down badly on social media, as she's a self-proclaimed journalist and blogger. Well, she faced lawsuits in the past, and currently, she deals with Todd Chrisley who vowed to go after her.
Gabby Petito Case, Katie Joy, And Potential Lawsuits
This year, the patriarch of Chrisley Knows Best and Growing up Chrisley, Todd Chrisley, vowed to bring a lawsuit against Katie Joy. He and Katie Joy started feuding on social media and clearly, she rattled his cage a lot. He seems very angry and their feud started escalating after Katie apparently disclosed that she talked with Todd's estranged daughter Lindsie. As the feud between the blogger and Todd escalated,  he said on the Chrisley Confessions podcast that his lawsuit against her will "100 percent" happen.
With the focus shifting to the Gabby Petito case, Katie Joy speaks about Todd rarely these days. Todd's vow to bring a lawsuit came after she sent him a Cease and Desist letter via her legal team. Well, neither of them is unfamiliar with lawsuits. Perez Hilton reported in 2020, that "Beauty guru Tati Westbrook is reportedly suing a fellow YouTuber named Katie Joy for defamation." At the time, the outlet reported that Katie Joy warned bloggers on Instagram, "...be careful what you cover — seriously. There are a lot of wealthy people on YouTube that spend a lot of money to keep smaller creators quiet."
Katie Joy Makes A Strong Statement On The Gabby Petito Case
In her Without a Crystal Ball vlog on YouTube, Katie is careful to always mention that she shares her opinion. Well, it's not a crime to have an opinion. However, this week, she seemed to throw caution out the window. Taking to Instagram, she shared a photo of Brian Laundrie next to one of Chris Watts. Then, she wrote, "Today we know that like Chris Watts, [Laundrie] murdered Gabby by strangling her. Chris Watts strangled his wife & suffocated his two daughters." Then she added, "Both of these men are monsters." Finally, she topped it off with, "I know Brian isn't charged with the crime. I don't care if I'm not saying allegedly. We all know he murdered her."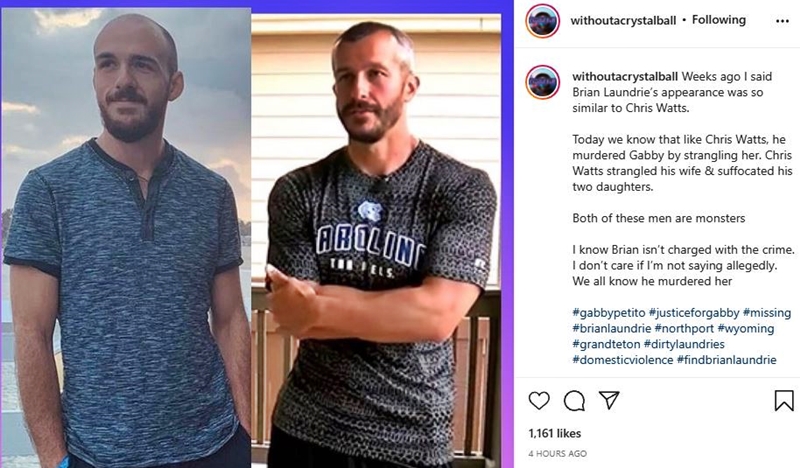 The comments by Katie Joy about Gabby Petito's now ex came after Gabby's autopsy revealed that she died of strangulation. TMZ noted that "the coroner ruled her death a homicide." Well, in the comments section of Katie Joy's post, fans wondered if she overstepped the mark. One of them commented, "You don't know for sure tho yet that he did kill her." Well, on Twitter, folks took that point to the next level.
Katie Joy Comments On Twitter
Twitter account, Without Any Common Sense, posted about Katie's comments. In the replies, it seems that many people think Katie Joy could get into legal trouble for her bold statement. After all, at the moment, missing Brian Laundrie is only sought after as a person of interest in the case.
It seems that critics on Twitter think Katie Joy comes across as a gossipmonger rather than a journalist. The Syndey Morning Herald noted that "Crime reporting can be a legal minefield for journalists." Actually, every journalist who studied at college knows that. Well, the outlet also noted, "If no charges have been laid against a person – and, indeed, in some cases charges may never be laid – a news outlet might consider the legal risk of naming them as an alleged perpetrator is unacceptably high. That person might sue a publisher for defamation for suggesting they were guilty of a crime.." That holds true for the USA as well and that's why most journos use the word, "allegedly."
One person on Twitter noted something similar when they saw the post about the Gabby Patito case. @CartierClass wrote, "Tsk-Tsk if someone isn't convicted for the murder they are [accused] of you
@woacbofficial can't state that as fact because you could end up being sued! Stop…with the misleading info and lies!"
What are your thoughts on what Katie Joy said about Brian Laundrie? Do you think she might be heading for more legal woes? Sound off in the comments below.
Be sure to catch up on everything happening with the Gabby Petito case right now. Come back here often for more Without A Crystal Ball news and updates.