EastEnders Star Michelle Collins Plans Touching Gesture For Her Mom
EastEnders star Michelle Collins played the role of Cindy Beale on the BBC One show. Of course, fans know that she was one of the wives of Ian Beale who got killed off by the writers. Actually, she thought it pretty silly to keep on killing off people. However, in real life, she dealt with a close-to-home death when her mom passed away at the end of April from cancer. Now, she plans a touching gesture to her and to a co-star.
EastEnders Spoilers – Star Michelle Collins Mom Passed Away
Stars come and go all the time in the British soaps like Coronation Street where Michelle played the role of Stella Price. Fortunately, Stella never died but simply went away to the South of France. So, that left the door open for her return. Meanwhile, acting in various roles is not on her mind right now. The news that her mom passed away left her aching with grief and she said at the time that she felt "devastated." The news came via her Instagram, where she also spoke about the shock of the death of a close loved one.
As EastEnders star Michelle Collins only released the news of her mom passing a few months ago, clearly, she still struggles with the grief of it all. The Doctor Who star also noted that her mom received her diagnosis a few years ago. But, that still didn't make her death any easier to bear. She described her mom as  "the strongest, kindest woman I knew." Other admirable traits included being "Fierce, protective, passionate, clever, funny, and articulate." Now she plans a special gesture for her mom made possible by her fellow co-star Adam Woodyatt.
EastEnders Star Spoilers – Michelle Collins Gesture To Mom & Friend
If you don't know, Adam Woodyatt's more than a friend. In fact, they starred together in EastEnders. Metro UK reported that when her mom died, she received lots of flowers from sympathetic friends and colleagues. However, Adam stood out as he sent her a plant. Taking to her Instagram on August 12, Michelle shared a video clip of herself sitting outside with the plant. In her caption, she said, "Losing your mum is one of the toughest things I [faced] but i m taking each day as it comes and have been #lucky to be able to work it helps a lot to be busy."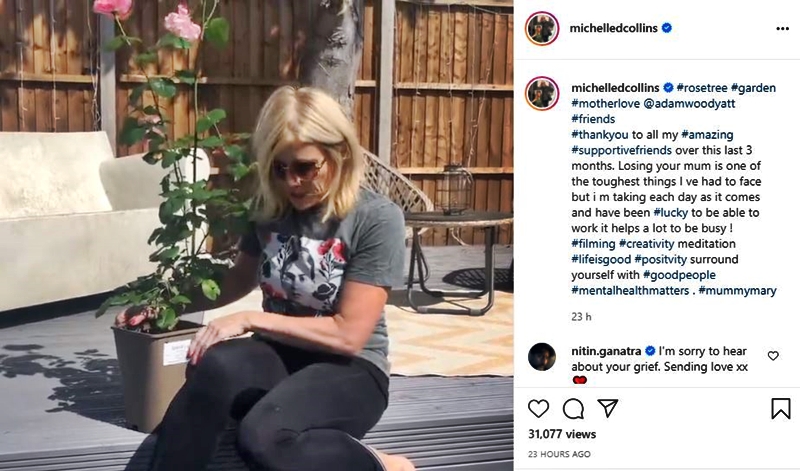 The former EastEnders star spoke on the video and she pointed out that it's a lovely rose with pink flowers. So, she plans on planting it out in her garden. Michelle added that the plant is known as "special mom." And she talked about how much it grew. In fact, it seems "unbelievable" how robust the plant is. So she said that when she plants it in the garden, she will "put some of mom's ashes in it."
EastEnders Spoilers – Adam Woodyatt Loved The Touching Gesture
Michelle Collins' friend Adam appeared in the comments and he clearly loved the post. He posted up three red heart emojis. It seems like a nice way to remember her mom and to appreciate the long-lasting gift that her friend gave her.
Remember to check back with us often for more news, updates, and spoilers about the cast of EastEnders on BBC One.