Days Of Our Lives Spoilers: Theo Has Memorable And Unsettling Reunions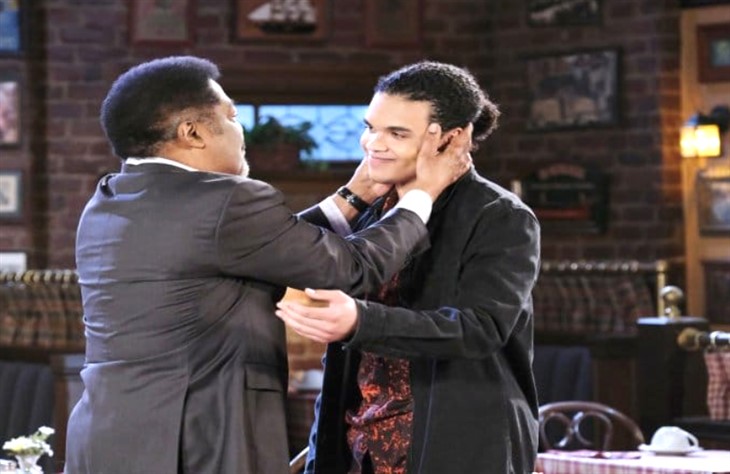 Days of our Lives (DOOL) spoilers and updates tease Theo Carver (Cameron Johnson) needs to return home because of a family emergency. Theo left Salem because he was brokenhearted over losing Ciara Brady Weston (Victoria Konefal). Theo had hoped that he and Ciara would get married. Ciara had amnesia and could not remember being in love with Ben Weston (Robert Scott Wilson). Ben was able to get Ciara to remember their love before she could marry Theo. Ciara decided that she wanted to be with Ben. Theo had feared that Ciara would choose Ben over him if she regained her memories. Theo told his father Abe Carver (James Reynolds) and the rest of this family that he was going back to his life in Africa.
Days of our Lives Spoilers – Theo Carver Takes Care Of Abe Carver
Theo has found out that Abe was shot and is in serious condition. Abe was shot by Carmine Merlino (Richard Stevens) after Carmine got into an altercation with Jake DiMera (Brandon Barash). Theo needs to come back to Salem to support his family. Theo is going need to help his sister Lani Price Grant (Sal Stowers) and Abe's fiancé Paulina Price (Jackee Harry). Lani and Paulina have been shocked and devastated that Abe has been hurt. Abe had been planning his wedding to Paulina and was looking forward to his future with her. Abe will need time to heal before he gets married. Theo can help Lani and Paulina to give Abe the help that he will need to recover from his injury.
DOOL Spoilers – Theo Carver Reconnects With Ciara Brady Weston
Theo has accepted that Ciara is back with Ben. Ciara will be concerned about Theo and his family. Ciara and Theo have been in each other lives ever since they were children. Ciara will want to show her support to Theo. Theo will find out that Ciara wants to have a baby with Ben. Theo may be concerned for Ciara because Ben has a troubled past. Ciara will reassure Theo that she believes that Ben is going to be a good father to the child that they will have. Theo will want to support Ciara even though it will be painful for him. Theo may still have feelings for Ciara and still would have liked to have a chance to be the one that Ciara wanted to be with.
Days Of Our Lives Spoilers – Theo Carver Has A Rocky Return Home
Days of our Lives Theo has come back to Salem during a time of turmoil. Theo will be worried about Abe and the rest of his family. He will want to make sure that Abe makes a full recovery. Will Theo be able to help Abe recover from his injury? Theo could offer comfort to Lani and Paulina. Can Theo help Lani and Paulina so that they can give Abe the support that he needs? Theo is going to want Ciara to be happy. He knows that it is important to Ciara to have a child with Ben. Can Theo be a friend to Ciara and wish her and Ben the best on their efforts to become future parents to their baby? Be sure to catch up on everything happening with DOOL right now. Come back here often for Days of Our Lives spoilers, news, and updates.