Days Of Our Lives Spoilers: Roman And Kate Reconnect – Share Secrets, Fears And Hopes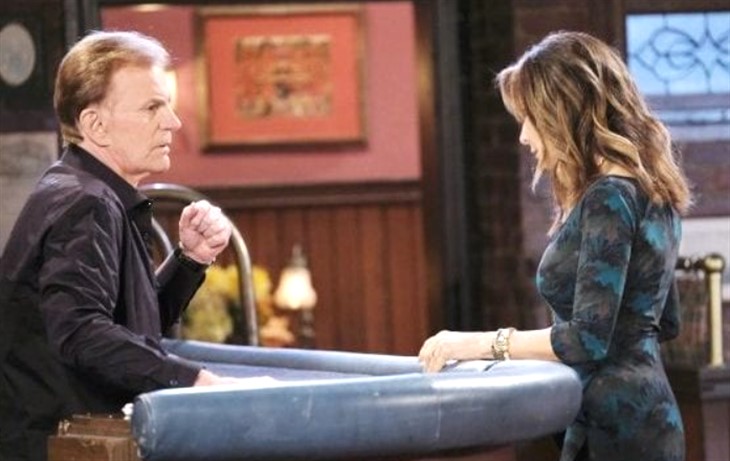 Days of Our Lives (DOOL) spoilers reveal that in Salem Lucas Horton (Bryan Dattilo) will encourage Kate Roberts DiMera Lauren Koslow) to give love a second chance. Whether she gives Roman Brady (Josh Taylor) another shot or not, the two have history, a connection and friendship. During the week of September 20, Roman will open up to his friend and former flame.
Days Of Our Lives Spoilers – Lucas Horton Plays Matchmaker
DOOL spoilers reveal that Lucas notices a spark between Roman and Kate. As fans know, the two have a history together and have remained friends over the years. Lucas tells his mother that it was quite obvious that Roman was flirting with her. He suggests that Kate give Roman another chance. If there was anyone that could balance Kate out, it's Roman. It's not one-sided, though. Kate had a way of bringing out the fire and passion in Roman.
DOOL Spoilers – Exes Reconnect
During the week of September 20, Roman and Kate will reconnect. It might be just as friends or Kate could decide to give romance another chance. Fans really like these two together and have been asking for a reunion, so they just might get their wish.
Roman hasn't been serious with anyone in a long time and thinks about his time with Kate quite often. In fact, when Kristen DiMera (Stacy Haiduk) stole Kate's face by wearing a mask, Roman asked her if they could give love another shot. She said no, but it also wasn't the real Kate that Roman was talking to.
Even after everyone found out that she was kidnapped and impersonated by Kristen, Roman didn't ask the real Kate to try again. It would have been bad timing anyway because Kate just had her heart broken by Jake DiMera (Brandon Barash). Perhaps now is the right time for both of them.
Days Of Our Lives Spoilers – Kate Roberts DiMera's Private Struggles
Days of Our Lives spoilers reveal that Kate opens up to very few people. She has a hard time trusting others and has a certain reputation to uphold. The last thing she wants anyone to think is that she's vulnerable. Roman is one of the few people Kate is able to let her guard down with, though. Even after they broke up, Roman never revealed her secrets. He's just not that kind of guy, so Kate knows she can trust him.
She might even open up about how hurtful it was that Jake and Gabi Hernandez (Camila Banus) were planning their future as she lay in a coma. Kate could open up about her strained relationship with Philip Kiriakis (Jay Kenneth Johnson) and his fixation on Brady Black (Eric Martsolf). Kate was concerned about Philip, especially after he said how close he was to making Chloe Lane (Nadia Bjorlin) love him.
DOOL – Roman Brady Opens Up
It is teased in Soap Opera Digest that Roman will open up to Kate. He has been going through his own issues. Xander Cook's (Paul Telfer) cheating reveal destroyed Eric Brady's (Greg Vaughan) marriage, which sent Roman's son back to the Congo. Roman gave Nicole Walker (Arianne Zucker) a piece of his mind, but then she blamed Sami DiMera (Alison Sweeney), but she's gone MIA.
Then, there is the issue with Doug Williams (Bill Hayes). Roman is struggling and like Kate, he doesn't open up to everyone. Perhaps these two can help each other with their issues and find love again at the same time.
Be sure to catch up on everything happening with DOOL right now. Come back often for Days of Our Lives spoilers, news and updates.