Days Of Our Lives Spoilers: Ciara's Miscarriage, Devil Forced To Find New Baby Mama?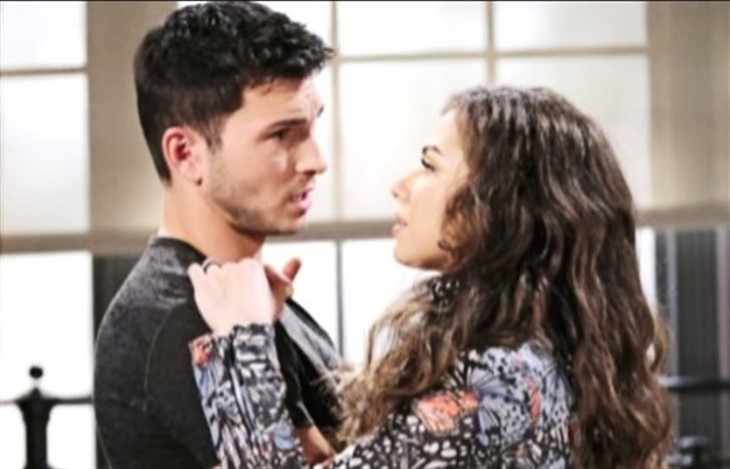 Days of Our Lives spoilers reveal that Ciara Brady Weston (Victoria Konefal) is pregnant with the devil's baby. Or at least, a baby that the devil plans to use to his advantage. Even though the devil is powerful, God is more powerful and could intercept. Ciara might lose a baby that was never a blessing, forcing the devil to use another womb.
Days Of Our Lives Spoilers – Devil's Presence During Conception
DOOL spoilers reveal that Ciara wanted to start a family and after some doubt, Ben Weston (Robert Scott Wilson) finally agreed. The couple conceived the first time they tried but it wasn't typical. For one, Ciara could just "feel" that they conceived immediately afterward. Then, there was the devil's presence in their bedroom. Although Ben and Ciara couldn't see anyone, evil made itself known. So, this pregnancy might be anything but a blessing.
DOOL Spoilers – Blessing in Disguise
There is a saying that God can take anything created for evil and turn it into good. So, it's possible that Ciara's unborn baby can still be saved. However, there is also the possibility that God won't allow this child to be born if it was the devil's creation. In that case, Ciara could face a miscarriage. Even though Ben and Ciara would be devastated by the loss, considering the devil is involved, it might be a blessing in disguise.
Days Of Our Lives Spoilers – Satan Finds New Womb
Days of Our Lives spoilers reveal that if Ben and Ciara lose their baby, they might not want to try again right away. In that case, the devil would be forced to find another womb to use. During the week of November 8, Nicole Walker (Arianne Zucker) will regret sleeping with Rafe Hernandez (Galen Gering) and throw herself at EJ DiMera (Dan Feuerriegel)
Even though Nicole has a daughter, she was born via surrogacy through Chloe Lane (Nadia Bjorlin). However, with the devil in Salem, Nicole just might end up with a "miracle" pregnancy as well as a who's the daddy storyline!
During the week of November 15, there is another couple that gets hot and heavy. That couple is Johnny DiMera (Carson Boatman) and Chanel Dupree (Raven Bowens). Both Bowens and co-star Lindsay Arnold, who plays Allie Horton, told Dishin' with Days that the love triangle turns into an episode of Jerry Springer. So, Chanel getting pregnant is possible.
Days of Our Lives Spoilers: Christmas Miracle
It is teased that the devil will not be defeated until the end of the year. In fact, the battle really heats up around Christmas. Even though certain Salemites are cluing in that something sinister is going on, it might take the entire town joining forces to send the devil back to hell.
Be sure to catch up on everything happening with DOOL right now. Come back often for Days of Our Lives spoilers, news and updates.