Days Of Our Lives (DOOL) Spoilers: Wedding Ahead For Abe And Paulina?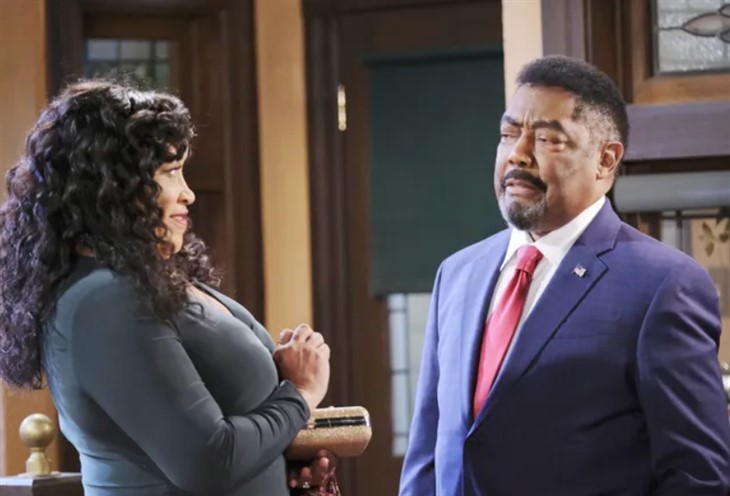 Days of Our Lives spoilers and rumors tease that there may be a wedding ahead for Days of Our Lives' Abe Carver (James Reynolds) and Paulina Price (Jackée Harry)! A group photo of an on set party for Deidre Hall's 45th anniversary of playing Dr. Marlena Evans showed some attendees in some pretty interesting outfits!
Days Of Our Lives Spoilers And Rumors – Jackée Harry, Raven Bowens And Sal Stowers Appear Dressed For A Wedding
The photo in question, taken of Days of Our Lives cast and crew surrounding Deidre with a couple of anniversary cakes in the shape of a four and a five, includes Jackée wearing what appears to be a wedding dress, flanked by Raven Bowens, who will debut as the new Chanel Dupree on air soon and Sal Stowers, who plays Lani Grant dressed to coordinate in what could be bridesmaid dresses although they are not exactly matching. They could be a matron of honor and a bridesmaid as well but the dresses definitely coordinate.
Sal's is floral on white and it looks like Raven's might be pink satin. James Reynolds wears a suit and tie, and Lamon Archey, who plays Eli Grant does as well. Robert Scott Wilson, who plays Ben Weston may also have a suit on but it is difficult to tell from the photo. Other cast members from Days of Our Lives can be seen not so dressed up as well, for instance Josh Taylor, Brandon Barash, and Cameron Johnson (Roman Brady, Jake DiMera and Theo Carver respectively) are dressed down.
Tina Huang is also in the photo in a casual dress – she plays District Attorney Melinda Trask. Lauren Koslow (Kate DiMera) stands by Deidre with her arm around her. She is in a dress and Deidre appears to be dressed somewhat casually. A recent Instagram post by Deidre talks about the celebration, and the close up photo of her, the cake and her bouquet attached to it shows that the set the celebration party was taking place on is that of Brady's Pub.
DOOL Spoilers And Rumors – Days Of Our Lives Is Filming Around Five Months Ahead Now
Days of Our Lives has been filming around five months ahead recently, as opposed to a strict six month filming schedule pre-pandemic. It certainly does appear that Jackée is in a wedding dress, it is white, and it looks like she has something on her head that could be a wedding veil or short veil, her dress is satin and it looks like she has a white lace jacket on. As previously mentioned, Sal and Raven have on matching dresses, floral on a white background and everyone you would expect in a wedding of Abe and Paulina is dressed up.
Abe and Paulina have just begun their romantic relationship on air, so if this group photo does show a wedding being filmed, it would air around November or December. The party shows a bunch of balloons in gold, blue and white in the background, but that is likely for Deidre's anniversary party because the cakes are blue and gold. The white balloons could be for an after wedding reception.
Days of Our Lives viewers know that Abe Carver has been due a good romance storyline after so many years of not having one, and if the current Abe and Paulina storyline progresses to a marriage, so much the better! It certainly appears that filming has been taking place for one, if you go by this photo!
Stay tuned to Days of Our Lives, and keep checking Days of Our Lives spoilers frequently for all the latest news, updates and developments!