Chrisley Knows Best – Find Out Why Chloe Loves Herself
Chrisley Knows Best fans know that Chloe Chrisley is the daughter of Kyle. However, Todd and Julie got custody of her and fans now see a bright and cheerful kid growing up in the family. Savannah considers the cute kid her sister, and she shared about how her little sis loves herself this weekend. Well, a decade ago, fans might have thought it a bit conceited for a kid to say that. However, times moved on and people become a bit more discerning now.
Chrisley Knows Best Features Chloe, A Bright And Confident Kid
Fans of the USA Network saw some spoilers and heard that the show returns soon. Since the first announcement about it, news came that it premieres in August. Plus, Growling Up Chrisey also returns on the same date. So, that news made fans very happy. Chloe, who fans watched since she was a very young kid often appears in the show as very bright and confident these days. Some people think she seems a bit manipulative and spoiled, but they can't deny her charismatic personality,
Any Chrisley Knows Best trolls who say or even hint at attacking Chloe online get severely slapped down by Todd, Savannah, and Chase. The entire family seems particularly protective of her, which is the right thing, people agree. Savannah Chrisley seems very tight with Chloe and they enjoy each other's company. This weekend, she took to her Instrgam and shared a short video of herself chatting with her little sister. That's when Chloe talked about why she loves herself.
Chrisley Knows Best Kid Kniws All About Self-Love
These days, it's socially recognized that people can't really love others unless they love themselves first. In fact, many parents encourage their kids to hold themselves in high esteem and that helps them understand their boundaries. An open and honest kid probably won't hesitate to say "no" to the wrong situation. Actually, they would probably recognize a potentially dangerous situation and tell their parents about it. So, it's probably a good thing that Chloe admits she loves herself.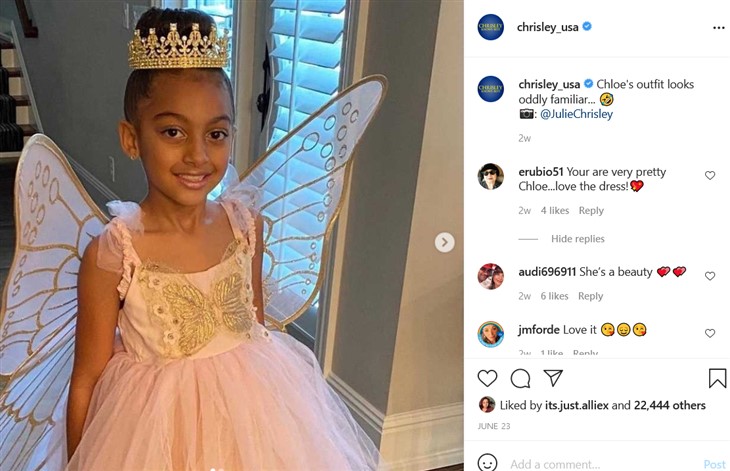 In the video that Chrisley Knows Best star Savannah shared, she chatted with her sister. Her caption read, "Bedtime chats with Chloe ? oh how I love this girl! ❤️" Chloe told her big sister, "I love myself." So, Savannah asked her why. She replied saying, "Because I'm hilarious…and funny."  When Savannah added "and gorgeous," she wiggled her eyebrows in agreement. Clearly, that's one kid in the world who is constantly being affirmed of her good qualities. And there's nothing wrong with feeling confident about yourself, fans agree.
Chrisley Knows Best – Fans React In The Comments
Chrisley Knows Best fans agreed that Chloe is way more than just cute. One USA Network fan wrote, "Wish everyone did. Self love is important!!" Then another fan commented, "It all starts with self love! I love her! Brava!"
Remember to check back with us often for more news, updates, and spoilers about the cast of Chrisley Knows Best on USA Network.