B&B Spoilers: Brooke's Breaking Point, Why Deacon Gets the Boot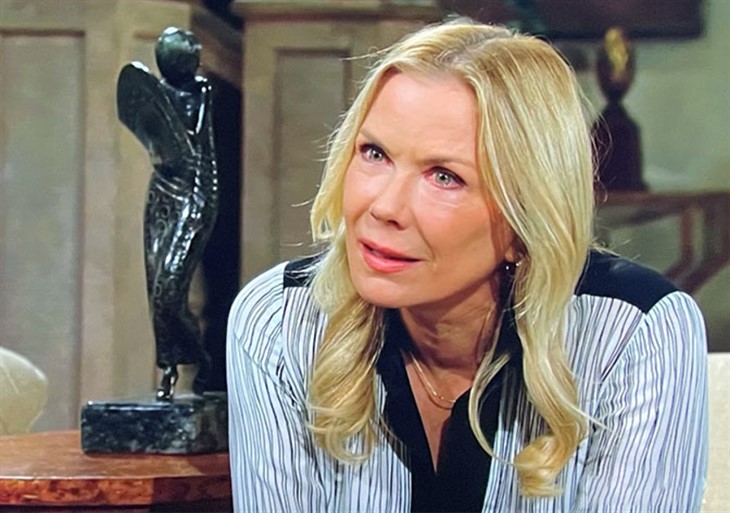 The Bold and the Beautiful (B&B) spoilers reveal that right now, Brooke Logan Forrester (Katherine Kelly Lang) is allowing Deacon Sharpe (Sean Kanan) on the property. However, that will change after the new year. Brooke reaches her breaking point and feels she has no choice but to ban Deacon. Find out why and how it affects Hope Logan Spencer (Annika Noelle).
The Bold And The Beautiful Spoilers – Brooke Logan Forrester's Relapse
B&B spoilers reveal that Ridge Forrester (Thorsten Kaye) is out of town for New Year's Eve. Furious over her altercation with Brooke, Sheila Carter (Kimberlin Brown) sets a trap. Brooke falls right into that trap. Partying with Deacon all night long, Brooke relapses and gets drunk. When she wakes up the next morning, she is consumed with guilt and shame.
B&B Spoilers – Telling Half-Truths
Brooke knows how Ridge will react if she tells him what really happened on New Year's Eve. According to head writer and executive producer Bradley Bell's interview with Soap Opera Digest, Brooke tries to cover up what really happened. However, Ridge knows that something is going on. Eventually, Brooke tells Ridge that she relapsed and got drunk on New Year's Eve. However, does she also tell him that she was with Deacon that night or only tell him about the drinking?
The Bold And The Beautiful Spoilers – Banning Deacon Sharpe
The Bold and the Beautiful spoilers reveal that Brooke decides that Deacon is no longer welcome in her home. However, she doesn't interfere with Deacon and Hope Logan Spencer's (Annika Noelle) relationship. It is teased that Deacon is extremely distressed by the entire situation.
B&B Spoilers – Daughter's Confusion
As for Hope, she has no idea of the real reason why Brooke banned Deacon from her home. Things were going really well between the three of them and then suddenly everything changed. Hope is aware that Brooke drank on New Year's Eve but has no clue that Deacon was with her that night. Hope focuses on trying to help her mother get sober again while also supporting her dad in figuring things out.
Of course, fans know that lies and secrets always come out eventually in soaps. It is only a matter of time before Hope and Ridge learn that Brooke wasn't drinking alone on New Year's Eve. Everyone knows that Ridge will explode with rage when he finds out that Brooke and Deacon were together, but how will Hope react? Will Deacon be blamed for Brooke's drinking and is it his fault? Will this situation affect Hope and Deacon's relationship? Tell us what you think and remember to keep watching the CBS soap to see what happens next.
Be sure to catch up on everything happening with B&B right now. Come back often for The Bold and the Beautiful spoilers, news, and updates.