'The Young and the Restless' Spoilers: Vickie Faces Unexpected Choice – Forced To Dump Billy Again?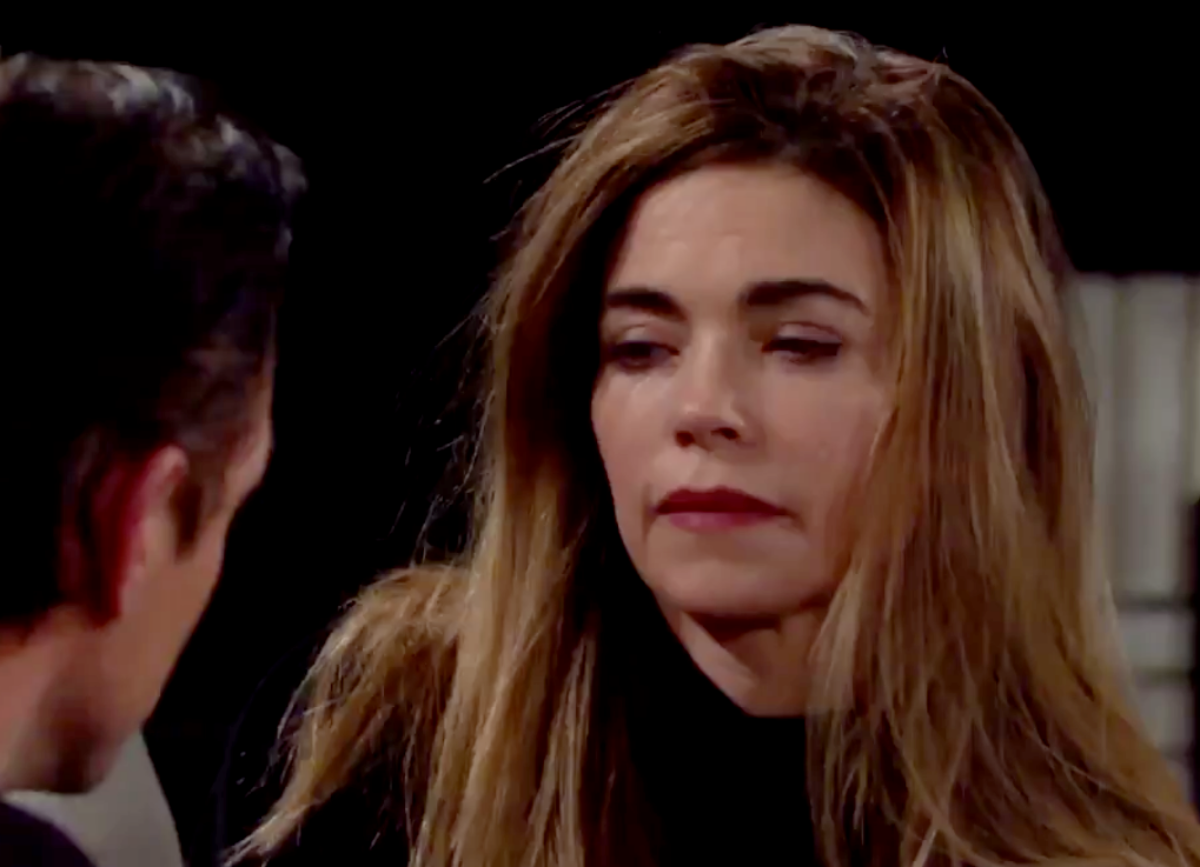 The Young and the Restless spoilers document that Vickie Newman (Amelia Heinle) had been hopeful that Billy Abbott (Jason Thompson) had taken control of his latest personal issue. But her realization of what Billy has been doing at a local nondescript bar serves as a radical wake up call.
What would Y&R be without another screw up from Billy-boy? His penchant for self-sabotage is enraging, as Thompson's character continues to totally disregard the pain he causes his loved ones and all who have supported his countless recoveries from all crises.
Young And The Restless Spoilers – Villy Then And Now
It took a long time for Y&R to reunite Villy. Both characters finally recommitted to each other last year after many stops and starts through the years.
But publicly stating their love for each other at Society in 2019, hasn't prevented Billy from allowing himself to slip. Giving into the darker elements within himself this time feels different than the gambling issues he's faced in the past, or the demons he battled last summer.
Today's Villy could be irreparably broken through his willful interaction with Amanda Sinclair (Mishael Morgan) because of what that overture represents, a disconnection from Vickie.
Young And The Restless Spoilers – Billy Abbott Is Disconnected From Vickie Newman
The audio overlay that Billy and the audience have been hearing, along with melodic accompaniment that is linked to this evolving arc, is chilling. Billy continues to try and talk himself away from whatever dangerous situations he's knowingly entering.
He's only been able to prevent his seeming compulsion to wreck Villy on a few occasions. Actually, all of his evasions could be tagged as delays.
He still cares for Vickie and probably loves her. But being with her doesn't seem to fulfill him. That's weird and selfish.
'The Young and the Restless' Spoilers: Billy Using Amanda As A Therapist – Vickie Senses Billy Is Adrift #YR #YoungandRestless #YRSpoilers #CBSDaytime #CBSSoaps #GenoaCity #DaytimeSpoilers #DaytimeTV #DaytimeDrama
https://t.co/poxssz20DK

— SOS/CTS/HH (@SoapOperaSpy) January 15, 2020
Young And The Restless Spoilers – Vickie Newman Must Protect Children
If Billy stays on his misguided course he'll continue hurting himself and his family. But he continues to push onward even knowing that's the case.
The reckless nature of Billy's behavior endangers the stability of the perfect family he has at what was originally called the Father Knows Best house, as the setting was an ode to that famous sitcom and included casting Elinor Donahue (Betty Anderson on the classic, referenced sitcom) as Judge Marie Anderson, who married Villy when Billy Miller (Billy) was still part of the cast, in 2010 and 2011.
All these years later, with two children to think of, Billy is still acting like the boy that Victor Newman (Eric Braeden) calls him. Vickie may have no choice but to cut the love of her life loose again and protect her children from further unrest.
Soap Opera Spy is a leading source for everything linked to The Young and the Restless. Check back regularly for Y&R spoilers and news!