The Young and the Restless Spoilers Monday, February 17: Phyllis' Prison Threat, Chelsea Faces Proposition – Lola's Miami Restaurant Plans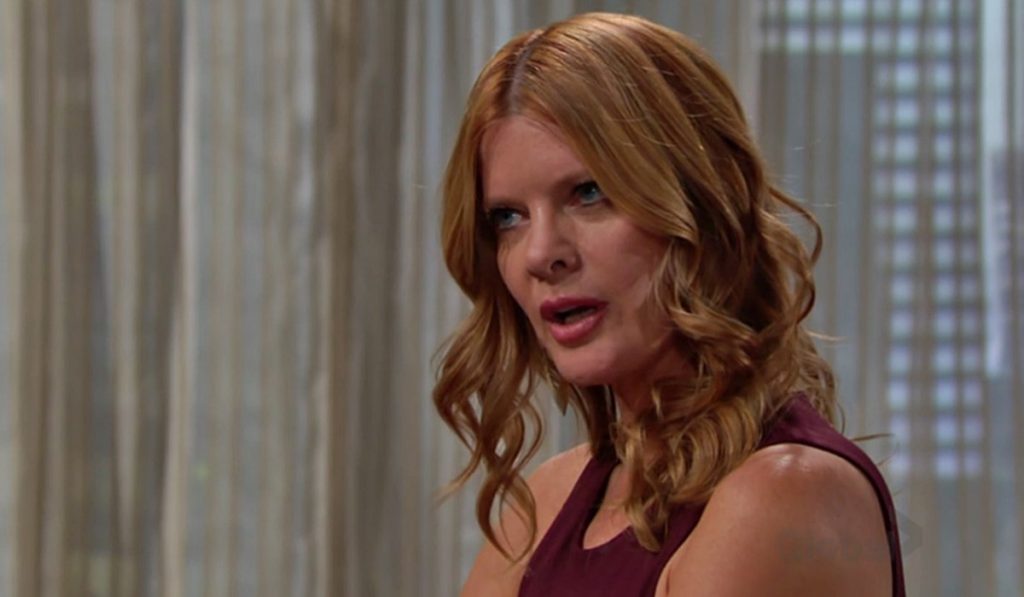 The Young and the Restless (Y&R) spoilers for Monday, February 17, tease that Chance Chancellor (Donny Boaz) will get a hot visit from Abby Newman (Melissa Ordway). In his suite, Chance opens the door in a towel and Abby's pleased. They make love and discuss how Chance wants to leave Vegas in the past.
Afterward, Chance gets a call and has to leave. He assures Abby that if it pans out, he'll fill her in later. At Devon Hamilton (Bryton James) and Elena Dawson's (Brytni Sarpy) penthouse, they talk about Newman's party plans and clinic details. Once they exchange compliments and kiss, Chance arrives with news about the search for Colin Atkinson (Tristan Rogers).
The Young in the Restless Spoilers – What Happens In Vegas Dies In Vegas
It turns out Colin was tracked to a hotel in Buenos Aires. The team just missed him by an hour, so Chance thinks they're closing in. Back at the Grand Phoenix, Phyllis Summers (Michelle Stafford) needles Adam Newman (Mark Grossman) in the lounge. She notes that what happens in Vegas, dies in Vegas.
The comment stops Adam from exiting, though he points out that's not how the saying goes. Adam still feels like Phyllis is working an angle, but Phyllis insists that's not the case. She eventually brings up Chelsea's love and how she'd do anything for Adam.
At Society, Chelsea Lawson (Melissa Claire Egan) gabs with Chloe Mitchell (Elizabeth Hendrickson) about Paris and how much she misses working in fashion. They touch on the topic of Adam's latest trip, but Chelsea shuts down any negativity.
Theo Vanderway's (Tyler Johnson) at the bar, so the ladies talk about how he's a bad boy and how they used to be attracted to that type. Chelsea and Chloe do have men in their lives who tend to break rules. Theo orders some drinks to be sent over, but Chloe gives him a glimpse of her baby bump and laughs. She lets Chelsea know they've still got it.
Y&R Spoilers – Is Phyllis Trying To Stir Up Trouble?
As for the Newman shindig, Chelsea's uneasy about the whole family getting together. Back with Chance, he finds Abby again in the Grand Phoenix lounge. Phyllis makes her presence known and suggests she hopes the rumors aren't true. Abby's annoyed and assumes Phyllis is trying to stir up trouble as usual.
Phyllis mentions a potential lawsuit from the guests who stayed there the night of the hostage crisis. Afterward, Phyllis sees Chelsea arrive with Chloe. She wants to speak with Chelsea alone and brings up the idea of a proposition. Chelsea doesn't want to hear it, but Phyllis thinks Chelsea should get interested unless she wants Adam to wind up in prison.
Adam is back at his building when he crosses paths with Devon and Elena in the hallway. They talk about the Newman gala, which leads to Adam's complaints about Victor Newman (Eric Braeden). Devon snaps about Adam not knowing how lucky he is. He thinks Adam will grieve and face regrets one day when Victor isn't around. Devon mentions Neil Winters (Kristoff St. John) and how much he'd love to have him back.
At Crimson Lights, starry-eyed Summer Newman (Hunter King) and Kyle Abbott (Michael Mealor) will be caught off guard. Lola Abbott (Sasha Calle) appears, so they're sorry that she had to see them. They thought Lola was in Miami. Lola wants them to stay so they can discuss unfinished business. She feels her marriage to Kyle was just a brief interlude. Lola's accepted that Summer was always going to reunite with Kyle.
The Young and the Restless Spoilers: Monday, February 17 – Phyllis Propositions Chelsea – Lola Stuns Kyle & Summer – Devon Gets Info On Colin #YR #YoungandRestless #YRSpoilers #CBSDaytime #CBSSoaps #GenoaCity #DaytimeSpoilers #DaytimeTV #DaytimeDrama https://t.co/rYk96WJEo9

— SOS/CTS/HH (@SoapOperaSpy) February 15, 2020
Summer and Kyle are amazed at how well Lola's taking this, but she's not fishing for compliments. Later, Summer's still stunned by Lola's reaction to them. Kyle praises Lola before returning to the topic of their new relationship. This is their time, so they're ready to face everyone at the Newman gala.
Over with Lola again, she finds Abby at the hotel and mentions her encounter with "Skyle." Lola thinks she handled it really well, but Abby's upset that she had to handle it at all. They sit down to discuss Lola's dream. Ever since she was little, Lola's always wanted a restaurant of her own. She intends to open one in Miami, but she'll just fly back and forth if that's OK with Abby.
Abby's thrilled that Lola's staying in Genoa City and at Society. She shrieks with delight and pummels Lola with a big hug. Back with Theo, he eventually runs into Lola at Society and reminds her that he's there if she needs him. Lola contends that she really just wants to cook right now.
The Young and the Restless spoilers say Lola will keep moving forward, but more drama's just around the corner. We'll give you updates as other Y&R details emerge. Stay tuned to see what else is brewing on the CBS soap.
So Y&R fans, what do you think about these Young and the Restless spoilers? Voice your opinion in the comments below and don't forget to check back often for the latest Young and the Restless spoilers, updates and news.