The Bold and the Beautiful Spoilers Thursday, February 13: Brooke & Ridge Try To Save Their Marriage – Hope Confronts Thomas About Upsetting Douglas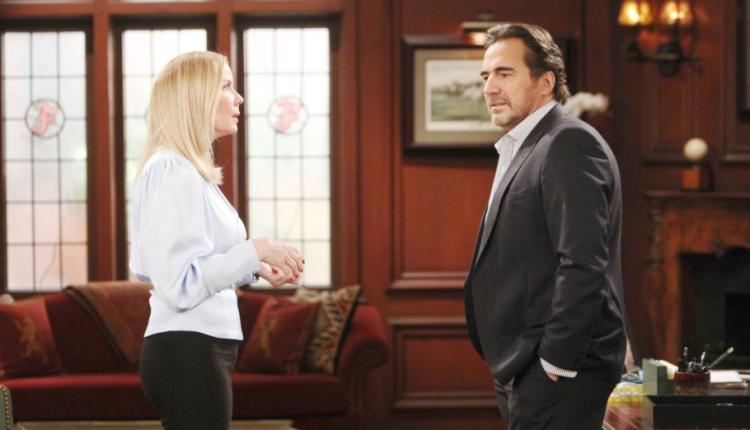 The Bold and the Beautiful spoilers for Thursday, February 13, tease that Brooke Forrester (Katherine Kelly Lang) and Ridge Forrester (Thorsten Kaye) will once again find themselves disagreeing about the source of conflict in their marriage. As B&B viewers know, they've been estranged for a while now, and every time they get together to discuss the state of their marriage, they end up arguing about the source of their problems.
The Bold and the Beautiful Spoilers – Brooke Forrester & Ridge Forrester Try To Make Their Marriage Work
It looks like Brooke and Ridge will once again try to find common ground on Thursday's episode, but according to The Bold and the Beautiful spoilers, they'll once again wind up in an argument. They're really starting to enter dangerous territory since they've already signed divorce papers and are teetering on the verge of divorce.
Of course, from Brooke's perspective, all of the problems in their marriage originated with Thomas Forrester (Matthew Atkinson). She knows that Thomas did everything he could to drive a wedge between them, and she doesn't feel like she can ever get past what he did to Hope Logan (Annika Noelle). Then there's the issue of Quinn Forrester (Rena Sofer), who Brooke blames for trying to sabotage their marriage further.
But Ridge doesn't see things this way. According to him, the main issue causing the problems is that Brooke has such intense animosity toward Thomas. Ridge truly believes that Thomas is trying to turn his life around and that he's doing a good job at it. But Brooke doesn't see it that way, and she just can't accept Thomas as a part of the family and a part of Ridge's life. Ridge is adamant that he's not going to abandon his son, and that leaves "Bridge" at an impasse.
B&B Spoilers – Will "Bridge" Ever Be Able To Repair Their Marriage?
One wonders just how much longer Brooke and Ridge can go on like this. At some point, they may decide to just call it quits and file the divorce papers. Is there anything at this point that can save their marriage? It certainly doesn't seem like Brooke will be putting down her hostility toward Thomas and Quinn anytime soon, and that should make it difficult for the pair going forward.
Meanwhile, on Thursday's new episode of B&B, Thomas will hear some strong words from Hope. As B&B viewers know, both Hope and Douglas Forrester (Henry Joseph Samiri) were upset when they saw Thomas kissing Zoe Buckingham (Kiara Barnes) at Forrester Creations. Douglas even got worried that Zoe might become his new mommy, and Hope had to reassure him that this wasn't the case.
The Bold and the Beautiful Spoilers: Thursday, February 13 – Hope Calls Out Thomas For Confusing Douglas – Brooke & Ridge Can't Find Common Ground #BoldBeautiful #BoldandBeautiful #BoldandtheBeautiful #CBSSoaps #CBSDaytime #DaytimeSoaps #DaytimeTV https://t.co/oLXX7P7phu

— SOS/CTS/HH (@SoapOperaSpy) February 13, 2020
The Bold and the Spoilers – Hope Logan Lashes Out At Thomas Forrester Over How He Hurt Douglas Forrester
Well, on Thursday's B&B, Hope will confront Thomas for upsetting Douglas and confusing him by blatantly kissing Zoe and holding her hand in public. She'll probably think that Thomas should have eased Douglas into the fact that he was seeing Zoe.
But Thomas will have all sorts of answers for Hope. As B&B viewers know, he was counting on her to have a big reaction to the whole scene. In fact, that's what he wanted to happen, because he wants Hope to realize that Douglas would be better off if she were with him. B&B spoilers say that Thomas will turn the tables on Hope, so he'll clearly say something that gets her thinking about the whole situation.
B&B Spoilers – Thomas Forrester Points Out Hope Logan's Double Standard
It will be interesting to see exactly what Thomas says to Hope, but he might point out that she was with Liam Spencer (Scott Clifton) until very recently, and that Douglas adjusted to that readily. He might say that Hope has a double standard if she thinks that she can have relationships but he can't. At any rate, he'll give her food for thought.
But will all of this actually make Hope consider the prospect of actually being with Thomas down the line? Time will tell, but one thing's for sure, and that's that Hope always puts the children first, so she'll be thinking about what's best for Douglas, and the might works directly in Thomas' favor.
Be sure to tune in on Thursday to catch up on everything happening on B&B right now. Check Soap Opera Spy often for updates, news, rumors, and spoilers!