The Bold and the Beautiful Spoilers: Thomas and Quinn Form New Alliance – Do They Have Enough Strength To Take Down Brooke?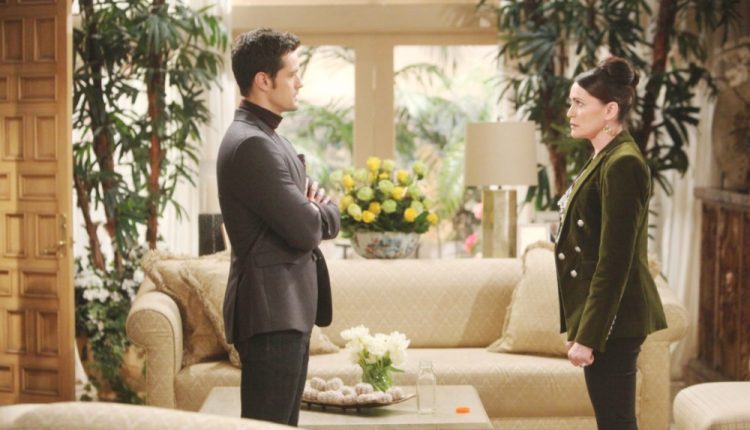 The Bold and The Beautiful spoilers tease that Thomas Forrester (Matthew Atkinson) will suggest to Quinn Forrester (Rena Sofer) that the two of them team up and work together to get rid of their mutual enemy, Brooke Logan Forrester (Katherine Kelly Lang) in an upcoming episode of The Bold and The Beautiful!
The Bold and the Beautiful Spoilers – Thomas Forrester Actually Wants To Get Rid Of All Of The Logans
Thomas actually wants to get rid of all of the Logans, except for Hope Logan (Annika Noelle) who he wants as his wife; viewers of the Bold and The Beautiful will recall back a couple of months ago when he had a daydream about all the Logans having passed away except for Hope, to whom he was married in his daydream, and what a wonderful world and life they had with all of them dead!
Quinn's problem is with Brooke only, but when Thomas finds out about the war between Quinn and Brooke, he will offer her a deal; partner up with him and get rid of Brooke, who is a thorn in his side also with her constant interference and trash-talking of him to Hope and to others. She keeps putting ideas in Hope's head that Thomas is dangerous and insane, and it's even caused problems between herself and Ridge Forrester, (Thorsten Kaye) which is something that Quinn well knows!
Brooke had the audacity to tell Eric Forrester (John McCook) to divorce Quinn and put her floozy friend Shauna Fulton (Denise Richards) out on the street where they belonged, implying streetwalking was all they were good for!
B&B Spoilers – Quinn Forrester Is Taken Back By Thomas Forrester's Offer
Quinn is a bit taken aback by Thomas's offer; she is puzzled as she asks him for clarification if he really wants to work with her? Thomas says yes, after all, two are better than one! However, Quinn may not be quite ready for the types of maneuvers that Thomas may think up to get rid of Brooke!
As far as she's concerned, it will be over her dead body that she is forced out of her marriage with Eric or the Forrester mansion, but with Thomas' way of doing things, it might be Brooke who winds up with the dead body instead of Quinn! After all, this is the man who offered his young son to Hope for sex, and manipulated him by showing monsters in his bedroom from a projector! Brooke does seem to have a point about Thomas being sick and twisted, and downright evil!
The Bold and the Beautiful Spoilers: Katie Spills Sally's Secret to The Wrong Person https://t.co/DGaEXgCE8s pic.twitter.com/3D9CXXEsy0

— SOS/CTS/HH (@SoapOperaSpy) February 3, 2020
The Bold and the Beautiful Spoilers – Will Quinn Forrester Accept Thomas Forrester As A Partner To Get Rid Of Brooke Logan Forrester?
Will Quinn accept Thomas's offer of help to get rid of Brooke once and for all? As Thomas said, two heads are better than one and perhaps together they can come up with a plan that will work! Quinn may be delving into dangerous territory with trusting Thomas, but she's been in dangerous situations before!
Stay tuned to The Bold and The Beautiful and keep checking The Bold and The Beautiful spoilers frequently for all the latest news, updates and developments!