The Bold and the Beautiful Spoilers: Steffy Shocked By Sally's Designs – Fashion Meltdown Ahead!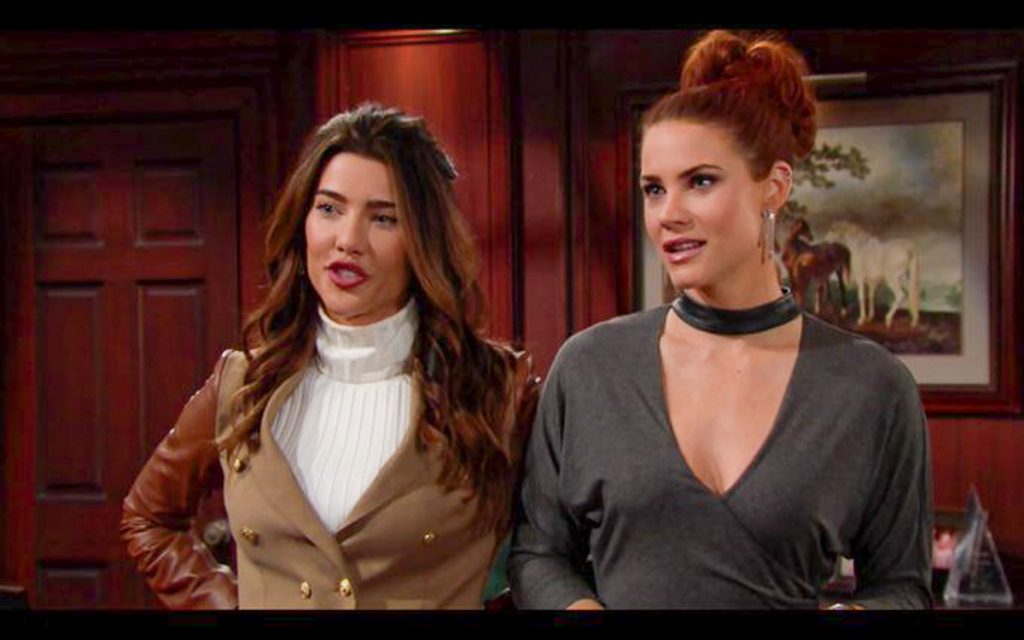 The Bold and The Beautiful spoilers tease that Steffy Forrester (Jacqueline Macinnes Wood) will worry when she sees Sally Spectra ll's (Courtney Hope) ideas for the fashion showdown in an upcoming episode of The Bold and The Beautiful!
The Bold and the Beautiful Spoilers: Sally Spectra ll's Designs Have To Be Winners, But She Seems To Be A Bit Off Her Game!
The fashion showdown is coming up and the deadlines are practically breathing down their necks, but Sally seems to be a bit off her game, and extremely distracted! Every creative person knows that stress and distraction can hinder their creativity, and Sally is trying to design on a deadline and here comes Flo Fulton (Katrina Bowden) back into her fiancé's life, trying to get her man back! Wyatt Spencer (Darin Brooks) hasn't given Sally a ring, a wedding date, or anything but a bunch of excuses, and even nitpicked about a Freudian slip that Sally made when she had Liam Spencer (Scott Clifton) on her mind because he had just come back to work at Spencer Publications, and they had had a welcome back party for him there earlier in the day which Sally had attended with Wyatt! Sally is invested in her relationship with Wyatt and committed to him, but he doesn't seem to reciprocate her investment and commitment! The minute he finds out that Flo is back in town, off he goes to spend time with her and it's like they never were apart!
The Bold and the Beautiful Spoilers: New Rivalry Erupts – Katie Makes An Unexpected Request https://t.co/AU3eLQiLqO pic.twitter.com/L1RfqTEz6G

— SOS/CTS/HH (@SoapOperaSpy) January 13, 2020
B&B Spoilers: Steffy Forrester Looks At Sally Spectra's Ideas And Designs, And They Are Not Up To Par!
Steffy takes one look at Sally's ideas and designs, and she can tell she's off her game and they are not up to par! She has to have a serious talk with the redhead. She is counting on her to make the win and these are just not winning designs. She asks Sally what's going on outside of work and is she having any crises that might be affecting her work and her creativity. Sally tells her Flo is back in town and that Wyatt made a beeline for her as soon as he heard. Steffy's sorry, and she completely understands because Flo's mother is after her father and trying to break his marriage up too, and the apple doesn't fall far from the tree!
But she also tells Sally that while she understands how relationship problems can be distracting and overwhelming, she needs to learn to separate her personal problems from her work, because her ideas and designs are being negatively affected! Steffy says Sally needs to learn to pour her passions into her work, and away from Wyatt because he doesn't seem to be very committed to her – and this might just be a Spencer trait, because Liam flits back and forth between her and Hope Logan (Annika Noelle) as well, and can't seem to figure out who he wants either! But Steffy has learned to pour her passions into her work and if Sally can learn to, maybe they can win the fashion showdown in spite of all the seeming obstacles!
Stay tuned to The Bold and The Beautiful, and keep checking The Bold and The Beautiful spoilers frequently for all the latest news, updates and developments!