General Hospital Spoilers: Who Is The Right Girl For GH Cameron Webber? Vote Now!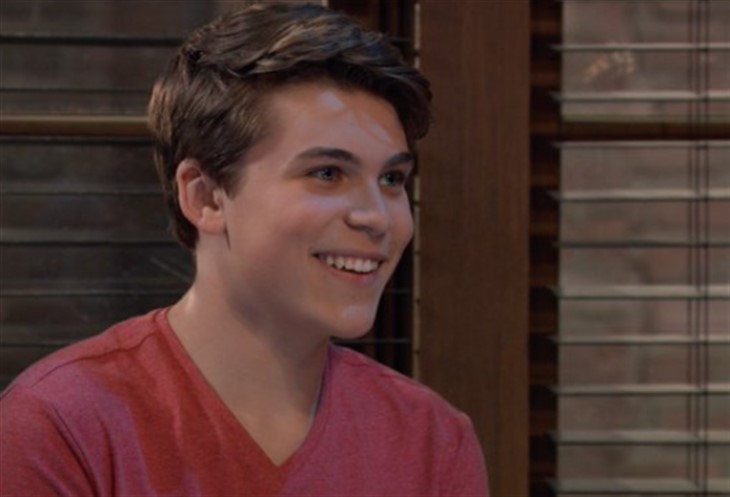 ABC General Hospital spoilers and updates reveal Cameron Webber (William Lipton) has two girls interested in him at the moment. Unfortunately, Cameron only has eyes for one of them. Who is the right girl for Cameron?
General Hospital – Cameron Webber And Jocelyn Jacks Have Been Friends For Years
General Hospital's Cameron grew up with Jocelyn Jacks (Eden McCoy). Cameron and Jocelyn have always been close and he had a crush on her at one time. However, Jocelyn wasn't interested at the time so nothing became of it. Now that Cameron is interested in someone else, Jocelyn wants to have a relationship. Will Cameron reject Jocelyn for the girl he truly wants to be with?
GH Spoilers – Cameron Webber And Trina Robinson Bonded
General Hospital's Cameron and Trina Robinson (Sydney Mikayla) have bonded. These two went through a life-threatening experience together and that brought them closer. Trina and Cameron tried to blame their kiss on the adrenaline from the kidnapping and shooting but now know otherwise. Unfortunately, Trina will probably see the kiss between Cameron and Jocelyn and pull further away. Can Cameron mend fences with Trina after this?
General Hospital Spoilers – Dev Cerci Wants To Be With Jocelyn Jacks
General Hospital's Jocelyn kissed Dev Cerci (Ashton Arbab) but he acted like wasn't interested because of Sonny Corinthos' (Maurice Benard) and everything he has done for him. However, Dev has now admitted that he wants to be with Jocelyn. Dev just hadn't told Jocelyn this. Has Dev waited too long to tell Jocelyn how he feels? Is it too late to try and have a relationship? Will Dev back away further after seeing Jocelyn and Cameron kiss? Is Jocelyn going to miss out on both boys because Cameron is attracted to Trina?
GHSpoilers – Trina Robinson And Cameron Webber Have A Lot In Common
General Hospital's Trina and Cameron have a lot in common. Trina's father is supposed to be dead, Cameron's is dead. Trina's father will eventually come back from the dead, just like Cameron's brother Jake. Trina is going to feel abandoned, just like Cameron must have when his stepfather, Lucky Spencer (Jonathan Jackson) walked out of his life. Cameron is going to be the one person who understands how Trina is feeling when her father returns.
General Hospital Spoilers And Recap Monday, October 5 – Ryan Summons Ava To Pentonville; Brando Wants To Help Take Down Cyrushttps://t.co/Q5thrF5bNm

— SOS/CTS/HH (@SoapOperaSpy) October 6, 2020
General Hospital's Trina is a beautiful girl. Trina and Cameron make a beautiful couple. Cameron should not feel pressured to be with Jocelyn just because they have known each other longer. Cameron and Trina need to see where their relationship leads from here. After all, Liz and Lucky were childhood sweethearts. Could Cameron not be happy with Trina as well? Cameron and Trina deserve a far chance together as do Jocelyn and Dev.
Be sure to catch up on everything happening with GH right now. Come back here often for General Hospital spoilers, news, and updates.