General Hospital Spoilers for Thursday, January 30: Finn Shocks Liz – Nikolas Has Bridges To Rebuild – Sonny Tries To Comfort Mike – Jason Tells The Gunman He Can Live If He Lets The Bartender Go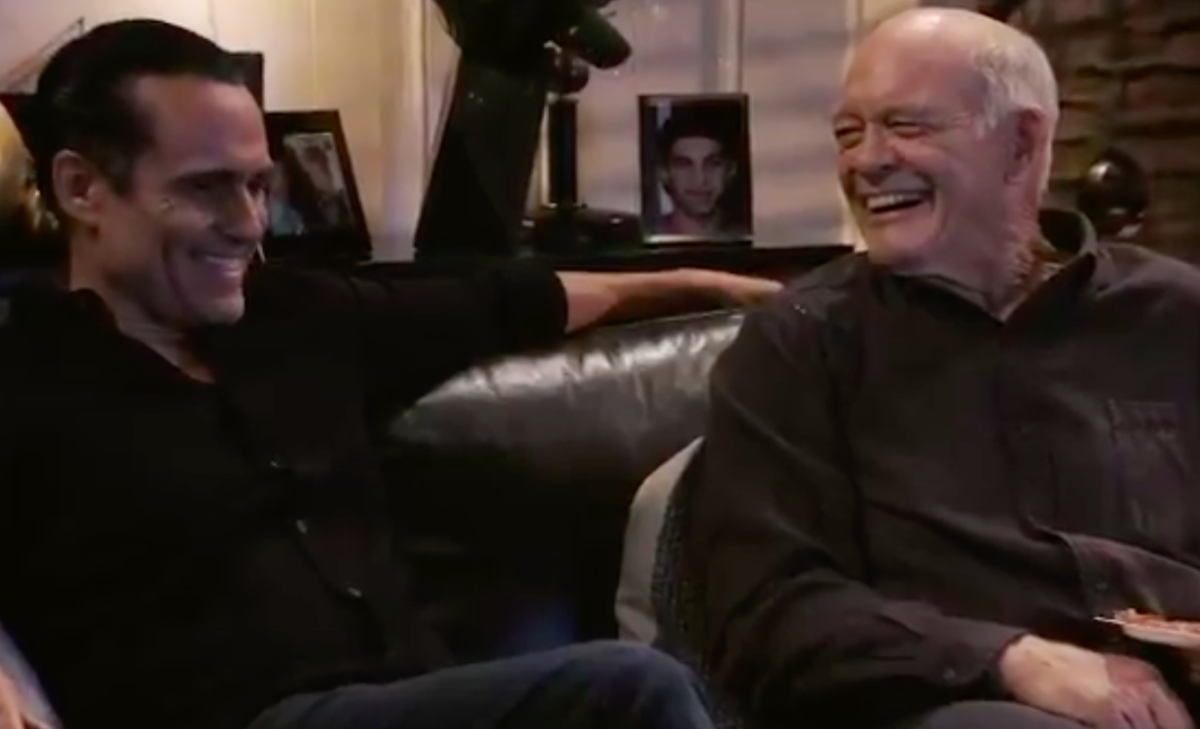 General Hospital spoilers tease that GH is back with new episodes and the one for Thursday, January 30th is full of excitement and drama! If it is not on broadcast TV in your area, check the ABC app or abc.com after 8:00 pm EST for the episode online!
GH Spoilers: A Hero Emerges To Save Carly Corinthos
As the shootouts go on, a hero emerges during the attack at the Corinthos Coffee warehouse where Carly Corinthos (Laura Wright) has dropped down behind a crate on some coffee bags in the floor.
He arrives with his own gun blazing as he tells Carly to get down, and you won't believe who it turns out to be, and neither will his mother Gladys Corbin (Bonnie Burroughs) who is also cowering inside the warehouse office where Sonny Corinthos' (Maurice Benard) warehouse manager Tony (Phillip Boyd) has told her to hide after telling her to quit being nosy and that she couldn't be in there!
General Hospital Spoilers: Dr. Hamilton Finn Shocks Nurse Elizabeth Baldwin
At General Hospital, Dr. Hamilton Finn (Michael Easton) shocks Nurse Elizabeth Baldwin (Rebecca Herbst) and says, "You don't know, do you?!" This will be about Nikolas Cassadine's (Marcus Coloma) part in making Hayden Barnes (Rebecca Budig) disappear "for her own safety" leaving her and Finn's daughter, Violet Barnes (Jophielle Love) with Finn and Anna Devane (Finola Hughes) for an overnight that has turned into several months now, with no contact from Hayden to anyone and no one able to contact her.
Viewers will recall that Nikolas hired a goon to act like he was kidnapping her and then Nikolas rushed in to "save her from the goon". Finn learned this from Jasper Jacks (Ingo Rademacher) who had learned it from Nikolas. Nikolas will be getting some confrontations!
GH Spoilers: Nikolas Cassadine Has Other Bridges To Rebuild
At General Hospital, Nikolas talks to Kevin Collins (Jon Lindstrom) and the subject turns to making amends, as Nikolas tells him he has other bridges to rebuild. This is undoubtedly after Kevin questions how things went with Spencer Cassadine (Nicolas J. Bechtel) who was very angry at his father for playing dead for over three years and not somehow bringing him into the loop about his survival.
Nikolas realized that he had handled everything wrong and had tunnel vision partially because of how he was raised by his uncle Stefan Cassadine (Stephen Nichols) and his grandmother Helena Cassadine (Constance Towers) who had treated his princely title as much more important than Nikolas as a child and a human being. So Nikolas will give Spencer the space and time he needs and concentrate on rebuilding bridges that may be more forgiving!
General Hospital Spoilers: Sonny Corinthos Tries To Comfort Mike Corbin
In the midst of the attack in a pub in Brooklyn that Mike Corbin (Max Gail) once frequented, Sonny tries to comfort his father as Jason Morgan (Steve Burton) continues in a shootout with the gunman. Sonny tells him that whatever happened, it is not Mike's fault, although Mike may have seen the gun trained on himself….although Sonny is probably the intended target. Mike is upset and has had a meltdown while on the floor behind a table where Sonny was shielding him, although they have now risen to their feet.
General Hospital Spoilers: Eden Mccoy Now Has A Driver's License https://t.co/erl2iUD36y pic.twitter.com/aKlS8MJxmH

— SOS/CTS/HH (@SoapOperaSpy) January 28, 2020
Meanwhile, at the third attack scene, Mayor Laura Collins (Genie Francis) has been shot and Michael Corinthos, (Chad Duell) still crouching down for cover and shielding Sasha Gilmore (Sofia Mattsson) shouts at Josslyn Jacks (Eden McCoy) who is still on the phone with 911 as to how long it will be for the ambulance to get there. She is telling 911 that they need to hurry, as Laura is bleeding profusely from a gunshot wound to the stomach. Dustin Phillips (Mark Lawson) can also be seen running up from behind Joss.
GH Spoilers: Jason Morgan Tells The Gunman He Can Live If He Lets The Bartender Go
Meanwhile, back at the pub in Brooklyn, the gunman has taken Maggie, (unnamed actress) the bartender hostage behind the bar as Sonny tries to comfort Mike after he has had a meltdown. Jason has his gun trained on the gunman as he holds her in front of him! Jason, however, has a clear shot at the gunman's head and tells him if he lets her go, he gets to live!
Stay tuned to GH and keep checking General Hospital spoilers frequently for all the latest news, updates and developments!