General Hospital Spoilers: Charlotte's Issues Surface – Is Sasha In Danger?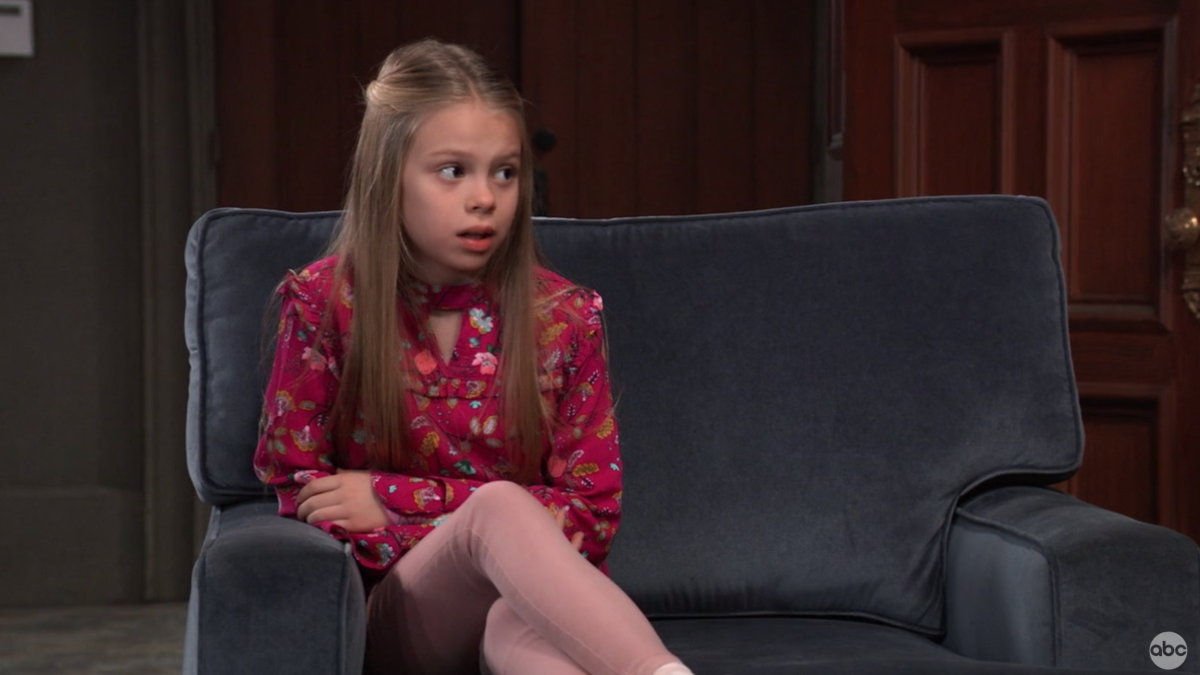 General Hospital (GH) spoilers indicate that Charlotte Cassadine (Scarlett Fernandez) may be having trouble coping after everything see has been through the last few months. It seems as though she has some unresolved anger issues that could cause harm to someone is not dealt with as soon as possible.
General Hospital Spoilers: Charlotte has been through a lot these past few months
Charlotte has had a lot to deal with the last few months. Her father, Valentin Cassadine (James Patrick Stuart) and Nina Reeves (Cynthia Watros)had two aborted wedding ceremonies, Charlotte wanted Nina to marry her father very badly and to get her hopes up and then dashed. Nina loves Charlotte more than anything but she can't be with Valentin after all the lies he has told. But Charlotte's trauma didn't end there.
GH Spoilers: Kidnapped and an imaginary bodyguard
General Hospital Spoilers: Soap Alum Hayley Erin Returns To Abc's Modern Family https://t.co/18in6a7Yjt pic.twitter.com/A83aUpZtrM

— SOS/CTS/HH (@SoapOperaSpy) January 22, 2020
While all this was going on, Charlotte was kidnapped by Cassandra Pierce (Jessica Tuck). The drug lord was desperate to find a way out of Port Charles after escaping Pentonville so she took Charlotte in order to force Valentin to help her make her getaway. Thanks to Anna Devane (Finola Hughes) and Jason Morgan (Steve Burton), Charlotte got away unharmed but this wasn't end of Charlotte's troubles. Nikolas Cassadine (Marcus Coloma) broke into Wyndemere and Charlotte caught him. Nikolas had to think fast and lied that he was Charlotte's bodyguard. So in order to prove that she had a bodyguard, Charlotte jumped into the pier, confident her bodyguard would save her. Of course, Nikolas was nowhere to be found. Thanks to Dustin Phillips (Mark Lawson), Charlotte was saved.
General Hospital Spoilers: It's no wonder Charlotte is angry
Charlotte's anger and confusion is understandable. But it seems to be coming out in potentially dangerous ways. For most of last year, Charlotte believed that Sasha Gilmore (Sofia Mattsson) was Nina's biological daughter and the two of them were getting very close. But wasn't actually related to Nina at all, it was all a ruse orchestrated by Valentin so Nina would have her daughter. When Nina found out, she was furious and even considered bringing charges against Sasha. Sasha took the blame for the whole thing, because she believed that although Valentin lied, he had Nina's best intentions in mind.
Could Charlotte be so angry she hurts someone?
Apparently Charlotte hasn't gotten over Sasha's betrayal. While making a collage for an art project, Charlotte cut up Sasha's picture. Left unchecked, this kind of behavior could certainly escalate. She needs to talk to someone. Part of Charlotte's issues stem from the fact Valentin and to an extent, Nina, let Charlotte get away with bad behavior. Viewers may recall that when Charlotte was taking part in bullying Aiden Webber (Jason David), Valentin and Nina made excuses for Charlotte's actions. But that will only make things worse. Hopefully, someone will notice and help Charlotte deal everything that has happened to her.
What will happen?
Will Charlotte continue to act out? Could she actually harm Sasha? Or will Charlotte's parent realize what is happening and make sure Charlotte gets help and no one gets hurt. Some exciting scenes are coming up, so stay tuned to General Hospital airing weekdays on ABC. And don't forget to check back here regularly for all your General Hospital news, information and spoilers!