General Hospital Recap Monday, February 10: Anna and Robert argue – Spinelli is suspicious of Peter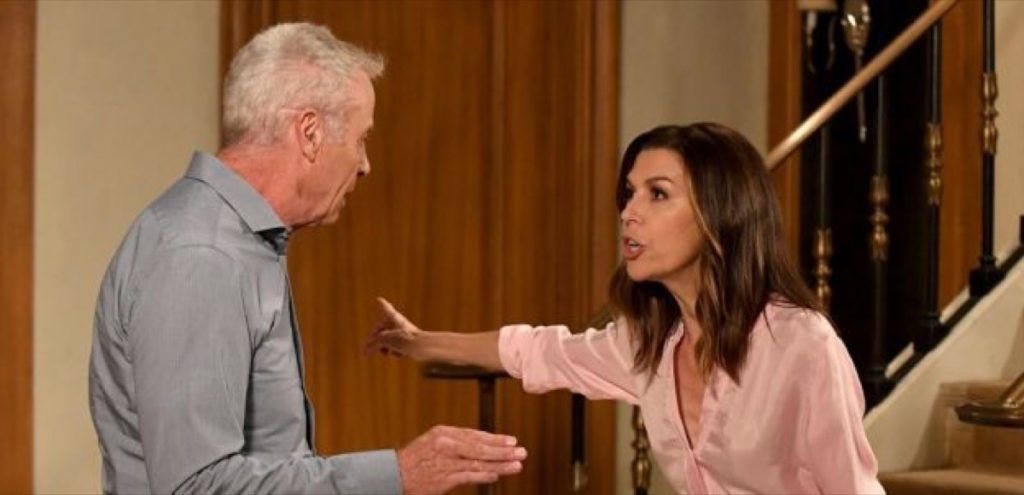 Welcome to your Monday, February 10th General Hospital (GH) recap! We begin our day at Anna Devane's (Finola Hughes) mansion where she is saying good morning to her granddaughter Emma Drake (Brooklyn Rae Silzer). They discuss how cute Violet is and how happy they are to be able to visit.
At the Metro Court restaurant, Maxie Jones (Kirsten Storms) is going on and on about how great her work is at Crimson. Peter August (Wes Ramsey) says he adores listening to her enthusiasm. Suddenly Damian Spinelli (Bradford Anderson) appears and asks if he can join them.
At Kelly's diner, Alexis Davis (Nancy Lee Grahn) is about to leave when she awkwardly runs into Dr. Neil Byrne (Joe Flanigan). She wonders if they should be talking at all and he says he needs her to testify at his hearing.
General Hospital Spoilers – Josslyn Jax and Trina Robinson discuss school and boys
At the Jerome Gallery, Josslyn Jax (Eden McCoy) arrives and tells Trina Robinson (Sydney Mikayla) they need to get to their SAT prep class. Trina says she still has some work to finish for Ava as Josslyn says Ava is not a great person.
Trina defends Ava Jerome (Maura West) as Josslyn warns her to be careful. They see some pics of Cameron at a college visiting and start to fret about getting older. Dev Corbin (Ashton Arbab) shows up at the gallery and asks what to do about his fake father.
GH Spoilers – Carly Corinthos hovers around Brando Corbin
At General Hospital (GH), Carly Corinthos (Laura Wright) arrives at Brando's hospital room and asks if he always knew who she was. Brando said he just happened to run into the gunfire and had no idea who she was, even though she's a beautiful blonde.
Carly grills Brando trying to figure out his background and why he saved her life.
General Hospital Spoilers – Sonny Corinthos is furious about the attack by Renault
Jason Morgan (Steve Burton) stops by Sonny Corinthos (Maurice Bernard) office and he begins yelling about the attacks right away. He says his family is in danger and they need to fix this. Jason says 3 people who crossed Cyrus Renault were found decapitated.
Jason says Port Charles is much more attractive to the drug traffickers because of its location.
GH Spoilers – Alexis Davis is worried about Neil Byrne and her children
Alexis Davis (Nancy Lee Grahn) tells Neil Byrne (Joe Flanigan) that she would be fine with testifying at his meeting with the board. Neil reiterates how much he likes her and Alexis says she feels the same way.
Sam McCall (Kelly Monaco) drops by and says she needs to grab some donuts for the kids as Alexis leaves. Sam tells Neil that all the secrets are out and on the table in terms of her mom.
General Hospital Spoilers: Nikolas And Ava Try To Outsmart One Another – Who Will End Up On Top? https://t.co/Evl8co9U6J pic.twitter.com/XzKu8wf9rn

— SOS/CTS/HH (@SoapOperaSpy) February 11, 2020
General Hospital Spoilers – Damien Spinelli has amazing news
Damian Spinelli (Bradford Anderson) tells Maxie and Peter that Ellie got the job and they will be moving to Port Charles. Maxie is ecstatic as now she realizes her kids will grow up together. Maxie begins crying as she's ecstatic about the big family all coming together.
Maxie allows Spinelli and Peter to catch up, where Damian grills him about Faison.
GH Spoilers – Anna Devane and Robert Scorpio argue
Robert Scorpio (Tristan Rogers) arrives at Anna's mansion and is super excited to see his granddaughter Emma. Finn leaves to take Violet to school and let the rest of the family reunite.
Emma says she can tell that her grandparents are fighting and wants to know why. Emma heads out as they continue arguing about Peter. Anna says that Peter is a good person now as Robert is worried shes gotten herself into trouble.
General Hospital Spoilers – Monday Excitement!
Alexis sees Hamilton Finn at AA and goes on about the relationship between Sam and Jason. Shes worried Sam will be sent back to prison if she violates parole.
Spinelli reminds Maxie that Peter's background is shady and they need to be careful.
Anna begs Robert to help protect her son as they raise their voices – Peter stands at the door listening.
Dev shows up at the hospital and introduces himself to a confused Brando. Jason shows up and asks what the heck is going on.
Sonny calla Turning Woods and realizes there's a problem with his father and rushes out the door…….flash to preview
Stay tuned to GH and keep checking General Hospital spoilers frequently for all the latest news, updates and developments!