Emmerdale Spoilers: Jamie Searches, Cain Assumes, Malone's Threat, Hit And Runemm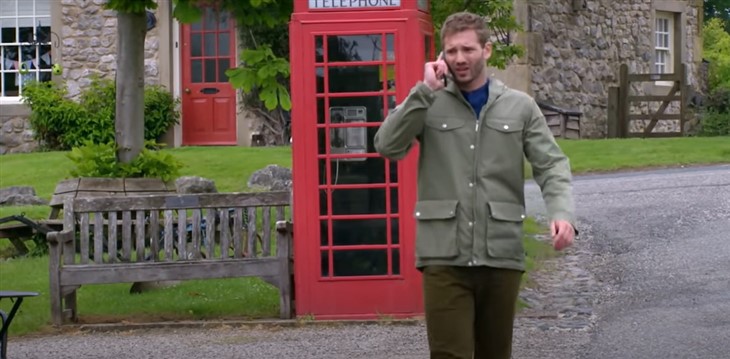 ITV Emmerdale spoilers and updates for the week of July 6 reveal that Jamie Tate (Alexander Lincoln) goes on a frantic search for Andrea Tate (Anna Nightingale). Mark Malone (Mark Womack) threatens Moira Dingle (Natalie J. Robb), but Cain Dingle (Jeff Hordley) assumes they are having an affair. Later, Cain gets a phone call telling him that Moira is the victim of a hit and run.
Emmerdale Spoilers – Monday, July 6: Moira Dingle's Discovery
According to Digital Spy, Monday's episode will have Malone and Harriet Finch (Katherine Dow Blyton) about to share a kiss again. However, they are interrupted by Moira. Harriet can't lie and admits to the affair. However, Moira ends up with an even bigger shock when she hears that Cain is involved with Malone's shady deals.
Later, Malone breaks in with the sole purpose of keeping Moira quiet. He threatens her and warns her to keep her mouth shut. What neither of them realizes is that Cain is quietly observing from a distance, but assumes Malone and Moira are sleeping together.
Jamie Tate Rages
On Wednesday, expect to see Jamie raging over the fact that Leyla Harding (Roxy Shahidi) was helping hide Andrea. But then he is confused when Leyla claims that this time, she really doesn't know where the woman went. Kim Tate (Claire King) tells Jamie about a phone call she received earlier. He tries to trace the call to see if he can figure out where Andrea ran off to. His goal is to drag Andrea back, but he might end up regretting it.
Meanwhile, Leanna Cavanagh (Mimi Slinger) notices how depressed and lonely her father is.
Emmerdale Updates – Friday, July 10: Warnings And Tragedy
Emmerdale spoilers for Friday reveal that Cain will be notified that Moira is the victim of a hit and run. Will, he put the puzzle pieces together, or could Malone's threat actually have nothing to do with the person who really ran down Moira? Also, look for Leanna and Jacob Gallagher (Joe-Warren Plant) to scheme to get Liam and Leyla back together. However, will their plan work, especially after Leanna worked so hard to keep the two apart?
Emmerdale Spoilers: Lydia Faces Huntington's Dilemma Again – What Will She Do? https://t.co/qxHaXkFtnn pic.twitter.com/tD3DGExtxA

— SOS/CTS/HH (@SoapOperaSpy) June 30, 2020
What do you think is going to happen with Moira? Is Malone responsible for her injuries and will Cain go after him? Or is his threat just a well-timed coincidence? Will Jamie find Andrea and get her to come back or is she gone forever? Will Leanna and Jacob's plan work to reunite Liam and Leyla? We will have to keep watching the soap to see what happens next.
Be sure to catch up on everything happening with the soap right now. Come back here often for Emmerdale spoilers, news, and updates.