Days of Our Lives Spoilers: Jack Urges Justin to Fight For Kayla – 'Stayla' Love Triangle Teased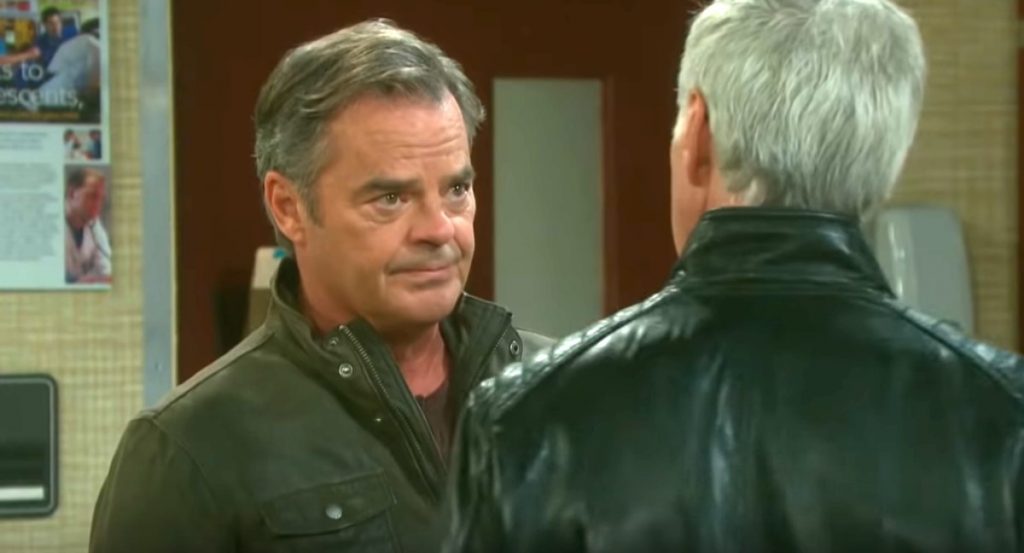 Days of Our Lives spoilers reveal that Justin Kiriakis (Wally Kurth) will talk to someone trustworthy about his fears. He worries that when Steve Johnson's (Stephen Nichols) memory comes back, he might lose Dr. Kayla Brady (Mary Beth Evans). Jack Deveraux (Matthew Ashford) urges Justin to fight for love, but which man will Kayla choose in the end? Keep reading to get the details.
Lifelong Romance With Steve Johnson
DOOL spoilers reveal that Steve and Kayla have a long history together. Throughout their three decades together, they have endured separations, complications, and much more. However, they always ended up finding their way back into each other's arms. Unfortunately, the one-year time jump would show Kayla moving on with Justin.
DOOL Spoilers: Remembering 'Sweetness'
It is teased that when Steve first wakes up from his surgery, Kayla will be thankful he is alive. For a bit, it will be touch-and-go with him as Kayla and Dr. Sarah Horton (Linsey Godfrey) encounter some unexpected complications.
Days of Our Lives Spring Spoilers: Xander And Sarah's Sweet Wedding While Kayla Lets Her Heart Choose https://t.co/cMMWM5Qnfn pic.twitter.com/BAXnCnpST1

— SOS/CTS/HH (@SoapOperaSpy) April 1, 2020
However, he does eventually wake up, but there's an issue. He doesn't remember his love for Kayla. It seems there might be other things he doesn't recall, which prompts Dr. Marlena Evans (Deidre Hall) to help him. Ultimately, she is successful and Steve not only deals with hurting "sweetness," but grieves the loss of Adrienne Kiriakis (formerly Judi Evans).
Justin Kiriakis' Relationship Fears
Days of Our Lives spoilers reveal that Justin will worry about the status of his relationship when the real Steve comes back. He discusses the possibilities with Kayla. As good as Justin has been to her, there is a chance that she could go back to Steve. His worry sends him to chat with Jack, who encourages him to fight for love.
As for Kayla, she will be urged by her friends and family to follow her heart. Fans know that her heart has always and will forever be tied to Steve.
Days of Our Lives Spoilers: Kayla Brady's Love Dilemma
It is teased that Kayla will be smack in the middle of a love triangle. Which man will she choose? Justin, her current partner who has been nothing but supportive? Or will she pick Steve, with whom she had an up-and-down, but passionate romance for more than 30 years? To find out what happens next with this storyline, fans will have to keep watching the NBC soap opera.
Be sure to catch up on everything happening with DOOL right now. Come back here often for Days of Our Lives spoilers, news, and updates.