Days Of Our Lives Spoilers: Eric & Nicole Stop Sarah's Wedding – Kristen Still Agonizing Over 'Dead' Baby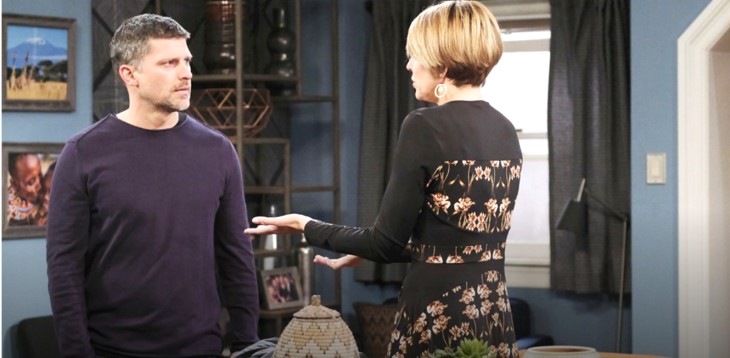 Days of Our Lives spoilers reveal that Eric Brady (Greg Vaughan) is told the truth about Mackenzie "Mickey" Horton (the May twins). Next, he and Nicole Walker (Arianne Zucker) need to tell Sarah Horton (Linsey Godfrey). They try to get to her before she walks down the aisle. Meanwhile, Kristen DiMera (Stacy Haiduk) continues to agonize over the death of her daughter.
DOOL spoilers reveal that Nicole finds out with 100 percent certainty that baby Mickey is really Kristen and Brady Black's (Eric Martsolf) child. She actually locates Dr. Raynor (Victoria Platt) and gets the truth out of her.
The first thing she does when she returns to Salem tells Eric the bad news. Understandably, he is heartbroken.
DOOL Spoilers – Eric Brady's Farewell
Eric forces himself to say a tearful goodbye to baby Mickey. As fans know, the one thing he has always wanted is a child of his own. That is why he pushed for the truth so hard when Sarah was pregnant. It's also part of the reason he's being so controlling about who is involved in Mickey's life. Now, he has to accept that he doesn't have a child.
However, he does get a bit of relief when Nicole's daughter starts calling him "daddy."
Days of Our Lives Spoilers – 'Xarah' Wedding Drama
Days of Our Lives spoilers reveal that Eric knows that Sarah needs to know the truth about her daughter. He goes searching for her, but she is getting ready for her wedding to Xander Cook Kiriakis (Paul Telfer). He must not be able to track her down or Sarah might not believe him. After all, Eric always had a serious problem with Xander and he wasn't pleased that "Xarah" was engaged.
Eventually, both Eric and Nicole work together to talk to Sarah. They end up trying to intercept her before the wedding. However, chances are that they will be forced to stop the wedding. As fans know, weddings in Salem always have chaos and drama.
Days of Our Lives Spoilers: John Panics As Marlena Gets Another Procedure https://t.co/QBnZ9uJxr8 pic.twitter.com/4mSn00UqhO

— SOS/CTS/HH (@SoapOperaSpy) March 31, 2020
DOOL Spoilers – Sarah Horton's Shock
It is confirmed that in two weeks, Sarah will receive the shock of her life. We know that she must finally have to deal with the fact that Mickey is not her child, but belongs to Brady and Kristen. Once she accepts what Eric and Nicole are saying is true, then someone will have to tell "Bristen." At this point, Kristen is still agonizing over her "dead" daughter.
Now, the question is when will the truth about Xander and Victor Kiriakis (John Aniston) being responsible come to light? What will be the consequences of the baby swap? Fans will have to keep watching the NBC soap opera to find out.
Be sure to catch up on everything happening with DOOL right now. Come back here often for Days of Our Lives spoilers, news, and updates.