Days of Our Lives Spoilers And Recap Wednesday, February 5 – Gabi Learns About The Pacemaker; Kristen and Brady Make Plans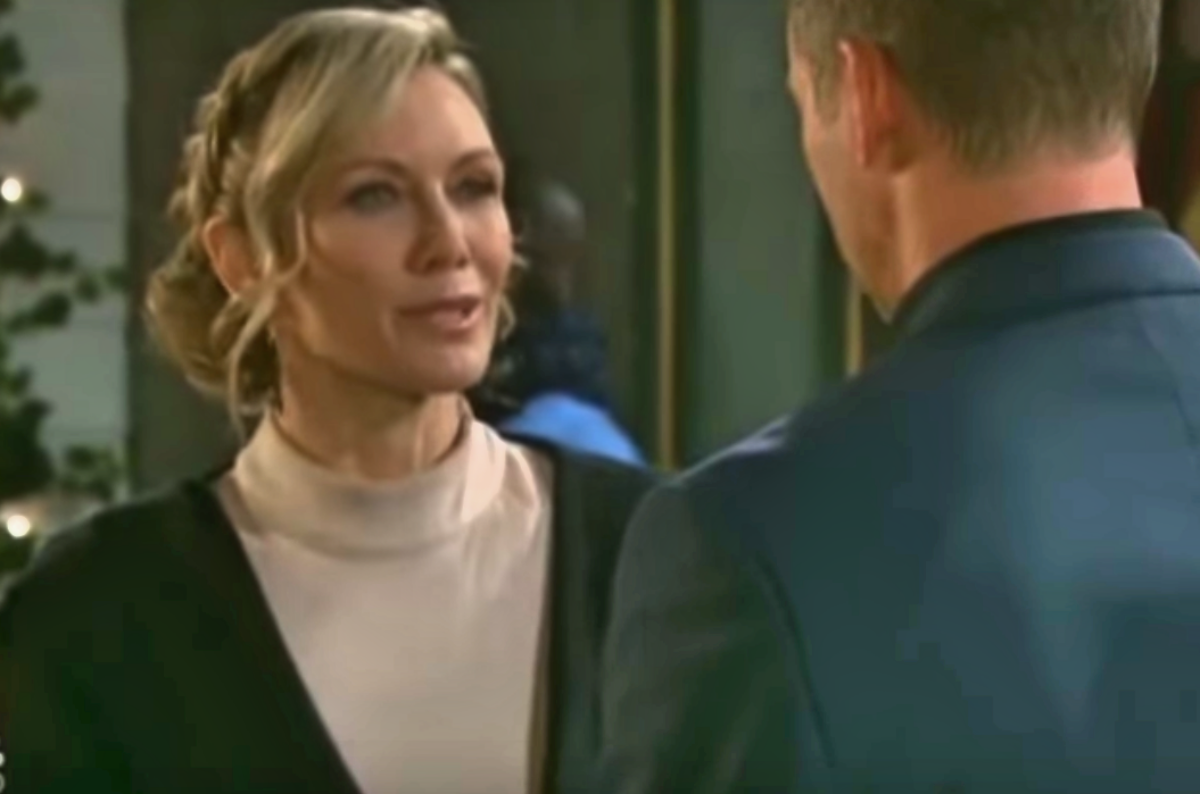 Days of Our Lives (DOOL) recap Wednesday, February 5, 2020, reveals Julie Williams (Susan Seaforth Hayes) wants Eli Grant (Lamon Archey) and Gabi Hernandez (Camilla Banus) to have their reception at Julie's place.
DOOL Spoilers: Eli Grant and Gabi Hernandez Discuss The Reception With Julie Williams
Julie is thrilled the Eli and Gabi want her to perform their ceremony. Julie is glad that J.J. Deveraux (Casey Moss) is Eli's best man. Julie thinks the family needs to celebrate love together. J.J. assures Julie that he is fine. J.J. is looking forward to Gabi getting exactly what she deserves. Gabi tells Julie they need to discuss the seating chart. Julie tells them she had an issue at her doctor's appointment.
Julie tells them her pacemaker needs a new battery. Gabi offers to postpone the wedding. Julie explains that the pacemaker has to be changed. Gabi gets upset and claims to be worried about Julie. Julie talks about Eli and Lani's wedding that didn't happen. Julie plans to be there to watch Eli and Gabi get married. J.J. claims to be going to work Gabi says she has to go too.
Days Of Our Lives Spoilers: Lani Price Stresses The Urgency to Theo Carver
Days of Our Lives' Lani Price (Sal Stowers) calls Theo Carver (Kyler Pettis). Lani makes sure to tells Theo how urgent this matter is. Kristen Dimera (Stacy Haiduk) knocks on the door. Kristen asks Lani if she has made any progress. Lani says they have to find a way to disable that app and stop Gabi. Kristen realizes that Theo is a genius but they need a better plan. Kristen tells Lani that she and Brady may be getting back together. Kristen tells her that Brady admitted to having feelings for her.
Lani asks what this means. Kristen says things are looking up. Kristen tells Lani she will get it right this time. Lani tells Kristen this has to be over by Valentine's day. Kristen thinks she can get Gabi's phone. Kristen asks Lani what she can do to help. Kristen and Lani toast to bringing down Gabi. Kristen says soon they will both be this happy and leaves. J.J. arrives and tells Lani that Julie's pacemaker has to be replaced. Lani is sure that Gabi has been stopped. J.J. knows Gabi will keep control of the pacemaker is possible. Gabi calls to make sure she has control of the new pacemaker as well.
DOOL Spoilers: Brady Black And Kristen Dimera Agree To Take It Slow
Days of Our Lives' Brady Black (Eric Martsolf) is thinking about his conversation with Kristen when Maggie Kiriakis (Suzanne Rogers) interrupts his thoughts. Maggie thanks Brady for being tested. Brady tells Maggie he was still on the registry. Maggie says it was kind of Kristen to get tested. Maggie asks if things have thawed between Brady and Kristen and he says yes. Brady tells Maggie how he has pushed Kristen away since she came home. Brady talks about going to the cemetery with Kristen. Brady says remembering that night helped them move forward. Maggie cries and asks how to move forward.
Brady asks what is going on with Maggie. Maggie says she was passed out drunk at home. Maggie is disappointed in herself because she knew Sarah needed her. Brady tries to offer Maggie excuses. Maggie says there is no excuse. Maggie says she failed her daughter. Brady asks what if Maggie had tried to drive to the hospital. Maggie tells Brady that Victor Kiriakis (John Aniston) has been asking about him. Brady says there is no pleasing Victor. Maggie will never understand what Victor has done. Maggie knows Brady and Victor love each other. Brady and Kristen run into each other in the square. Kristen doesn't want to push Brady away. Kristen wants to take things slow. Brady and Kristen make plans for breakfast.
Days Of Our Lives Spoilers: Eric Brady And Nicole Walker Make Love
Days of Our Lives' Eric Brady (Greg Vaughan) tells Nicole Walker (Arianne Zucker) that he forgives her. Eric as Nicole and his daughter can be a priority. Nicole says if Eric wants to go upstairs but he doesn't think that is a good idea. Eric tells Nicole that he wants to go home to their apartment with her. Eric and Nicole go home. Eric tells Nicole where she is will always be his home.
Eric has checked on the baby and she's fine. Nicole tells Eric that Xander insisted on Brady getting tested. Eric says Xander cares about Sarah and the baby. Nicole talks about Xander insisting on Brady's son being tested. Eric asks why they are talking about Xander. Eric takes Nicole by the hand and they go to the bedroom. Eric has wasted too much time staying away from Nicole. Eric has never stopped loving Nicole and never will. Eric and Nicole start to kiss as they undress each other. Eric and Nicole begin to make love.
Days of Our Lives Spoilers: Sarah Claims Xander Is The Man For Her – Will She Break His Heart https://t.co/nMhvaEp0vU

— SOS/CTS/HH (@SoapOperaSpy) February 5, 2020
DOOL Spoilers: Xander Kiriakis Promises To Find A Donor
Days of Our Lives' Sarah Horton (Linsey Godfrey) and Xander Kiriakis are kissing Xander wants to make sure this is what Sarah wants. Sarah says she will keep tells Xander she loves him until it sinks in. Sarah feels guilty for being happy when her daughter is so sick. Micky Horton (May Twins) wakes up crying and Sarah runs to her. Sarah brings the baby into the room where Xander is.
Xander takes Mickey and holds her. Xander says a nursery rhyme to Mickey, this is all Xander ever wanted. Sarah and Xander have Mickey in bed with them. Sarah wants to do anything to keep Mickey from being scared. Xander promises Sarah that Mickey will make it. Sarah is uneasy about Brady and Kristen being tested. Xander asks why Sarah would feel bad about Brady and Kristen being tested.
Sarah says it could have easily been her child that died that night. Sarah takes the baby to put her to bed. Xander assures Sarah he isn't going anywhere. Sarah tells Xander the baby went right to bed. Xander wonders how Eric will take them being together. Xander wants to make Sarah and Mickey happy. Xander will always be there for them. Sarah and Xander begin to kiss again. Sarah and Xander lie in each other's arms and he promises to find a match for Mickey.
Stay tuned to Days of Our Lives and keep checking Days of Our Lives spoilers frequently for all the latest news, updates and developments!