The Young And The Restless Spoilers: Devon Uncovers A Mystery– Does He Find Out Who The 'Old Jerk' Is?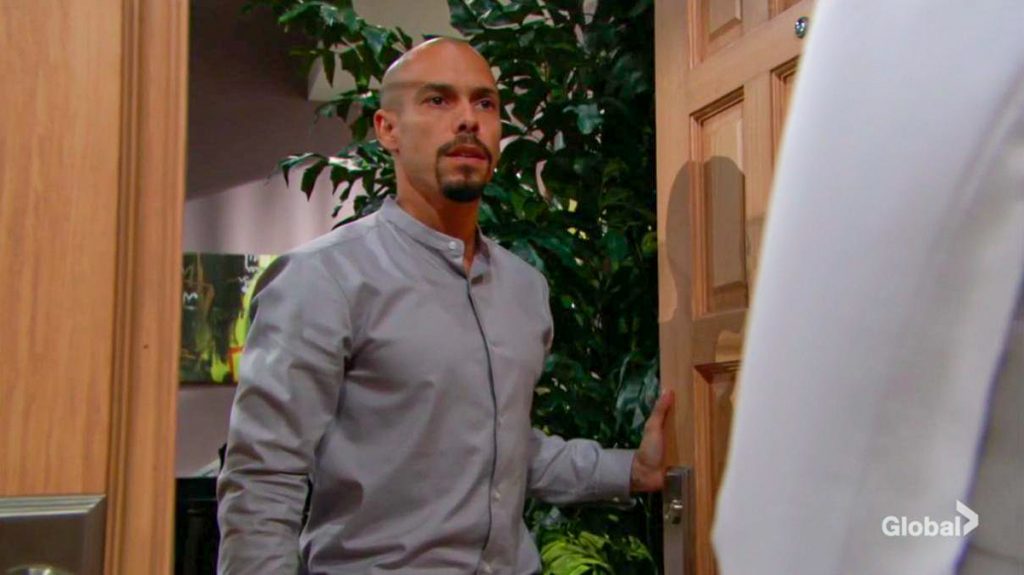 The Young and The Restless spoilers tease that Devon Hamilton (Bryton James) will uncover a mystery this week!
Devon, his girlfriend Elena Dawson (Brytni Sarpy) and Amanda Sinclair (Mishael Morgan) are all in Crimson Lights at the same time, when Elena spots Amanda and decides to chat her up. Amanda appears to be at ease with Elena, and starts grousing about the case involving the challenge to Katherine Chancellor's (Jeanne Cooper) will, and is tired of messing with it to the point it's starting to mess with her!
Devon overhears Amanda give Elena too much information when she remarks she wished she'd never let that old jerk rope her into taking the case! OLD JERK?! Devon's ears perk up and he comes over and asks her some more questions!
Y&R Spoilers – If The Client Is An Old Jerk, It Can't Be Chance Chancellor!
Devon points out that if Amanda is calling her client "an old jerk" then it can't possibly be Chance Chancellor (John Driscoll) she's referring to! Even Tucker McCall (Stephen Nichols) isn't that old, only 68 if we go by the actor's age, and that's ten years younger than Eric Braeden, whose character, Victor Newman, is supposed to be a few years younger at 72.
Cane Ashby (Daniel Goddard) is 48 if we go by the actor's age, and Adam Newman (Mark Grossman) can certainly be ruled out by age, even if he is a jerk! Cane and Y & R viewers alike have suspected that Adam Newman is behind the challenge because of his association with Chance and his leaving town right before the will copy was overnighted to Amanda, and Cane flew out to Las Vegas to track down both Adam and Chance.
Of course, perception of age is subjective, and Amanda's idea of "old" might not be as old as one would assume! Even Cane's father, Colin Atkinson (Tristan Rogers) at age 69, if we go by the actor's age, wouldn't be considered old by Tucker and certainly not by Victor who is older than both Colin and Tucker! Amanda, probably in her early 30s could think someone even Cane's age to be "old"!
Young and Restless Spoilers: Is Lola Pregnant? Abby Newman Thinks She Is! @celebratesoaps #yr #youngandrestlesshttps://t.co/Ai8DN62khx

— SOS/CTS/HH (@SoapOperaSpy) October 14, 2019
Young & The Restless Spoilers – Amanda Sinclair Will  Shut Down The Conversation
Amanda, realizing that she's said too much already, will likely either change the subject or shut down the conversation entirely, and possibly even excuse herself and leave! Whoever this older client is and however old he is, assuming Amanda wouldn't call a female client a "jerk", although she might, it's obvious that Amanda does not have a lot of patience with him or her.
But Devon will feel that even though he's no closer to finding out who is behind this challenge, which at this point can't even legally BE challenged, at least he can rule out Chance, Cane, or Adam! Amanda herself may just be a paralegal and that might be why he can't find any information on her and would explain why if she is legit, she may not realize that the challenge is not legal, and this "old jerk" might be using her to pull off a scam!
Stay tuned to The Young and The Restless, and keep checking Y&R spoilers frequently for all the latest news, updates and developments!