General Hospital Spoilers: Shiloh On The Loose — Will Chase Find Him Before He Kills Someone?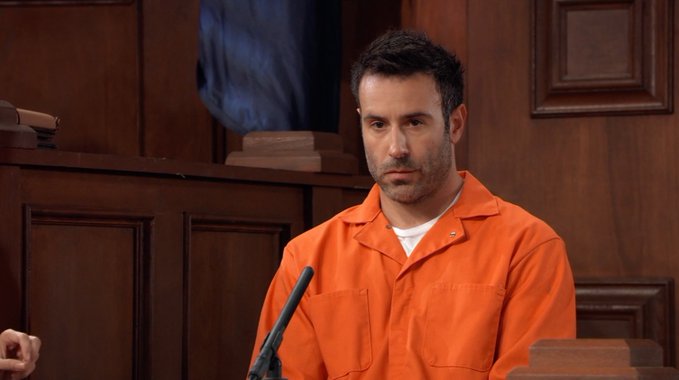 General Hospital (GH) spoilers tease that Shiloh Archer's (Coby Ryan McLaughlin) on the loose in a new Sneak Peek video!
General Hospital viewers will recall that Shiloh escaped custody in Friday's episode, and still in the courthouse, Detective Harrison Chase (Josh Swickard) told Jason Morgan (Steve Burton ) and Samantha McCall (Kelly Monaco) that Shiloh had disappeared and the prison transport van had never made it back to Pentonville Prison! This sneak peek video picks up where that conversation left off.
GH Spoilers – There Is An All Points Bulletin, A Dragnet, Roadblocks And A Police Presence At Bus And Train Stations
Chase explains that Commissioner Jordan Ashford (Briana Nicole Henry) has put out an APB, or All Points Bulletin, there is a police dragnet with roadblocks at all ways out of the city, and a police presence at all venues of public transportation such as bus and train stations.
Jason says yeah, but Shiloh's going to know that; he's not going to risk taking public transportation and he's going to find some other way to get across the Canadian border.
General Hospital Spoilers – Detective Harrison Chase Continues With His Update
Chase continues to say that the prison transport van that was taking Shiloh back to Pentonville had been found abandoned with no trace of the two guards or the prisoner – nothing but a pair of handcuffs. Sam tells Chase that Shiloh is a menace, not a superhero; there is no way he could get past two armed guards!
Chase then suggests maybe it was a hijacking, possibly by people in Shiloh's Dawn of Day cult; but then thinks better of it when he asks how they would know the route the van would take! Jason suggests that maybe it was an inside job!
Will Sam and Jason get married again on #GeneralHospital?#GHhttps://t.co/ONx9o0YQaD

— SOS/CTS/HH (@SoapOperaSpy) September 20, 2019
GH Spoilers – Meanwhile, Nurse Bobbie Spencer Is On Her Way Home And Is Pulled Over
Meanwhile, Nurse Bobbie Spencer is on her way home from her shift at General Hospital and is pulled over by who she thinks is a policeman. A baby seat can be seen in the back seat, and General Hospital viewers will recall that earlier in Friday's episode she had stopped by Sonny and Carly Corinthos' (Maurice Benard, Laura Wright) briefly and said she was on her way to pick up Wiley Cooper-Jones (Erik and Theodore Olson) from the nanny, so Wiley may be with her!
Shiloh has put on one of the guard's uniforms and is dressed like a policeman and tells her to get out of the car. Bobbie fumbles and tries to get her license and registration and her purse, but Shiloh keeps shining the flashlight in her eyes and she asks him to stop.
He does not; and keeps pressing her to get out of the car after telling her he doesn't need her registration! Bobbie tells him she is a nurse at General Hospital and on her way home from her shift and has not been drinking, and then all of a sudden exclaims, "Oh my God! It's YOU!" as she recognizes who she is; he flashes a sick smile at her!
As General Hospital viewers saw in the preview for Monday's episode, Bobbie will be left at the side of the road in the dark, screaming for help!
Stay tuned to General Hospital and keep checking GH spoilers frequently for all the latest news, updates and developments!