General Hospital Spoilers – Molly's Article On The Cassadine Family Stirs Up Big Trouble In Port Charles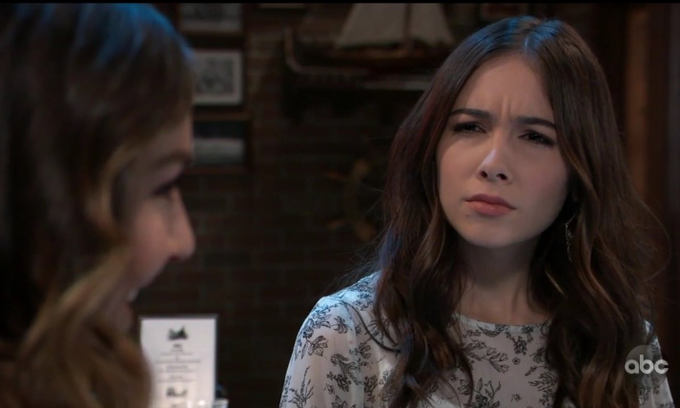 General Hospital (GH) tease that the Cassadines are coming back into play in a big way on General Hospital. Helena (Constance Towers) and Nikolas (last played by Nick Stabile) have been mentioned quite a bit recently, and a return by one or both of them seems to be a foregone conclusion.
Of course, Alexis (Nancy Lee Grahn) and her daughters are also Cassadines and then there is also Valentin (Robert Patrick Stuart) already on the canvas. But Cassadine family history hasn't been a story point for quite a while. Will Molly 's (Hayley Pulos) story for the Invader stir up some Cassadine family secrets.
General Hospital Spoilers – Molly Lansing-Davis is thinking about becoming a reporter
Molly has been focusing on the law for quite a while, but over the summer she has decided to pitch a story to Peter August (Wes Ramsey) about Cassadine family history. The Cassadines have a long history all the way back to creating the Ice Princess, a device used to freeze Port Charles. But the real trouble may come from missing codicil to Mikkos Cassadine's will. This document supposedly will take the family fortune from Valentine.
GH Spoilers – Will Molly Lansing-Davis Find Out About The Codicil
If Molly gets wind of this document, it would be a huge boost for her story. She might take her search to Wyndemere, the Cassadine home on Spoon Island. It's possible that Nikolas is hiding out somewhere on the estate and Molly might discover her cousin there. If Nik learns that Molly is writing a story, he could warn her of the danger of stirring up Cassadine secrets.
General Hospital #GH Weekly Spoilers September 23 -27: Sam in Danger – Finn Works with Peter – Chase on a Mission – Carly Hospitalized @celebratesoaps https://t.co/rjj9QbTYPY

— SOS/CTS/HH (@SoapOperaSpy) September 22, 2019
General Hospital Spoilers – On the Other Hand
It's also possible that the Invader article would be the perfect place to reveal the existence of the codicil and the contents of the mysterious document. If indeed it can bring Valentin down, then what better way to expose the information than to have it published in the Invader!
Molly's article might very well be the thing that takes down the great Valentin Cassadine and get him out of Wyndemere and away from the Cassadine fortune. Not bad for a first story!
GH Spoilers – What do you think?
Will Molly's story bring Nikolas out of hiding? Will it help take down the great Valentin Cassadine. This article wouldn't have become a story point if it wasn't going to lead to something significant.
A lot of storylines seem to be coming together and what better way to keep up with what's happening then to watch General Hospital weekdays on ABC!