General Hospital Spoilers: Lucy Freaking Kevin Has Taken Up With Ava, She Wanted Him Back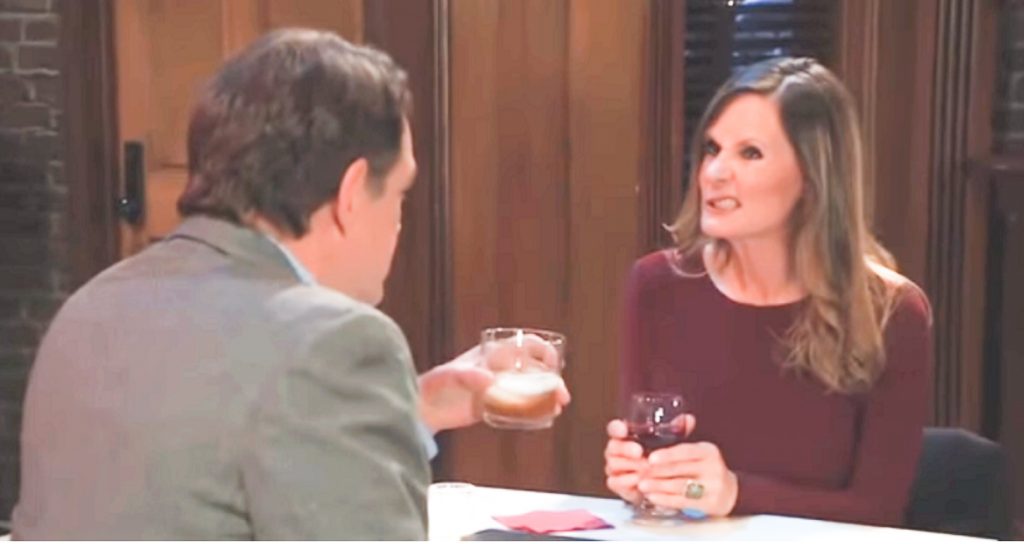 General Hospital spoilers tease that Lucy Coe (Lynn Herring) will be appalled when she sees her ex-husband Dr. Kevin Collins (Jon Lindstrom) out with Ava Jerome (Maura West)!
Of course, Lucy has no idea of the plan that has been devised to make Ryan Chamberlain (Jon Lindstrom) jealous and draw him out of hiding. Lucy is still after Kevin to get him back in her clutches and she won't like this development at all.
There is also a distinct possibility that Kevin and Laura Collins (Genie Francis) will stage a very public fight as part of the plan to make the fake romance between Kevin and Ava credible. Lucy could very well be a witness to it.
General Hospital #GH Spoilers: Kevin's Downward Spiral – Can't Forgive Himself For Ryan;s Murders? @celebratesoaps https://t.co/t4bWSQlEUK

— SOS/CTS/HH (@SoapOperaSpy) April 29, 2019
General Hospital Spoilers – Will Lucy Coe Intervene?
Depending on how hard Laura tears into Kevin and how loud the fight is, Lucy might even try to intervene if she's close by. She may even tear into Laura. But it's far more likely she heads for Kevin after Laura has left the scene!
Lucy, too was present during Ryan's first crime sprees in the 1990s and was integral in helping Kevin recover from the aftermath that time. In fact, that was what led to Kevin and Lucy's romance and marriage. She should probably be let in the loop about the fake romance plan, but other General Hospital spoilers indicate she most likely will not.
Perhaps Kevin, Laura, Mac (John J. York) and Felicia Scorpio (Kristina Wagner) are concerned that Lucy's loose lips will sink ships. And it's too dangerous to take the chance that the ship that sails to lure Ryan back to Port Charles will sink!
General Hospital Spoilers – One Of Her Worst Mistakes
Lucy carries deep regrets about her part in breaking up her marriage to Doc, as she calls Kevin. She couldn't keep her hands off of Scott Baldwin (Kin Shriner) and cheated on Kevin.
As a matter of fact, it was during a Nurses' Ball that the affair came to light and in a very public way. An onstage curtain opening to reveal Lucy and Scott in an adulterous clinch. Kevin was so embarrassed and hurt that he walked away from Lucy and never looked back. He has remained her friend though but that happened after he healed from the ordeal.
Lucy knows it's one of the worst mistakes she ever made, and so every time she thinks Kevin's is available, she tries to get her hooks into him again!
Stay tuned to General Hospital and keep checking General Hospital spoilers frequently for all the latest news, updates, developments and new spoilers!
As always, more detailed Spoilers and Breaking news will appear here on Soap Opera Spy!