General Hospital Recap Monday, December 16: Ava Jerome's party begins – The mind reversal procedure is finished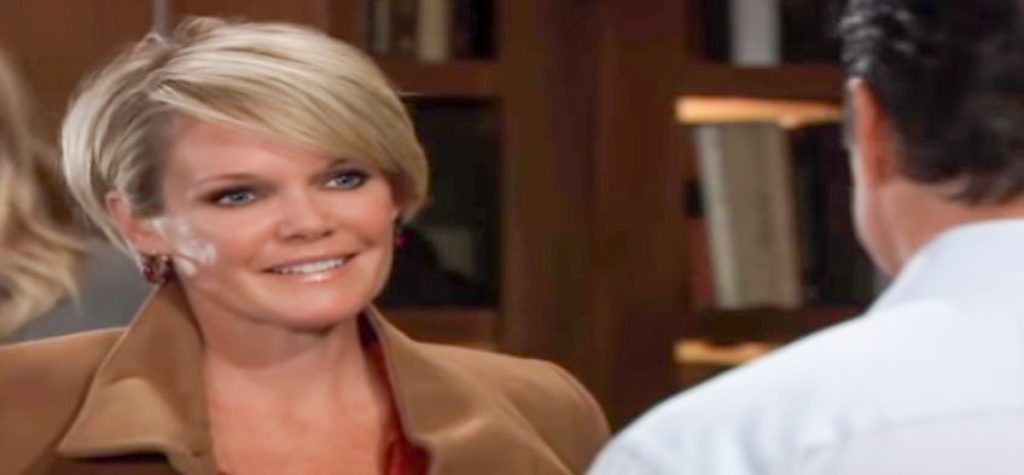 Welcome to your Monday December 16th General Hospital (GH) recap! We begin our day at Ava Jerome's (Maura West) art gallery where she is having a drink. She walks over to Trina Robinson (Sydney Mikayla) and says she can't wait until the bidding for the Helena portrait begins.
At General Hospital (GH) , Elizabeth Webber (Rebecca Herbst) is asleep in a waiting area when her son Cameron Webber (James Lipton) approaches.
Also at General Hospital (GH) , Peter August (Wes Ramsey) is hovering outside Franco's hospital room, when Dr Andre Maddox (Anthony Montgomery) motions him inside. Peter asks how Franco is doing and Andre says they are just waiting for him to awaken.
General Hospital Spoilers – Anna Devane tries to figure out a mystery
At the hospital, Anna Devane (Finola Hughes) stands outside Franco's room and gets a phone call. Her boyfriend Hamilton Finn (Michael Easton) asks her to join him and Violet for dinner, she says she is too busy. Andre and Peter exit the room and run into Anna who is hopeful the man he shot will live for questioning.
Anna begins questioning Peter about his personal involvement in the Franco story. Peter asks why she is giving him the 3rd degree?
GH Spoilers – Harrison Chase and Willow Tait digest all the bad news
At Kelly's Diner, Harrison Chase (Josh Swickard) is trying to get Willow Tait (Katelynn Macmullen) to relax. She says the last few days have all contributed to her overthinking. Finn and Violet enter Kelly's and sit down with Chase and Willow. Willow suddenly jumps up and says she needs to leave.
Finn wonders why Willow jumped up and left, Chase explains about the possible pregnancy.
General Hospital Spoilers – Lulu Spencer and Dustin Phillips grow closer
At the Metro Court, Lulu Spencer (Emme Rylan) and Dustin Phillips (Mark Lawson) come off the elevator from ice skating. Her kids run off as well as the argue and race to get a table. Charlotte asks Lulu and Dustin if hes going to sleep over, which shocks them.
The kids go to the bar as Dustin contemplates how serious they are getting. Lulu says they skipped a few bases on their way to home base.
GH Spoilers – Ava Jerome has a party at the Gallery
Laura Spencer (Genie Francis) and Curtis Ashford (Donnell Turner) arrive at the gallery party. They see the Helena portrait and are sure it will be theirs until Nina Reeves (Cynthia Watros) and Valentin Cassadine (James Patrick Stuart) arrive. Valentin confronts Laura who says they need to discuss Charlotte.
Laura tells him he should have told Lulu about Charlotte's bodyguard, he says "what bodyguard?" She says hi to Trina and says she's is going to bid for the portrait as its important to their family.
General Hospital Spoilers – Nikolas Cassadine wants the codicil for himself
Jasper Jax (Ingo Rademacher) gets a call and goes to the gallery storage area where Nikolas Cassadine (Marcus Coloma) is. Jax says he has it handled and he needs to hide again before someone sees him. Nikolas says hes taking the portrait tonight by any means possible.
General Hospital Spoilers: Why Carolyn Hennesy Loves Her Character Defending Willow on GH @celebratesoaps https://t.co/xfhaYokYl5

— SOS/CTS/HH (@SoapOperaSpy) December 14, 2019
GH Spoilers – Elizabeth and Cameron Webber wait for Franco to wake up
Elizabeth tells Cameron that shes anxious that the procedure will bring Franco back to them, but shes hopeful. Andre updates them and says Franco is doing well, but he did sign a DNR order if something goes wrong. They are shocked about the DNR request as Cameron thinks about Franco.
General Hospital Spoilers – Monday Excitement!
In private, Curtis tells Nina how he figured out the Sasha paternity debacle. Andre tells the group that the gunman has died, as Franco heart starts to race..Valentin, Jax and Laura are in a heated bidding battle for the portrait. Laura wins the bid when suddenly the portrait ignites in flames.
Charlotte and Rocco argue about her secret bodyguard and decides to jump in the river to prove he exists.
Elizabeth and Cameron go to Franco's room where he begins to awake……flash to preview
Stay tuned to GH and keep checking General Hospital spoilers frequently for all the latest news, updates and developments!