Days Of Our Lives Spoilers: Ciara Tells Ben About The Suspicious Conversation She Overheard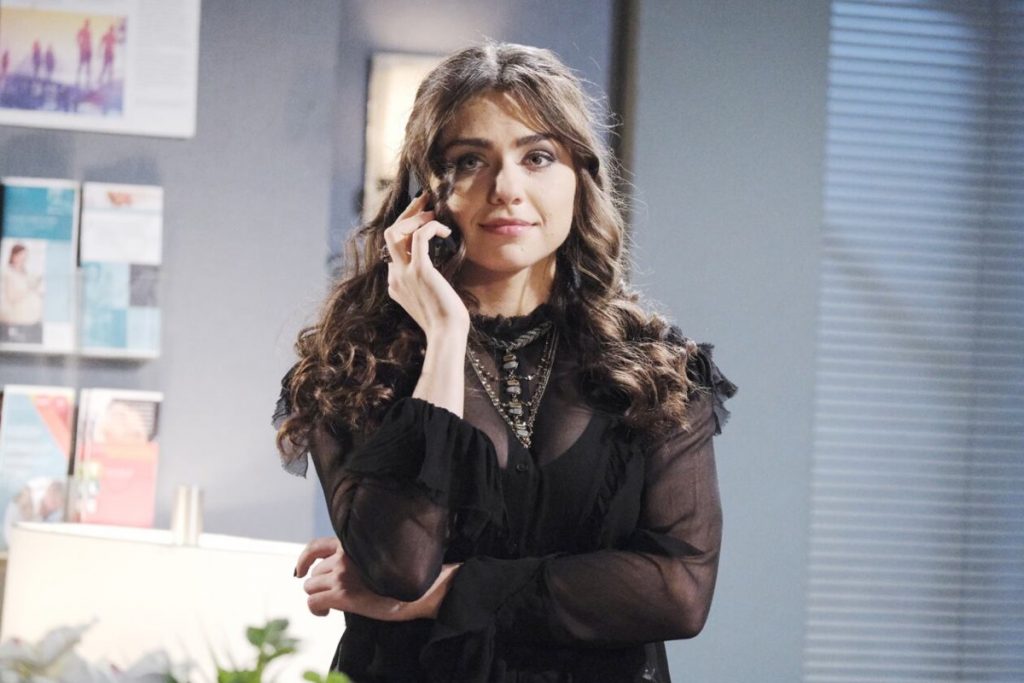 Days of Our Lives spoilers tease that Ciara Brady (Victoria Konefal) will tell Ben Weston (Robert Scott Wilson) about the suspicious conversation she overheard that may help get Ben exonerated, in an upcoming episode of Days of Our Lives!
Days of Our Lives Spoilers – Ciara Brady Is Now An Executive Working For Titan Industries
After the one year time jump, Ciara, with Ben now in prison for the murder of his sister Jordan Ridgeway (Chrishell Hartley) is still trying to investigate and find out information that she can prove his innocence with and get him exonerated and out of prison.
As Days of Our Lives viewers will recall, Ben found his sister Jordan's dead body in his house strangled with her own scarf (which he should NOT have put his hands on, they can find fingerprints on cloth now!) and was fearful he would be the one and only suspect – and now, a year later, we see he was proven right! Ciara is now a successful executive working for Titan Industries after apparently taking her grandfather Victor Kiriakis up on his offer to hire her into the company; she had previously turned him down, but with Ben's arrest and conviction she changed her mind. She even told her grandfather that she had given up on Ben, but obviously she has not!
DOOL Spoilers – Ciara Brady Is Now Privy To Many Conversations In The Titan Offices
Ciara is now privy to many conversations she may hear in the Titan offices, including Victor's and others who work there. Apparently Dr. Wilhelm Rolf (William Utay) has a lab there as promised, per some conversation between Xander Kiriakis (Paul Telfer) and Sarah Horton (Linsey Godfrey) in a recent episode, talking about Rolf rigging a paternity test in his lab at Titan to show Xander as the father of Sarah's baby girl, and it's possible that now, a year in the future, Titan may have reacquired Basic Black since Xander and Nicole Walker (Arianne Zucker) are shown working there.
Neither Nicole or Xander would want to work there if it was still owned by DiMera Enterprises! Brady Black (Eric Martsolf) is likely still working there as well, although for some reason Kate DiMera (Lauren Koslow) is a waitress at Brady's Pub! Ciara will overhear some conversation that the participants thought to be private that seems to be about Jordan's death.
Days of Our Lives Spoilers Shocker: #DOOL Dumps Entire Cast & Cancels Filming -; Is NBC Soap Done For Good? @celebratesoaps https://t.co/G5kKaepRmk

— SOS/CTS/HH (@SoapOperaSpy) November 12, 2019
Days of Our Lives Spoilers – Ciara Brady Will Share What She Heard With Ben Weston
After hearing this conversation, Ciara will make plans for a visit with Ben at the prison. She will want to tell Ben what she heard and ask him what he thinks before trying to talk to any police or attorneys about it. She will want to make sure that he thinks the same thing she does about what she has heard before pursuing any investigation any further.
Ben is not likely to be eligible for parole, so Ciara will have to have airtight evidence to try to get an appeal hearing and she will have to have proof that it was not come by illegally, such as by wiretapping although evidence from a security camera is admissible. Perhaps there were hit men and a frame involved and she will have to have enough evidence to convince the district attorney to retry the case!
Stay tuned to Days of Our Lives and keep checking Days of Our Lives spoilers frequently for all the latest news, updates and developments!
Source: Soap Opera Digest