Bold And The Beautiful Spoilers: Flo Finally Purges Her Soul – Steffy Fears Consequences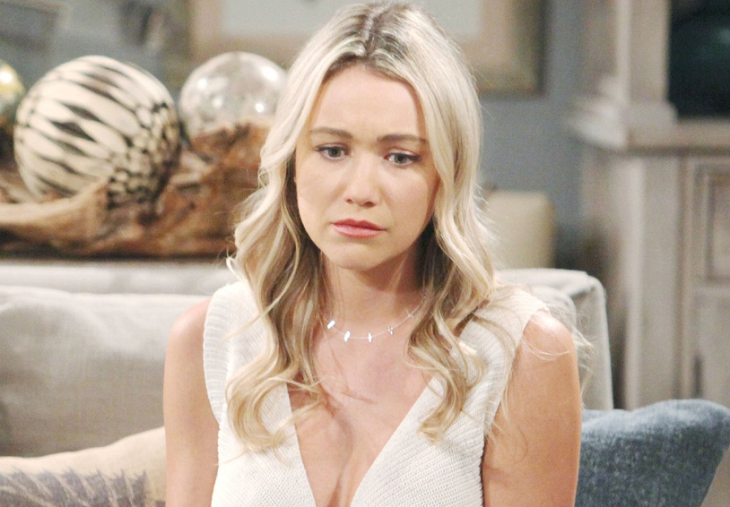 Flo Fulton Logan (Katrina Bowden) couldn't take it anymore on 'The Bold and the Beautiful'. So, after many false starts, she left her mother, returned to Wyatt Spencer's (Darin Brooks) home and waited for him to arrive. Then shortly after Flo began to tell her story to her true love, his brother Liam Spencer (Scott Clifton) burst in and demanded an answer from her. So, she finally purged her soul.
It's natural for Flo to have been fearing that she would lose Wyatt, who she just rediscovered love with. She also anticipates the Logan family, that she just learned existed, breaking ties with her. Both factors caused Flo to remain silent for so long.
Facing legal charges wasn't concerning. Instead, she's been torturing herself thinking about the kindness so many people have shown her. She's betrayed the trust of so many since agreeing to play faux birth mother to the girl, Beth Spencer (Madeline Valdez and River Davidson), that Hope Spencer (Annika Noelle), her married name at the time, gave healthy birth to on Catalina Island.
Bold And The Beautiful Spoilers – If Only She'd Never Met Reese Buckingham
Flo wishes she's never met that gambler. It relates to the friendship she created while working at a casino in Las Vegas, Nevada. That's where she first encountered Reese Buckingham (Wayne Brady). She found the high stakes gambler to be charming. Reese told her that he was a doctor. Their friendship became more than that and eventually he moved to Los Angeles, California.
But the problem he created followed him, or rather, them, as Flo joined him. In debt to a bookie for a quarter-million dollars, Reese concocted a scheme on the spot. He was on duty at the Catalina health clinic when Hope arrived, ready to give birth. Reese had taken the gig because it paid good money, but then he debased the opportunity his developed medical skills earned him. The rest became soapy history.
Hope and Liam were victimized the instant Reese told them their baby was stillborn. He also gave them the deceased body of an actual stillborn baby that another mother just delivered. It was only later that Steffy Forrester (Jacqueline MacInnes Wood) became his next victim.
Bold And The Beautiful Spoilers – Steffy Forrester Will Feel A Unique Pain
Flo's romantic feelings for Reese led her to agree to sign a birth certificate where she claimed to be a birth mother earlier this year. It was that act that doomed Steffy, though she won't realize it until early August.
Steffy doesn't want to believe what Douglas Forrester (Henry Joseph Samiri) told Liam, or the implications where her brother, Thomas Forrester (Matthew Atkinson), are concerned. She sees Douglas' comments as reflective of what her nephew has been through these past months. Plus, as Steffy told Liam, Hope held the stillborn body of Beth in her arms.
Liam and Hope aren't the only ones affected by this secret. 😢 Send some love to Steffy. ❤️#BoldandBeautiful pic.twitter.com/wy5miFWw2i

— Bold & The Beautiful (@BandB_CBS) August 2, 2019
But, as Reese and B&B fans have known, whoever that poor soul was, she wasn't Beth. Now, as the Phoebe name is dropped, Steffy will feel a unique form of emotional pain.
This site is a leading source for everything linked to 'The Bold and the Beautiful'.