The Young and the Restless (YR) Spoilers: Jack Primed To Lead Jabot Again – Ashley Shamed Out of Town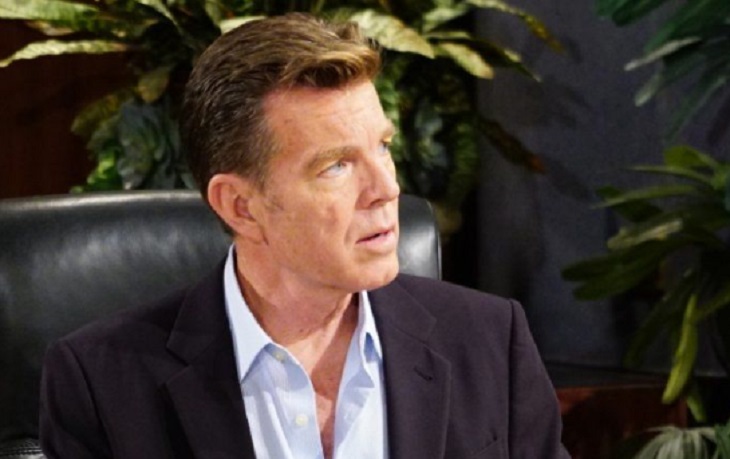 Jack (Peter Bergman) is back on 'The Young and the Restless'. Ashley's (Eileen Davidson) self-serving scheme has been revealed and it appears to be time for John's (Jerry Douglas) blood child to lead Jabot again.
The shame Ashley feels, but isn't acknowledging is real. The emotions that were evidenced toward the end of the gut-spill to her half-brother, via Dina (Marla Adams), confirmed that yes, Miss Abbott is not a monster. On that point Jack was wrong, but on all others he was wronged, severely.
His first impulse was to believe that Ashley had been persuaded by Victor (Eric Braeden) to employ such a sickening plan. She used their mother's Alzheimer's condition in order to gain power. The script shows that Ashley is being shamed out of town as Davidson departs Y&R.
LOVE Y&R? SUBSCRIBE TO OUR THE YOUNG & THE RESTLESS NEWSLETTER, HERE!
Genetics and environment are believed to be leading factors in forming one's reality. In this instance, it's fair to wonder what biological elements existed within and were passed on from Brent Davis (Bert Kramer) to Ashley? Although, the family environment she's existed in, most specifically since John passed, has been ultra competitive.
Confidence in this particular cosmetics' company ranks near, or at an all-time low. Just this month Billy (Jason Thompson), Traci (Beth Maitland), Ashley and now, seemingly, Jack will have all sat in their father's Chief Executive Officer's chair. That would be the one Jack dramatically threw through the hallway-facing window, which purposely mimicked a similar hurl that took place through a street-facing window years ago.
Anyone is capable of leading the company John Abbott founded once upon a soapy time now that the blood-Abbott clause is gone. Jack appears to be the prime candidate to take and then hold this spot.
Devoted daytime viewers sit on this (or any) show's board of directors. Their votes were being counted during the buildup to this realized climax. Future results will soon be seen regarding what happens next in the Abbott's corner of Genoa City.
Soap Opera Spy is a leading source for everything linked to 'The Young and the Restless'.
Get ready for blackmail, revenge, and rage this week on #YR! pic.twitter.com/1twmv20f4O

— Young and Restless (@YandR_CBS) October 14, 2018
As always, more detailed spoilers and a full collection of pictures for the week in question will appear here on Soap Opera Spy, where there will be more clues and hints over exactly what's going on.
Soap Opera Spy is a leading source for everything linked to 'The Young and the Restless'.
Read more news, spoilers, and gossip on our Young & Restless homepage
Want up-to-the-minute soaps news, spoilers, and gossip on your social feeds? Just hit 'Like' on our Soap Opera Spy Facebook page and 'Follow' on our @soapoperaspy