General Hospital Recap Thursday, July 12: Michael Furious, Overhears Nelle Asking Who Inherits If He Dies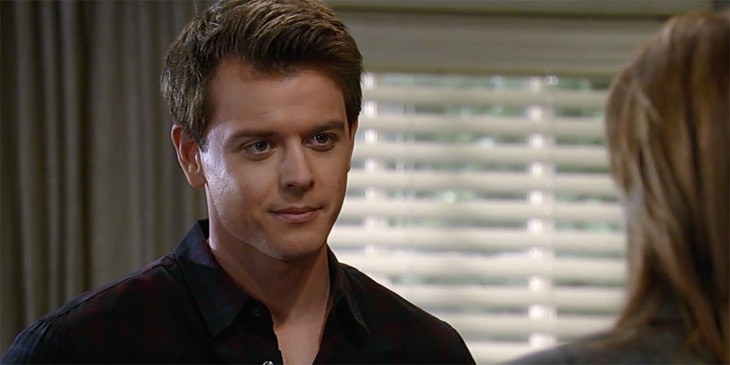 General Hospital (GH) recap for Thursday, July 12 reveals, Valentin (James Patrick Stuart) heads back to Windemere, Nina (Michelle Stafford) tries to call Liesl (Kathleen Gati) to warn her. Nina chases Valentin down and tells him he can't go home.
Nina Pays Someone To Lie About West Niles Virus
Nina tells Valentin that the environmental agency is checking out the island for West Niles virus. Someone shows up claiming to be from environmental protection and tells Valentin Spoon Island is under quarantine. Nina tells Valentin that he has to provide her with real ads now. Valentin tells Nina she doesn't have him fooled with this, she rushed to find him and that can only mean one thing. Nina claims to have warned Valentin for Charlotte (Scarlett Fernandez) and out of human decency. Valentin is taking a room at the Metrocourt, they could be neighbors. Curtis (Donnell Turner) shows up to see Nina, he wants to know about Liesl.
Peter Finds A Way To Work Liesl
General Hospital's Peter (Wes Ramsey) is dictating his novel to Liesl, she gets upset and stops writing. Peter tells Liesl they both know how this will end, if he finishes the novel, she finishes him. Liesl tells Peter no one is coming to rescue him. Peter needs Nina to help him. Peter tells Liesl she has a message and she checks her phone. Liesl gets the message about West Niles virus and tells Peter he is all hers. Peter is dictating to Liesl she almost falls asleep. Peter tells Liesl she looks almost like a mother when she's not beating him. Peter tells Liesl that Faison caused her pain.
Liesl accuses Peter of having Stockholm Syndrome. Peter thinks the sequel should be about Liesl. Nina questions Curtis about Liesl being a person of interest. Curtis asks if Nina has noticed anything odd about Liesl. Nina tells Curtis that Liesl is a lunatic and tells him she must make a call. Peter wants to tell Liesl and Nathan's story. Liesl tells Peter no one has considered that she has a story to tell. Liesl asks Peter where to begin, he starts her out with once upon a time. Liesl starts to talk about a little girl that no one understood.
Sam And Curtis Eliminate Suspects
General Hospital's Sam (Kelly Monaco) and Curtis show Jordan the footage from the Metrocourt. Sam points out the shoes to Jordan. Jordan says they can't make out Peter in the laundry cart or whose pushing it. Sam and Curtis eliminate Maxie (Kirsten Storms) and Nina and concentrate on Liesl. Sam and Curtis figure out that Nina may know something about Peter. Sam speaks to Valentin who tells her about the outbreak of West Niles. Curtis doesn't think Nina kidnapped Peter. Sam asks Curtis about West Niles. Nina pays her actor friend but has him to leave the quarantine sign. Valentin makes an appointment with Finn.
Mike Talks To Stella About Jordan And Curtis
General Hospital's Stella (Vernee Watson) stops in to talk to Mike (Max Gail) and Sonny (Maurice Benard). Mike needs a tango partner, Stella says she's available. Mike talks about Michael's wedding. Mike and Sonny talk about His and Adella's wedding. Mike asks Sonny why he is worried about the wedding. Stella tells Sonny and Mike that the pharmacy is working on the prescription now. Mike sends Sonny to get his medication, so he can talk to Stella.
Mike asks Stella why she doesn't want to see two people in love and happy. Mike tells Stella that if two people are lucky enough to find love, they should take it and stopping that isn't anyone's Christian duty. Sonny comes back to pick up Mike, Stella has a change of heart and calls her friend back. Mike and Sonny leave the hospital to go to Michael's (Chad Duell) wedding.
Nelle Eavesdrop On Michael And Alexis
General Hospital's Alexis (Nancy Lee Grahn) shows up to see Michael, he wants her to draw up his will. Michael wants to get the will out of the way, the sooner the better. Michael tells Alexis that baby changes things, he wants to make sure the person he loves the most is taken care of upon his death. Alexis wants to know what the rush is,
Michael tells Alexis he wants to leave everything to his child. Nelle listens in on the conversation between Alexis and Michael. Alexis tells Michael she will have things ready tomorrow. Alexis leaves, and Nelle comes to find Michael. Nelle asks Michael if he loves her, he's shocked that she isn't getting ready for the wedding. Michael wants to know why Nelle is questioning him.
Michael tells Nelle he's trapping her if anything because he's the one who wanted the wedding today. Michael assures Nelle that they will be so happy with the baby after the wedding. Michael tells Nelle the guests will be arriving soon, and Nelle calls the lawyer back as soon as he leaves the room. Nelle asks the lawyer what happens if someone dies without a will. Nelle finds out that if someone dies intestate the spouse inherits everything, Michael listens in and is furious.
T.J. Agrees To Give Jordan Away
General Hospital's Jordan (Vinessa Antoine) goes to the hospital looking for T.J. (Tequan Richmond) and asks Stella to help plan the wedding. Stella wants to know if it's not a little early to start planning the wedding. Stella tells Jordan to not spoil it and have a long engagement. Stella agrees to supper one night and tells Jordan to give her love to T.J. Stella calls and asks someone to come and visit, Curtis would love to see her. T.J. wants to bail on lunch, Jordan wants to know if he will give her away at the wedding. T.J. tells Jordan that he told Stella Tommy would want Jordan and Curtis together.
Alexis Tell Michael About The Will
General Hospital's Alexis runs into Sonny and they talk about Michael's will. Alexis tells Sonny they will reexamine the will after the wedding when Michael has time to calm down and think a bit. Sonny is afraid it may be too late already.
As always, more detailed spoilers and a full collection of pictures for the week in question will appear here on Soap Opera Spy, where there will be more clues and hints over exactly what's going on.
General Hospital airs weekdays on the ABC network.
Read more news, spoilers, and gossip on our General Hospital homepage
Want up-to-the-minute soaps news, spoilers, and gossip on your social feeds? Just hit 'Like' on our Soap Opera Spy Facebook page and 'Follow' on our @soapoperaspy