The Young and the Restless Spoilers: Jack Has An Unknown Enemy – Graham Is Opposition Research Source
It appeared as though Victor (Eric Braeden) was having Nikki (Melody Thomas Scott) followed on 'The Young and the Restless'. That made sense, as the 'Moustache' was seemingly positioning himself to do battle against his wife in court. However, Graham (Max Shippee) was revealed as the force behind the long range photos that were taken near the Abbott cabin.
A short time ago Jack (Peter Bergman) and Nikki were enjoying themselves at the woodsy spot that John (Jerry Douglas) once purchased for his family. Then an imposed image alerted viewers that they were being digitally observed. Someone was hiding in the bushes taking pictures of 'Jikki' with a high-powered lens.
Related: The Young And The Restless Spoilers Thursday, September 21: Juliet Makes A Harsh Prediction – Mattie Lashes Out At Lily – Wayne Knight Appears As Irv West
That person paying the unseen photographer had to be Victor, right? He'd often used private security operatives to obtain opposition research. It made sense that Victor was gathering evidence for future leverage, or legal use.
Returning to this week – Seeing Shippee's character look down at the floor outside his Genoa City Athletic Club suite proved dramatic. He picked up an envelope, entered his room and emptied the contents, which showed 'Jikki' embracing. Then, he did something that was soapily delicious.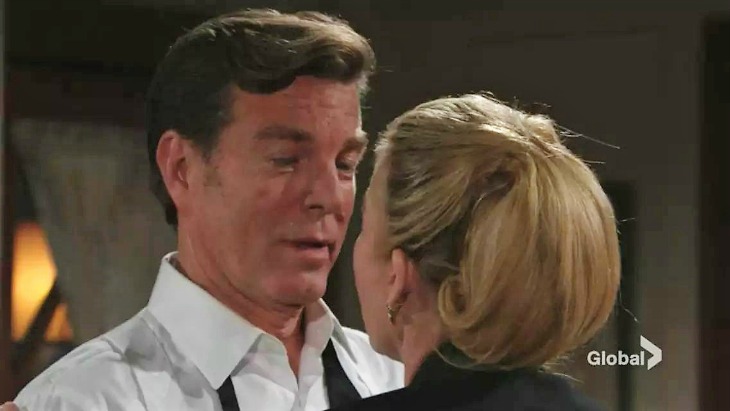 Graham took out prepared mailing labels from a desk. The first one he peeled off was addressed to Victor. The second showed Dina's (Marla Adams) name. Each sticker was applied to a standard mailer and the destructive contents were ready to be shipped.
Victor was the addressee. Dina the sender. Include with the provocative stills was an unsigned note advising Victor about the usefulness of the visual information.
The cleverness of Graham's actions is multidimensional. He can attack Jack without getting his hands dirty. Positioning Dina as the mastermind makes sense because she's openly expressed her contempt for 'Jikki' to various characters.
Plus, the resulting disruptions that are about to follow will force Graham's valuable employer to shift her focus from him to fending off Jack's certain outrage. Thus a wedge will be created. Yes, Graham is quite the chess player.
Related: The Young And The Restless Gina Tognoni, Amelia Heinle, And Jason Thompson Tease Their Storylines
Soap Opera Spy is a leading source for everything linked to 'The Young and the Restless'.
Share your thoughts in the Comments section below, on our Facebook Page,  join our Facebook Group