General Hospital Recap June 22: Stella Learns TJ's DNA Secret – Garvey Arrives On Island – Sam Hallucinates Sonny Is Her Enemy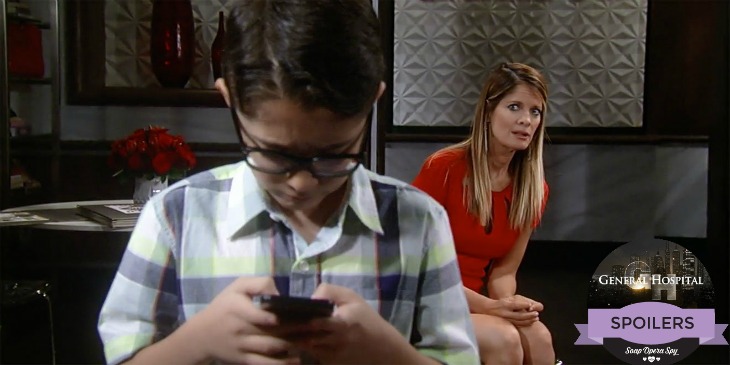 Thursday's June 22 episode of General Hospital begins with Laura (Genie Francis) and Kevin (Jon Lindstrom) asking Molly (Haley Pullos) if she has seen Spencer. Molly says Spencer got in an Uber and went to Kelly's. Kevin realizes Spencer went to see Nina (Michelle Stafford).
Jordan (Vinessa Antoine) tells Curtis (Donnell Turner) they shouldn't see each other until Stella (Vernee Watson) leaves town. Jordan wonders if Stella is right and they shouldn't be together. Jordan lied and cheated and Thomas is dead. Curtis reassures her Thomas would want them to be happy. Jordan leaves.
Related: General Hospital: The Truth About Those Kelly Monaco Exit Rumors
Stella meets Molly at Kelly's and learns she's TJ's (Tequan Richmond) girlfriend. Stella mentions her family's history is complicated. Molly assumes she means about Shawn being TJ's real father. Stella doesn't' let on that was news to her. TJ walks over and introduces Molly to Stella. Stella tells him he's too late. Molly leaves. Stella tells TJ she knows now Thomas isn't his father and Jordan is going to pay for her lies.
Sam (Kelly Monaco) tells Jason (Billy Miller) she's not letting him out of her sight. Sam insists on flying with Jason tonight. Jason asks Sam to tell him what's really going on. Sam describes it as episodes warning her he's in danger. She can't shake this feeling. Jason doesn't want to make it worse on Sam so he decides to stay home. Sam insists he go and she'll be fine. Jason leaves and Sam starts shaking all over. She sits on the floor and Molly arrives.
Sam tells Molly about her episodes. Molly contributes it to Sam being a new mother worrying about Scout so she worries about Jason too. Later Sam hallucinates Jason arriving home with her. Sam "sees" Sonny standing behind Jason telling Sam he's "not with you; he's not yours; he's mine".
Carly (Laura Wright) tells Sonny (Maurice Benard) bad things can happen. He hopes they can be happy again. The gentleman arrives with the papers for Carly to sign. Carly tells Sonny since papers are signed they can go to the bank and she can go home. Sonny says bank closed and phones are out so they have to spend the night on the island. They're playing poker when Sonny mentions they should have had fun like this while going through the divorce. Carly decides she wants to go for a walk. Sonny tries to talk Carly in to staying. Carly opens the door to find Garvey standing there.
Spencer arrives to Nina office and tells her she's trying to steal his birthright. Nina explains Valentin (James Patrick Stuart) is out of the country and if convicted assets will be wrapped up in a trust for Charlotte (Scarlett Fernandez). Spencer wants Valentin to pay for taking his father away from him. Spencer starts crying and tells Nina how he misses his Dad every day. As Nina hugs him Laura and Kevin arrive. Laura makes Spencer apologize to Kevin and Nina. Nina tells Spencer maybe in time the pain from missing his Dad won't hurt so much. Laura misses Nicholas too but they have to do what the law says. Spencer wants his phone back to call a lawyer but Laura refuses.
Related: WATCH: General Hospital Preview Video Friday June 23
TJ tells Curtis that Stella knows the truth. Stella arrives to the PCPD to confront Jordan. Stella calls Jordan trash and a whore for passing Shawn's child off as Thomas's.
Share your thoughts in the Comments section below, on our Facebook Page,  join our Facebook Group