FOX hit drama series Empire is set to return for its 3rd season Spring Premiere on Wednesday, March 22, 2017, but here is a few spoilers for fans of the Lyon clan, the first family of music.
Empire has given us a couple, Cookie (Taraji P. Henson) and Lucious (Terrence Howard) that we love to hate, and hate to love. They have done insanely cruel things to one another, but there is an undeniable history of loyalty, love and dedication to each other; this season's spoilers prove their relationship will be tested beyond anything we have seen.
Lucious tells Cookie that she loves him, but she isn't ready to deal with that kind of truth; while in their younger years, Cookie admits Lucious has a power over her that she may never break from. Which might confuse fans because the last we saw, Cookie was with politician, Angelo Dubois (Taye Diggs).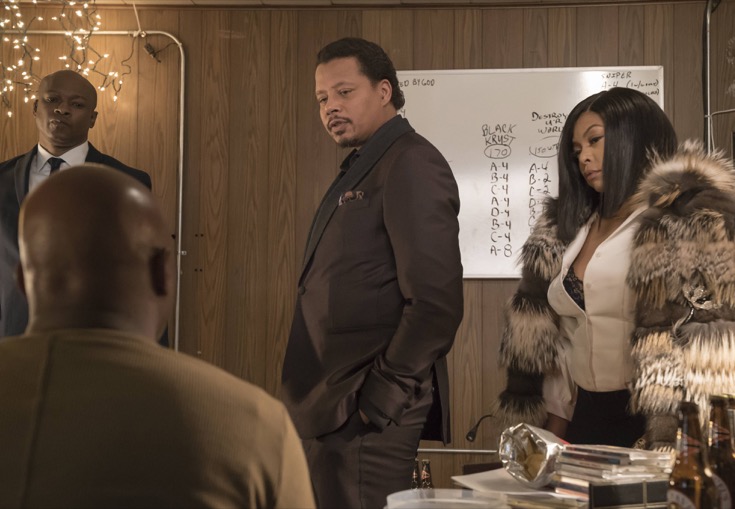 Sources reveal that Empire's Angelo should not be counted out either because as he has shown in the past, he is not willing to let Cookie go without a fight. He tells her that Lucious Lyon needs to learn when to pull back; clearly he intends to fight for his lady and Cookie doesn't look like she is done with Angelo either.
Previews reveal that Lucious is going to stoop to a new low when he it appears that he involves Angelo's mother, Diana Dubois (Phylicia Rashad) in their controversial relationship; and Cookie who has never been fake brings out her street fighting mentality. Could this doom her and Angelo for good?
Empire's Lucious Lyon continues to feel attacked from all sides and he is right. FBI, gangsters and even his own family has turned on him at least once, and it will continue into season 3; adding Nina Long as Giuliana Giusi, a Queenpin from Las Vegas, who pulls a gun on Lucious wishing it didn't have to come to this.
Lucious does get what is coming to him and ends up hooked up to hospital machines, including being intubated; which forces Cookie to confess to Angelo that she still has feelings for Lucious; even Jamal Lyon (Jussie Smollett) says its a twisted kind of love.
Empire spoilers show that sometimes loving someone is dangerous, tainted and toxic; which perfectly describes Lucious and Cookie. Viewers will see Cookie smashing all of Lucious' things with a bat saying he built this empire on HER back. He threatens that she will die. She turns to Lucious and says, "I said I was done with you, and I meant that!"
Will Cookie truly ever be free from Lucious or are they destined to remain together for ever? Be sure to tune into FOX' Empire on Wednesday, March 22, 2017 for the Spring premiere of season 3. Check Soap Opera Spy often for updates, news, rumors and spoilers!
Share your thoughts in the Comments section below, on our Facebook Page,  follow our Twitter Account or Head over to our Facebook Group To Talk Soaps Daily