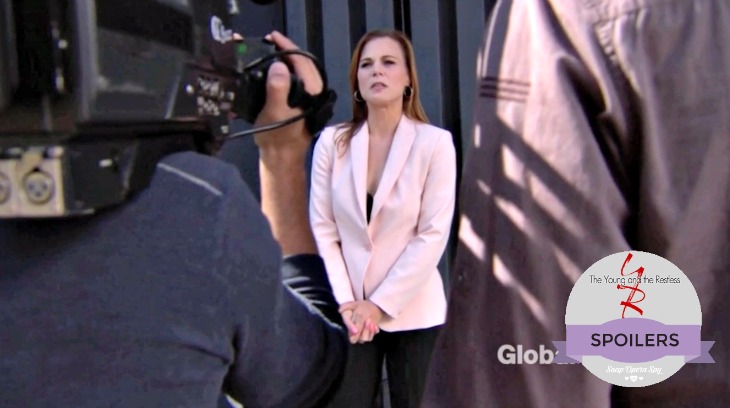 "The Young and the Restless" spoilers for Wednesday, September 21, tease that Jill (Jess Walton) will make Travis (Michael Roark) an intriguing offer. At the park, Jill runs into Travis and asks him to be in charge of several Chancellor divisions. Travis guesses Jill wants to send him out of the country to keep him away from Victoria (Amelia Heinle). Jill insists this is a great opportunity, but Travis doesn't go for it.
At Jabot, Jack (Pete Bergman) looks determined as he instructs someone to pack up Phyllis' (Gina Tognoni) belongings. He sees "Phyllis loves Jack" written on the wall and starts to scrub. Ashley (Eileen Davidson) arrives and grows concerned about Jack's revenge plans.
Elsewhere, Phyllis decides to give the GC Buzz reporter the scoop he's looking for. She makes a statement on camera addressing her mistake and asking Jack to be left out of this. Phyllis insists Jack is a good and honest man. She closes by saying she's committed to healing her marriage.
At Brash and Sassy, Victoria bickers with Billy (Jason Thompson). They have different opinions, but they won't allow Cane (Daniel Goddard) to be the deciding vote. Victoria hears about Phyllis' statement through an alert on her phone. Jack gets the message, too.
You Might Also Like —> Old Phyllis Is Back – Replaces Softer Version of Red
Neil (Kristoff St. John), Devon (Bryton James) and Lily (Christel Khalil) all consider how the scandal has affected the foundation. Jack caused a media circus with his interview comments. They watch Phyllis' announcement and feel relieved. Lily thinks this might get the foundation out of the spotlight.
Back at Jabot, Jack tells Ashley she was right about what he should do next. He sets up a foundation meeting that will take place later. Meanwhile, Victoria talks to Billy at Brash and Sassy. She mentions that Phyllis called Billy a mistake. He confesses that things were serious. They professed their love for each other. Phyllis was prepared to leave Jack until Jill intervened.
Victoria is thrown by Billy's love admission. Travis walks in as Billy heads out. He asks what's up, so Victoria gives him updates on Billy's side of the story. Travis thinks Victoria is bothered by the fact that Billy might have been in love with Phyllis. Victoria implies that Billy was exaggerating.
Travis wonders if Victoria thinks Billy is only allowed to be in love with her. She urges Travis to believe that she's completely committed to their relationship. Travis is still uncomfortable with Billy and Victoria's connection. He feels like there's more between them than Victoria will admit to herself.
"The Young and the Restless" spoilers state that the tension will lift between Phyllis and Summer (Hunter King). At Jabot, Phyllis sees Summer by the elevator. Summer doesn't want to blow up at Phyllis any longer. She suggests that she could talk to Jack for her mom. When Summer meets up with Jack, she gives him a hug. Summer is upset by the news that Jack wants a divorce.
You Might Also Like —> Philly Reveal Creates Torrid Genoa City Buzz – Phyllis and Jack Divorce Imminent
At the club, the foundation board gathers for the meeting Jack called. Ashley says Jack will be arriving shortly. When Phyllis walks in, Ashley tries to shoo her away. Everyone else heads into the boardroom, but Ashley stays with Phyllis. She starts ranting, but Billy appears and urges his sister to back off. Ashley makes it clear that she's fed up with both of them.
Billy grills Phyllis about her statement to the media. He wants her to admit they weren't a mistake. Phyllis tries to explain, but Jack shows up. He promptly fires Phyllis from the board and shouts that they're done.
The meeting is called to order and Jack issues an apology. He calls the foundation a fraud and adds that people revert 9 times out of 10. Jack gives his brother a glare and snaps, "Right, Billy?" After talking about the honest life he's tried to live, Jack indicates that it got him nowhere. Cheating, lies and backstabbing are his reward.
Jack declares that he's done with the foundation and doesn't agree with anything it stands for. He lets everyone know that the old Jack is back. In the dining room, Cane fills Jill in on Victoria and Billy's constant fighting. He pulls up Phyllis' statement and insists this doesn't look good.
Phyllis clears her stuff out at Jabot and runs into Jill at the club. She wants Jill to stop meddling in Billy's life. Phyllis insists that she's got her own goal to work on. She intends on doing everything possible to win Jack back. Y&R rumors hint that Phyllis will hit plenty of snags along the way. Stay tuned to see what's in store.
So Y&R fans, what do you think about these "Young and the Restless" spoilers? Voice your opinion in the comments below and don't forget to check Soap Opera Spy often for the latest "Young and the Restless" spoilers, rumors, updates and news.
Share your thoughts in the Comments section below, on our Facebook Page,  join our Facebook Group or Head over to our Discussion Board to Talk Soaps Daily!