'The Bold And The Beautiful' Weekly Spoilers October 24 – 28: Raging Ridge Tries to Prevent Brooke's Marriage, Wedding Day Drama Ahead
"The Bold and the Beautiful" spoilers for the week of October 24-28 tease that Brooke (Katherine Kelly Lang) will get ready to tie the knot. Bill (Don Diamont) will finish up his plans for their big day and his excitement will build. He'll be over the moon at the thought of marrying the woman he loves.
Unfortunately, Brooke won't exactly be on the same page. She'll face some doubts about going through with this wedding. "The Bold and the Beautiful" spoilers indicate that Brooke will lean on Donna (Jennifer Gareis) for support. She'll admit that she's got cold feet. Brooke just won't know if this is the right move.
Donna will open up about her own worries. She'll feel like Ridge (Thorsten Kaye) is the one Brooke needs to be wary of. He's determined to get Bill's shares in Forrester Creations. Making them part of the wedding package was a little over the top. Donna will think it's added pressure that Brooke doesn't need.
B&B spoilers say Donna will urge Brooke to breathe and focus on what she really wants. If Brooke can see herself spending the rest of her life with Bill, then she should go for it. Meanwhile, Ridge's view will start to shift. He'll discover that his feelings for Brooke run even deeper than he thought.
Ridge will wonder if he's made a mistake by pushing Brooke to get the shares. He wants Brooke for himself and his scheme is putting their future in jeopardy. "The Bold and the Beautiful" spoilers state that Ridge will also have to deal with some Quinn (Rena Sofer) conflict. The stress will mount and Ridge will need a drink.
As Ridge finishes pouring a glass, he'll shout that this day is a catastrophe. Ridge believes Quinn poses a serious threat, but he doesn't like the idea of Brooke becoming Bill's wife. He'll think it's an impossible situation. Still, it seems Ridge's feelings for Brooke could overtake his rage for Quinn.
Rick (Jacob Young) will get a bit concerned about Ridge's intentions. He'll ask if Ridge is going to crash the wedding. Instead, Ridge will try to stop it before it even begins. He'll march in Brooke's room to find her dressed in her bridal gown. Brooke will gape in shock as Ridge fights for love.
Will Ridge win Brooke over or will she stand by Bill? B&B rumors hint that major drama will go down either way. We'll give you updates as more news comes in. Stay tuned and don't forget to check Soap Opera Spy often for the latest "Bold and the Beautiful" spoilers, rumors, updates and news.
Share your thoughts in the Comments section below, on our Facebook Page,  join our Facebook Group or Head over to our Discussion Board to Talk Soaps Daily!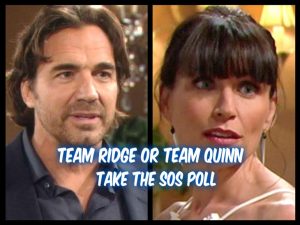 Have Some Fun With This Puzzle! Did you Love Quinn's Dress?

GREAT Bold & Beautiful PRODUCTS!