"The Young and the Restless" spoilers for the week of October 24-28 tease that Victor (Eric Braeden) will be on the warpath. He'll plan on doing whatever it takes to make Devon (Bryton James) and Hilary (Mishael Morgan) regret their actions. Victor will maintain that he did nothing wrong and he'll be furious that GC Buzz dared to suggest otherwise.
Victor will vow to bring Hilary and Devon down for their hasty report. He'll intend on finding the source of the fake documents to settle this. Meanwhile, Devon and Hilary will have a similar idea. If they want to wiggle out of this lawsuit, they need confirmation that Victor cooked the books.
Elsewhere, Jack (Peter Bergman) will prepare to put the final nail in Victor's coffin. He'll begin by carefully loading up a briefcase with stacks of cash. Jack is putting a lot on the line for this scheme. He'll hope that his plotting will pay off.
Jack will also toss some papers in a trash can as he walks through the park. It's not clear what that's all about, but it's probably significant. "The Young and the Restless" rumors hint that Jack could be in over his head here. He's so focused on revenge that he can't see the potential consequences.
Other Y&R spoilers state that Patty (Stacy Haiduk) will cause plenty of problems for Sharon (Sharon Case). She'll make more phone calls and Dylan (Steve Burton) will continue his search for answers. Paul (Doug Davidson) will want to know what's up with Patty, too. He'll drop by to see his increasingly deranged sister.
Of course, Patty isn't quite as far gone as she seems. She'll just pretend to be completely bonkers so she can get transferred to another facility. Still, Patty is indeed mentally ill. We'll see Patty blow up as the pressure starts to get to her.
"The Young and the Restless" promo shows Patty declaring, "I'm thinking about exposing the dirty secrets once and for all." Paul will look confused as usual. He won't understand what's going on in Patty's head.
At home, Sharon will be in panic mode over the threat Patty poses. She'll tearfully shout that she's going to lose her son. Mariah (Camryn Grimes) will do her best to soothe Sharon's nerves, but it's obvious that their web of deception is falling apart.
It sounds like some shocking drama is on the way. We'll give you updates as other news comes in. Stay tuned to Y&R and don't forget to check Soap Opera Spy often for the latest "Young and the Restless" spoilers, rumors, updates and news.
Share your thoughts in the Comments section below, on our Facebook Page,  join our Facebook Group or Head over to our Discussion Board to Talk Soaps Daily!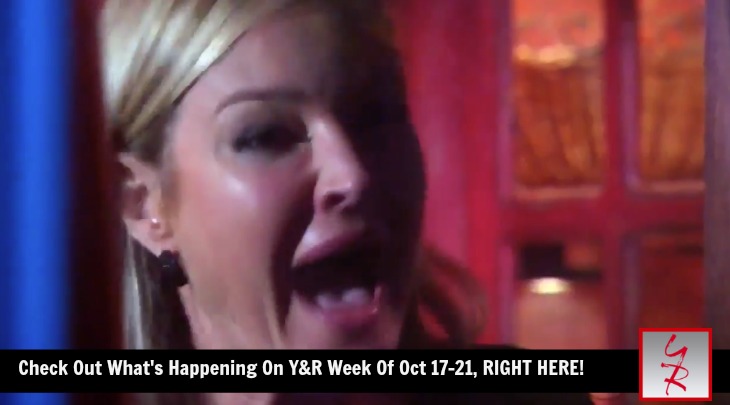 Take A Minute to Try Our Fun Y&R Puzzle!
Great Y&R Products!