'The Bold And The Beautiful' News: 'B&B' Star Anthony Addabbo Dead At 56, Winsor Harmon Pays Tribute
'Bold and the Beautiful' alum Anthony Addabbo [Tony Carrera] has died at the age of 56. Friend and former co-star Winsor Harmon [Thorne Forrester] paid tribute to his friend and former co-star, announcing Anthony's death via Facebook.
Soap Opera Acting: The Ins and Outs of Daytime Drama shared Winsor's tweet. "Today we lost a damn good man a father and great actor. Here's to you TA. We shared many glasses of Vino Rosso together brother. I'll never forget how excited you were to land B&B. By the way you still owe me that lobster dinner. I'll collect next time I see ya. We will miss you my dear friend. RIP. I know you're walking the streets of Gold bringing joy to the Angels as you did here on earth. God Bless you man. Love and miss you brother."
In addition to his role as Tony Carrera on 'The Bold and the Beautiful' Anthony Addabbo portrayed Dimitri Marick for a short time on 'All My Children. Anthony called 'Guiding Light' [Jim Lemay] home for 18 episodes between 1999 and 2000. The actor also appeared on 'Generations' as Jason Craig.
Most recently the soap veteran appeared in several made for television movies including 'Hornet's Nest' [Agent James], 'The Surgeon General' [Colonel Pitts] and 'Company Town [Admiral Laskow]. Anthony also starred in many of the 'Red Show Diaries' installments.
Anthony Addabbo was raised in Virginia Beach, Virginia and attended Virginia Tech. He is survived by his wife Elli Pattino whom he married in 1998 and his 17-year-old son Brandon Everest. There is no further information at this time regarding the cause of Anthony's death.
Share your thoughts in the Comments section below, on our Facebook Page,  join our Facebook Group or Head over to our Discussion Board to Talk Soaps Daily!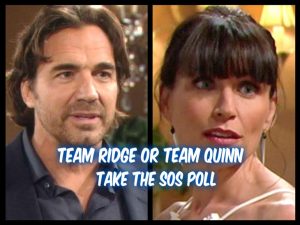 Have Some Fun With This Puzzle! Did you Love Quinn's Dress?

GREAT Bold & Beautiful PRODUCTS!