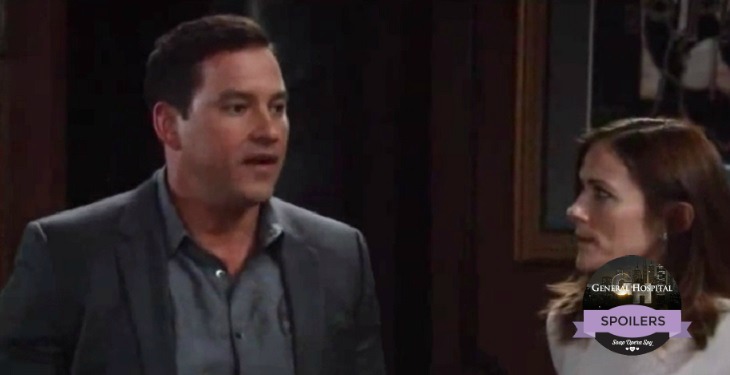 'General Hospital' (GH) spoilers for Tuesday, March 15 indicate that everyone but Nikolas Cassadine [Tyler Christopher] wants to put the will reading behind them. Hayden Barnes [Rebecca Budig] comforts her hubby, who says that he just needs her there for him.
Curtis Ashford [Donnell Turner] makes an important phone call and says he needs to see someone right away. Is it Hayden he's calling? What is Curtis up to? We still don't know what the hunk's agenda is in Port Charles, but he's sure nice to look at…
Dante Falconeri [Dominic Zamprogna] talks to Valerie Spencer [Brytni Sarpy]. Does Dante offer some advice about Curtis since he's seen them out together? Valerie tells Dante to stay out of her personal life. Why can't he just focus on his own life?
Related: First Look At Michael Easton's 'GH' Return In New Promo – Watch It Here!
Also, GH spoilers indicate that Dante will break the news to Cousin Val that he and Lulu Spencer [Emme Rylan] are back on. Surely Valerie will tell him that's good news since she's trying to move on with her life too. Fingers crossed for Val and Curtis!
Anna Devane [Finola Hughes] asks Griffin Munro [Matt Cohen] why didn't he just tell her that he's Duke Lavery's [Ian Buchanan] son instead of skulking around. Was Griffin intimidated by her reputation? And who shot the cutie?
Sonny Corinthos [Maurice Benard] comes to see Morgan Corinthos [Bryan Craig] at the Freedman Clinic. GH spoilers indicate that Morgan continues to have suicidal thoughts, is angry at his parents, and is still spiraling with his bipolar.
Ava Jerome [Maura West] freaks out at GH because Kiki Jerome [Hayley Erin] is still not waking up. Did anyone notice that Kiki had a little flutter when Morgan was there talking to her? How long before Ava figures out Morgan is the key to saving Kiki?
Julian Jerome [William deVry] is startled when Alexis Davis [Nancy Lee Grahn] comes at him with a knife. Good thing she's not brandishing it at him – she's just showing him what the horrible Helena Cassadine [Constance Towers] left her in the will. No doubt Julian will comfort her.
Related: Stacy Haiduk Returns – Patty Williams Back With Baby Swap Secret?
But Julian is also up to no good. Looks like he's sabotaging Crimson's "real women" issue. Alexis was counting on the magazine with Olivia Falconeri [Lisa LoCicero] on the cover nursing their son to help with the boobgate lawsuit.
Unfortunately, Julian is trying to bankrupt the magazine and will try and mess up this issue. He wants the tax write off and also doesn't want to see his son nursing on the cover. Was it Julian that greened up the last issue to try and tank the mag? Hmm…
Don't miss any of the Tuesday March 15 episode of GH and then check back with Soap Opera Spy for more 'General Hospital' spoilers and news.
Share your thoughts in the Comments section below, on our Facebook Page, or join our Facebook Group for Discussion.