'General Hospital' Spoilers: The 'GH' Killer May Have Been Caught, But Paul Hornsby Still Has Tricks Up His Sleeve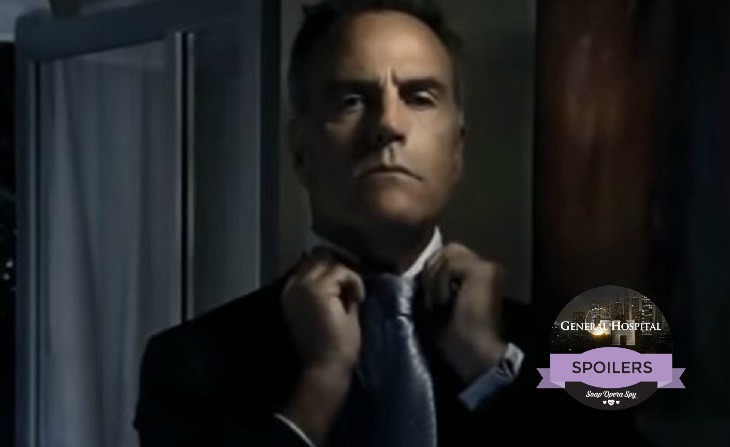 General Hospital spoilers tell us that even though disgraced D.A. Paul Hornsby (Richard Burgi) has finally been caught for all his crimes, including being the GH serial killer; we should not count him out yet.  We see him escorted off to prison this week, but before he left the building he dropped a bombshell onto PCPD's Police Commissioner, Jordan Ashford (Vinessa Antione).
General Hospital's Jordan Ashford, along with most people in Port Charles were furious and confused how Scott Baldwin (Kin Shriner) could have beaten Paul in court with all the evidence they had against Julian Jerome (William DeVry).  Jordan was insistent that she dotted her "I's" and crossed all her "T's" on that warrant, and she knew for a fact that she had the right address on it.  When she asked Paul if he had thrown the trial, he told her, "Ask Ava!"
Related: POLL: Who Do You Think Charlotte is? VOTE!
If General Hospital's Ava Jerome (Maura West) were smart, she would pack her things and run for the hills, but we all know she is far too confident and venomous to slither out of town while she has the chance.  She is so focused on destroying Morgan Corinthos (Bryan Craig), that she seems to keep placing her own troubles in the back of her mind, which is a very dangerous thing to do.
GH actor, Richard Burgi admits that after his character, Paul goes to prison, he doesn't know where the story will go.  Any fan of General Hospital knows that being carted off to prison is never truly a death sentence for a character; Sonny and Julian are prime examples!  There is no possible way Paul's story will end like this, there are too many stones that remain unturned, and he has all the answers.
Related: John Stamos' New Show Raises Eyebrows – Similar To Kimberly McCullough's 'Hey Day' Project
General Hospital's Paul Hornsby pleaded guilty for being the GH serial killer, but he hasn't been before a judge and he has not said those words out loud in a court room; he could change his mind.  He has so many things to bargain with to get out of this, do you think they will bring him back and make him a free man again, or do you think his time is over?
General Hospital and Richard Burgi, have remained mum on his official contract status, and even though many of the cast have felt this might be "Goodbye", Burgi insists that nothing is permanent in this business.  Do you hope Paul Hornsby will be back on the show, or do you think what he has done is unredeemable?
Be sure to watch ABC's General Hospital for more on this story.  Check Soap Opera Spy often for updates, news, rumors and spoilers!
Share your thoughts in the Comments section below, on our Facebook Page,  join our Facebook Group or Head over to our Discussion Board to Talk Soaps Daily!