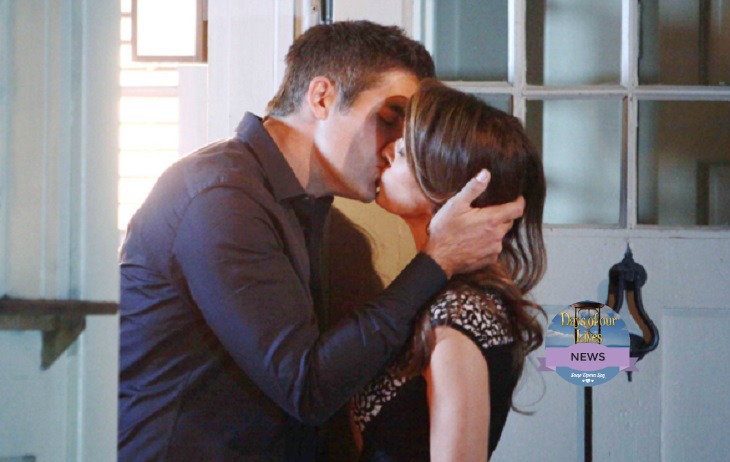 "Days of Our Lives" spoilers reveal that some exciting storylines are in the works for May sweeps. We'll see major drama for the Hernandez family this month. DOOL viewers can expect Eduardo's (A Martinez) history to cause more trouble. Adriana (Alma Delfina) definitely won't be too happy about that.
Meanwhile, Dario (Jordi Vilasuso) will have his own set of problems. When someone from Summer's (Marie Wilson) past resurfaces, Dario could find himself in quite a jam. Gabi (Camila Banus) and Arianna (Harper and Sydnee Udell) won't be immune to upcoming chaos either. They'll end up quarantined in the hospital when an outbreak hits Salem.
Related: Summer's Past Comes Back to Haunt Her – Theresa Sick of Brady's Rescue Missions – Kate Stunned by Deimos' Move
Paul (Christopher Sean) and other residents will be infected as well. "Days of Our Lives" rumors hint that one Salemite may lose his or her life during this epidemic. Regardless, there are going to be some shocking moments.
Speaking of shockers, we're certainly going to see plenty of those at the psychiatric facility. Abigail (Kate Mansi) will continue to hallucinate as she undergoes treatment. In fact, Abigail's mental state will get worse before it gets better.
DOOL spoilers indicate that Abby will accidentally injure herself as she struggles to separate fantasy from reality. Chad (Billy Flynn) will do everything he can to make sure Abigail gets her life back on course. Unfortunately, that won't be an easy task.
Back in Salem, Nicole (Arianna Zucker) will rev up her efforts to woo Deimos (Vincent Irizarry). It seems Deimos could be tempted to stray from his main squeeze, Kate (Lauren Koslow). Elsewhere, "Days" spoilers say Shawn (Brandon Beemer) and Belle (Martha Madison) will finally begin their journey back to each other.
Love will also bloom for Theo (Kyler Pettis) and Ciara (Vivian Jovanni, but Abe (James Reynolds) won't be pleased. As for Jade (Paige Searcy) and Joey (James Lastovic), they'll follow through with their plan to move to Los Angeles. Steve (Stephen Nichols) will have to put his investigative skills to good use if he hopes to track them down.
Kayla (Mary Beth Evans) will find herself drawn to Fynn (Alexander Bruszt) while Hope (Kristian Alfonso) gives her heart to Rafe (Galen Gering). Rafe will be surprised when Hope admits that she loves him. They'll heat things up, but Aiden's (Daniel Cosgrove) return could put the brakes on that romance.
Related: Nadia Bjorlin's Return Date As Chloe Lane Revealed
Hope will hear Aiden's wild story and try to determine what this news means for her future. Across town, Jennifer (Melissa Reeves) will hit rock bottom and Jack (Matthew Ashford) will make an appearance to lift her from the pit of despair. He'll show up in Jen's dreams to guide her on the path to recovery.
It sounds like "Days of Our Lives" is doing May sweeps right! There's a little something for everyone. Stick with the NBC soap for updates on any surprises that might be thrown in.
So "Days" fans, what do you think about the epic scenes that are coming up? Which storylines are you really looking forward to? Voice your opinion in the comments below and don't forget to check Soap Opera Spy often for the latest "Days of Our Lives" spoilers, rumors, updates and news.
Share your thoughts in the Comments section below, on our Facebook Page,  join our Facebook Group or Head over to our Discussion Board to Talk Soaps Daily!