Y&R Spoilers: Nate And Victoria Kiss, Elena Right Not To Trust Him?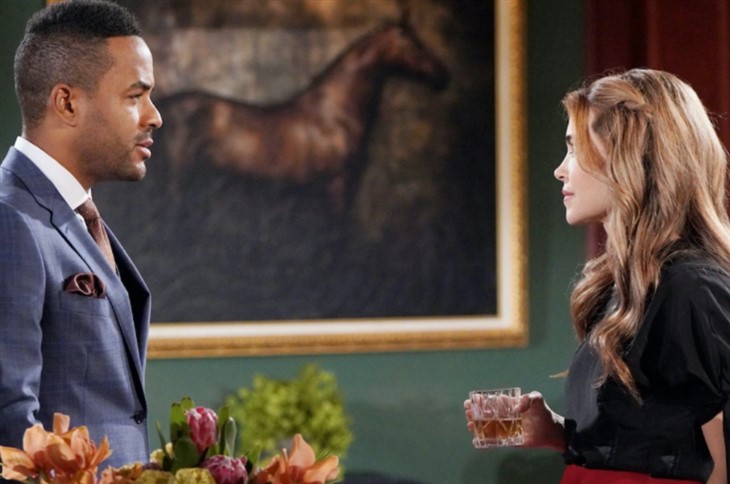 The Young and The Restless spoilers and updates tease that Nate Hastings (Sean Dominic) and Victoria Newman (Amelia Heinle) will kiss, with Victoria starting it. Elena Dawson's (Brytni Sarpy) been suspicious of all the late night meetings Nate's had with Victoria, and it looks like she's right not to trust him.
The Young And The Restless Spoilers – Cocktails To Bourbon
Nate and Victoria have been having many late night meetings and they've been having cocktail hour in the office. This particular evening cocktails give way to bourbon, and attraction gives way to action; it's not quite boardroom becomes bedroom yet, but it seems headed that way. Elena keeps an eye on Nate the way it is, but this night she gets a bad feeling-she wants to go to the office to check up on things.
This night Elena can't make an excuse to go over to Newman Enterprises to bring Nate lunch or snacks or some other flimsy excuse to snoop. She has to work a night shift at the hospital but frets over every time she breaks to call him with no answer.
Y & R Spoilers – I've Got A Crush On You
Victoria has secretly or maybe not so secretly become smitten with Nate, and her feelings she's tried to hide in the interest of keeping things professional are stoked by bourbon. She starts kissing him there in the office, and he doesn't fight it – even though if her father or someone else saw it there could be considerable trouble! Nate and Elena have been having their problems lately and Nate forgets all those problems when he's with Victoria-it seems that he's into her too. That could lead to problems both at home and at work but neither one seems to care-they chalk it up to the booze talking.
The Young And The Restless Spoilers – What Goes Around Comes Around
The Young and the Restless spoilers say Nate and Elena got together by cheating, when she couldn't resist Nate at the New Hope Clinic that they worked at together. She was with Devon Hamilton (Bryton James) at the time, and a terrible rift came between the cousins-because of their cheating. Devon and Nate got in a fist fight at a special celebration which injured Nate's hand so he could no longer be a surgeon.
Now it seems once a cheater, always a cheater – when will she learn if a man will cheat with you, he'll cheat on you as well? Elena has her suspicions but she can't leave her patients to confront him tonight – although she certainly will, later.
Be sure to catch up on everything happening with Y & R right now. Come back here often for The Young and The Restless spoilers, news, and updates.