Days Of Our Lives Spoilers: Stefan And EJ Have It Out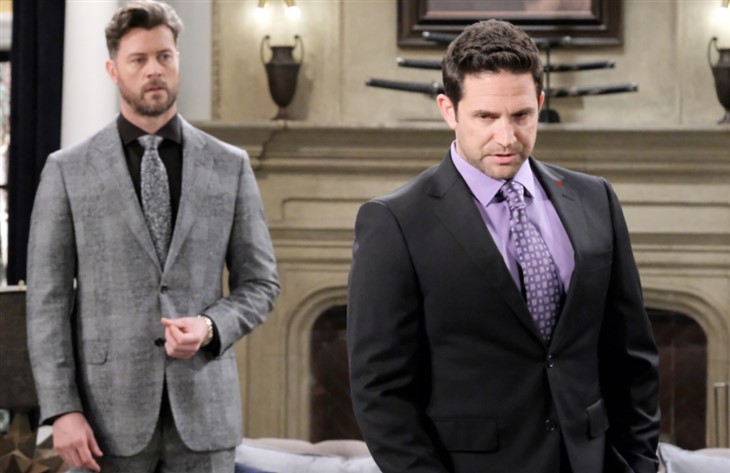 Days of Our Lives spoilers reveal two DiMera brothers finally confronting each other about the little games they have been playing.
Days Of Our Lives Spoilers – Which Brother Was Drugged?
It was a bit confusing there for a while with this game of musical drinks that EJ DiMera (Daniel Feuerriegel) and Stefan O. DiMera (Brandon Barash) played. For weeks, Stefan was drugging EJ. Then, EJ was drugging Stefan. Then, they tried to drug one another and it was EJ who ended up acting weird this time around.
With what they were doing to each other out in the open now, EJ and Stefan finally have it out with their women, Nicole Walker (Arianne Zucker) and Gabi Hernandez (Camilla Banus), by their sides. Of course, Nicole is on EJ's side and Gabi is on Stefan's side, despite being married to Li Shin for the next six months.
"They're two alpha guys that have a bit of a dark side to them, they're both willing to play dirty when they have to, and now they're going to war with each other in a Stefano-like way," Head Writer Ron Carlivati said in the March 20, 2023, issue of Soap Opera Digest.
DOOL Spoilers – It's Time To Come Face-to-Face
It looks like Stefan and EJ come to some sort of truce after they have their little chat, but do they?
"When this confrontation happens, the potential of an actual, honest airing of their grievances against each other and the potential to grow from it and learn from it is there, but we're talking about EJ and Stefan DiMera, so what they're saying to each other is not necessarily what each is going to do."
As expected, when each is with their significant other they admit that the last thing they intend to do is actually the right thing. No, the brothers are still at war.
"The gloves come off," Carlivati said, "They don't need to be pretending, they don't need to be smiling to each other's face and drugging each other behind their backs. The question is, now that it is all out in the open, what will happen?" Stream new episodes of Days of Our Lives weekdays on Peacock starting at 6 AM EST to find out.