Days Of Our Lives Weekly Spoilers: A DiMera Truce And DiMera Games With The Un-Dead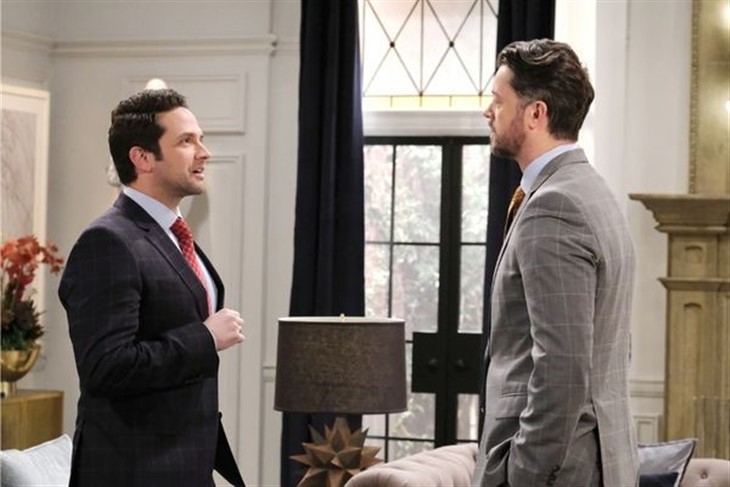 Days of Our Lives spoilers for March 13-17, 2023, reveal the game of musical drinks coming to an end but Megan's games just beginning.
Days Of Our Lives Spoilers – Will A Truce Even Last?
It was quite a time when nobody was able to figure out which drink was which and which DiMera brother got drugged. Was it EJ DiMera (Daniel Feuerriegel) or Stefan O. DiMera (Brandon Barash) who got the drug this time? Either way, it is time for them to fess up and that is exactly what happens when both brothers admit what they did to one another over the last few months. Even Nicole Walker (Arianne Zucker) got involved.
Stefan and EJ agree to stop doing this and call a truce. It even seems sincere, but these are DiMeras we are talking about here so there is bound to be some backstabbing again very soon.
DOOL Spoilers – Over On The Island
Speaking of DiMeras, Megan Hathaway DiMera (Miranda Wilson) allegedly died in 1985 but we have known since the summer that just wasn't true. Instead, she has had Bo Brady (Peter Reckell) on ice all these years and has finally brought him back to life. She also has Marlena Evans (Deidre Hall), Kayla Brady Johnson (Mary Beth Evans), and Kate Roberts Brady (Lauren Koslow) there and it seems Kate has gone missing.
As the ladies search for Kate, they run into some very familiar faces and those faces might just look like Bo and Hope Brady (Kristian Alfonso). Hooray for longtime DAYS fans that have been waiting eight whole years for this.
Days Of Our Lives Spoilers – Other Salem Happenings
Gwen Rizcech (Emily O'Brien) drowns her sorrows about Xander Cook (Paul Telfer) still not loving her over some drinks and ends up in bed with a downtrodden Alex Kiriakis (Robert Scott Wilson). Also, Paul Narita (Christopher Sean) and Andrew Donovan (Colton Little) meet up with John Black (Drake Hogestyn).
Finally, Sloan Petersen (Jessica Serfaty) and Belle Black Brady (Martha Madison) find they have something in common when they put their legal eagle minds together to help Eric Brady (Greg Vaughan) and Brady Black (Eric Martsolf). Perhaps Eric and Brady should just stop doing so many stupid things together so they do not need women to keep saving their hide. Stream new episodes of Days of Our Lives weekdays on Peacock starting at 6 AM EST.