Y&R Spoilers: Summer's Sacrifice, Kyle's Life-Altering Decision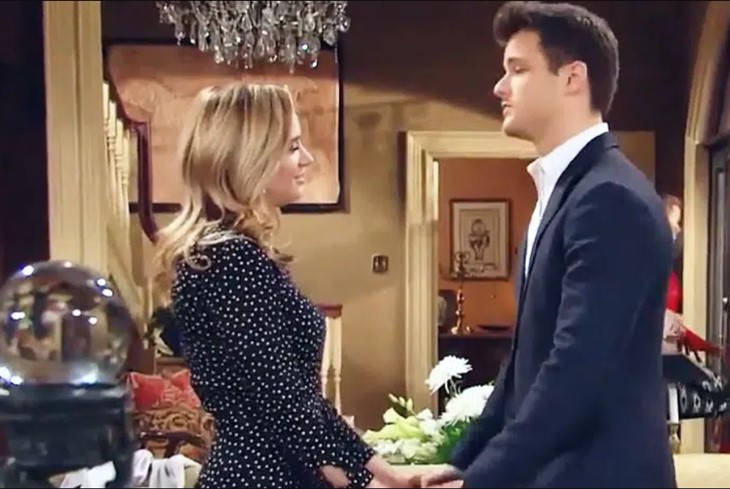 The Young and the Restless spoilers reveal that Kyle Abbott (Michael Mealor) is dealing with a lot of family drama. Kyle will do some serious thinking, which includes coming home to Genoa City for good. Kyle talks to Summer Newman-Abbott (Allison Lanier) about it. Kyle made a sacrifice to move to Milan to be with Summer. Now, Summer will be the one making a sacrifice.
The Young And The Restless Spoilers – So Many Abbott Family Changes
Y&R spoilers reveal that Jack Abbott (Peter Bergman) asked Kyle to come to Genoa City. Jack only said he has some important news to share with Kyle. Now that Jack has told Kyle about Diane Jenkins (Susan Walters), there are some important decisions to make.
Diane isn't the only big Abbott family change, though. Kyle will meet Allie Nguyen (Kelsey Wang) during the week of May 9. Plus, Jack will tell Kyle about Ashland Locke (Robert Newman) confessing to faking his cancer diagnosis and treatment.
Y&R Spoilers – Kyle Abbott's Decision
During the week of May 16, Kyle will have some serious thinking to do. After Kyle officiates Tessa Porter (Cait Fairbanks) and Mariah Copeland's (Camryn Grimes) wedding, he might feel at home again.
Plus, Kyle will want to see first-hand if Diane has really changed or not. There could be a part of Kyle that wants to stick around to make sure his family is protected considering all of Diane's past schemes. Kyle won't want Jack to deal with the Diane situation. If Kyle really decides to open his life up to Diane, then it will be easier to reconnect if they are both living in the same city.
The Young And The Restless Spoilers – Summer Newman-Abbott's Sacrifice
The Young and the Restless spoilers reveal that Tara Locke (formerly played by Elizabeth Leiner) and Sally Spectra's (Courtney Hope) scheme sent Summer to Milan. However, it turned out to work in Summer's favor. In Milan, Summer has enjoyed a wildly successful career as a creative director for an international fashion designer.
When "Skyle" reunited, Kyle made a sacrifice to uproot his life for Summer. So, it seems that Summer might feel it's her duty to return the favor. Of course, Summer doesn't just give up her Milan career for Kyle. Summer probably misses her mom, Phyllis Summers (Michelle Stafford).
Y&R Spoilers – 'Skyle' Future
It is teased that Summer will come back to Genoa City with a secret. Plus, there is reason to believe "Skyle" might go through a rough patch.
This will likely be due to the war between Diane and Phyllis. If Kyle gives Diane a chance, Phyllis might work overtime to prove her enemy hasn't changed. Phyllis will also try to get Summer to convince Kyle to drop Diane. That will put Summer in an awkward position.
Let's also not forget about the rivalry between Summer and Sally. That will probably resurface once "Skyle" moves home for good. So, we will have to wait and see what happens with these characters.
Be sure to catch up on everything happening with Y&R right now. Come back often for The Young and the Restless spoilers, news, and updates.