Y&R Spoilers: Devon's Daddy Delusion, Long Battle And Broken Alliances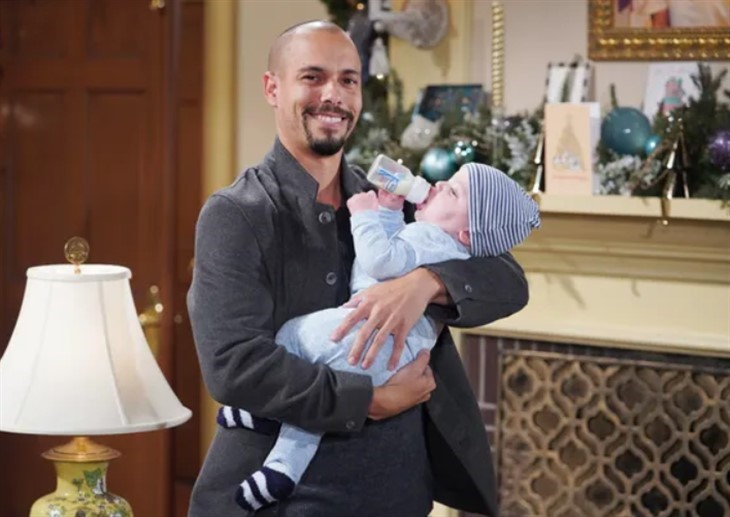 The Young and the Restless (Y&R) spoilers reveal that Bryton James (Devon Hamilton) has opened up about the custody story. Don't expect a quick resolution to Devon's war with Chance Chancellor (Conner Floyd) and Abby Newman-Abbott-Chancellor (Melissa Ordway). Friendships will fracture, relationships will be tested, and even the strongest alliances could crumble.
The Young And The Restless Spoilers: – Devon Hamilton's Daddy Delusion
Y&R spoilers reveal that Devon thinks he is Dominic Newman-Abbott-Chancellor's (River and Rainn Ware) father. Devon might have helped create the child, but everyone knew from the beginning the baby belonged to Chance and Abby. Devon wants to change all of that now.
Despite all his "reasons" for the custody battle, he is lying to everyone and himself about why he's actually doing it. Remember when Devon had the nightmare of the crying baby? In that nightmare, Devon says "daddy's coming."
So, Devon's real reason for pursuing custody has nothing to do with Chance. It's all about Devon thinking he is and should be the child's father. However, Devon might not be able to admit this out loud, or perhaps he doesn't even realize it.
Y&R Spoilers – No Quick Resolution
Speaking to Soap Opera Digest about the storyline, actor Bryton James hinted that there would be no quick resolution. Even though Devon didn't want to get lawyers involved, Amanda Sinclair (Mishael Morgan) is part of this battle now.
As for Chance and Abby, they have different perspectives on how to handle the situation. Abby is in mama bear fighting mode. Meanwhile, Chance is struggling with his bond with Dominic. So, it seems that Devon is taking advantage of Chance's weakness and insecurity regarding being a father.
The Young And The Restless Spoilers – Amanda Sinclair's Problem
The Young and the Restless spoilers reveal that Amanda is helping Devon with the custody battle. Even though she is trying to remain unbiased, that simply isn't possible. Not only does she want to see Devon happy again, but Amanda also has her own experience with not having parents. So, that could definitely be clouding her judgment on the right way to handle this situation.
Y&R Spoilers – Broken Alliances
Bryton teased to SOD that multiple characters will be impacted. Plus, there is a long and close friendship at stake. This custody battle could change everything for a lot of people.
"These relationships are going to be strained and put to the test. This is something that could really tear one of Devon's closest friendships into pieces."
Devon and Abby's friendship won't be the only fallout, though. How will Victor Newman (Eric Braeden) react to this? What will Ashley Abbott (Eileen Davidson) do? What about all those other family links, friendships, and business alliances that tie Devon, Amanda, Chance, and Abby together?
Be sure to catch up on everything happening with Y&R right now. Come back often for The Young and the Restless spoilers, news, and updates.