Y&R Spoilers: Devon Fights Dirty, Nate Blindsided By Shocking Betrayal?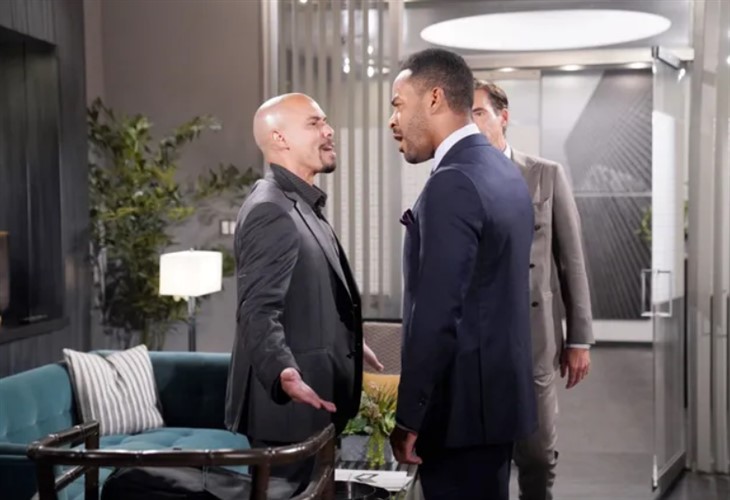 The Young and the Restless spoilers reveal that Nate Hastings (Sean Dominic) struck a deal with Victoria Newman (Amelia Heinle). Nate might succeed in getting control and power at Chancellor-Winters. However, Devon Hamilton (Bryton James) could strike back by hitting Nate where it hurts. Could Devon commit the ultimate betrayal by sleeping with Elena Dawson (Brytni Sarpy)?
The Young And The Restless Spoilers – Victoria Newman's Deal
Y&R spoilers reveal that Nate quit Chancellor-Winters in a fit of rage. Afterward, Nate went to Victoria with a deal. Victoria was surprised that Nate would be willing to betray his own family. Of course, Nate is all about power and control right now. Nate isn't thinking about the consequences of his actions.
Y&R Spoilers – Asking for Job Back
Victoria met with Nate and agreed to the deal. So, Nate is taking the first step by going to Devon, Billy Abbott (Jason Thompson) and Lily Winters (Christel Khalil) to ask for his job back at Chancellor-Winters.
Even though Devon won't be thrilled with it, Lily will probably want Nate back. However, there might be some ground rules to keep the tension between Nate and Devon to a minimum. Since Nate has ulterior motives, he will probably agree to the terms of his reinstatement.
The Young And The Restless Spoilers – Nate Hastings' Betrayal
The Young and the Restless spoilers reveal that Nate's plan could be successful. However, it would be a huge betrayal. It's not just a betrayal to the company that Nate works for, but to his own family members. Plus, Nate knows just how much the company means to Devon.
So, if Victoria has the information so she becomes a majority shareholder, that means Nate will be in charge. Everyone will find out that Nate sold his soul to the devil.
Y&R Spoilers – Devon Hamilton Fights Back
Devon could fight back and get revenge on Nate. With Elena being disgusted and concerned with Nate's behavior, she could turn her attention toward Devon. Meanwhile, Devon might sleep with Elena and rub it in Nate's face.
While Devon might hit Nate where it hurts, don't expect the feud to stop there. We have a feeling that this storyline is only going to escalate. Just how much further will Devon and Nate go, and what will be the outcome?
What do you think is going to happen when Devon finds out about Nate's deal with Victoria? Will Devon get revenge by sleeping with Elena? Could Nate face severe consequences for his betrayal? Share your thoughts and remember to keep watching the CBS soap to find out what happens next.
Be sure to catch up on everything happening with Y&R right now. Come back here often for The Young and the Restless spoilers, news, and updates.