GH Spoilers: Trina Continues To See Rory But Longs For Spencer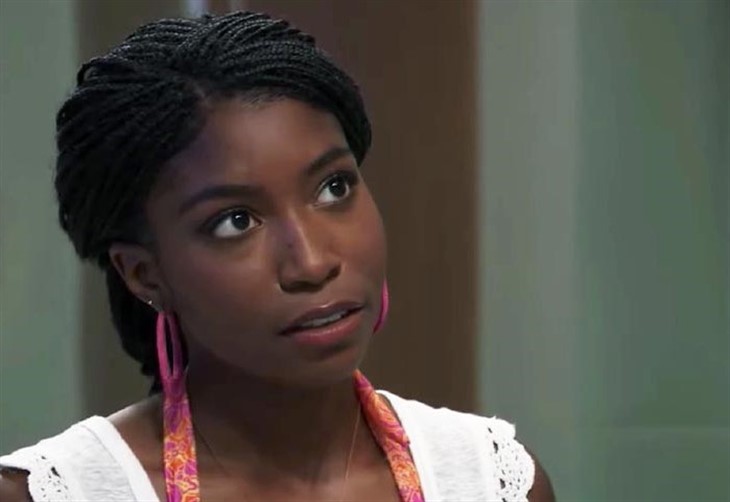 General Hospital (GH) spoilers indicate that Trina Robinson (Tabyana Ali) will continue to date Rory Cabrera (Michael Blake Kruse) while Spencer Cassadine (Nicholas Chavez) is in prison. However, Trina will find herself longing for Spencer. Trina recently learned what lengths Spencer went through to help her. Will Trina leave Rory and wait for Spencer to come home?
General Hospital Spoilers – Trina Robinson Chose Rory Cabrera
General Hospital spoilers reveal that Spencer tried to tell Trina the truth before she blew him off for Rory. Trina told Spencer that they weren't even friends after everything that has happened between them. Afterward, Spencer tried to leave without Trina seeing the letter he wrote her. Trina let Spencer leave and returned to Rory.
Trina was convinced she didn't want anything to do with Spencer but wished him well in prison. Trina was still upset with Spencer when she went to see Ava Jerome (Maura West). Ava allowed Trina time to vent before setting her straight. Trina was in for quite the surprise.
GH Spoilers – Ava Jerome Spilled Spencer Cassadine's Secret
While Ava was allowing Trina time to express her feelings, she decided it was time to tell Spencer's truth for him. Spencer may have taken his letter and left. Spencer may not have been honest with Trina about his feelings at all. However, Ava thought that Trina deserved the whole story. While Trina was listening to Ava, Spencer was carted off to Pentonville.
After Trina carefully listened to the truth, she admitted that she has to talk to Spencer. Unfortunately, Spencer had already been shipped off to Pentonville before Trina arrives. Trina didn't get to confront Spencer about his feelings. How long will it take for Trina to rush off to Pentonville for the truth?
General Hospital Spoilers – Trina Robinson Has Told Rory Cabrera The Truth
Trina has told Rory the truth about Spencer's attempts to help her. Rory asked about their status and wondered if Trina still wanted to date him. Of course, Trina told Rory yes but she is more and more bothered by her lingering feelings for Spencer. How much longer can Trina fight these urges? Will Trina continue to force herself to stay with Rory because that is who she chose?
Trina will eventually need answers from Spencer and will confront him face to face. If Spencer confirms what Ava told Trina, will she dumb Rory and wait for Spencer? Will Spencer's confession no longer matter? Trina knows that she is in no way over Spencer. Will Trina act on her feelings or try to ignore them?
Be sure to catch up on everything happening with GH right now. Come back here often for General Hospital spoilers, news, and updates.